The high speed checkweigher is a weighing equipment specially used for online inspection of packaging products. The birth of the modified equipment has greatly improved the production efficiency and quality of the enterprise. Inline check weight machine can be embedded in the production line and used with various packaging equipment or used alone.Through the quantitative setting, the weight of each product is detected online, and the underweight and overweight products are automatically identified and automatically eliminated. Become a necessary equipment for many industries. It is a new high-tech product integrating conveying, weighing, metering and control.If you're interested in this machine,please contact me!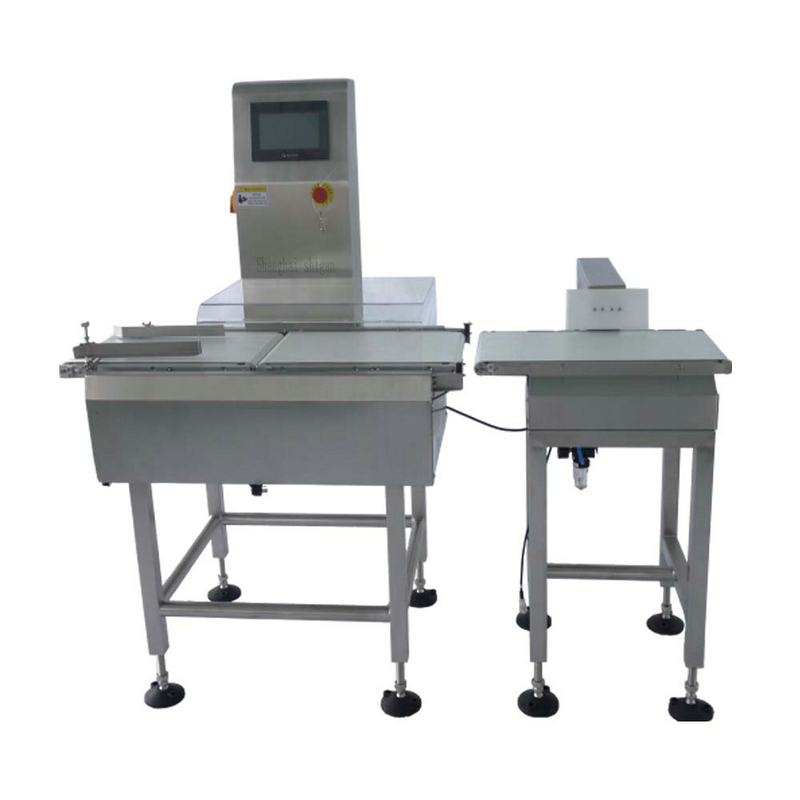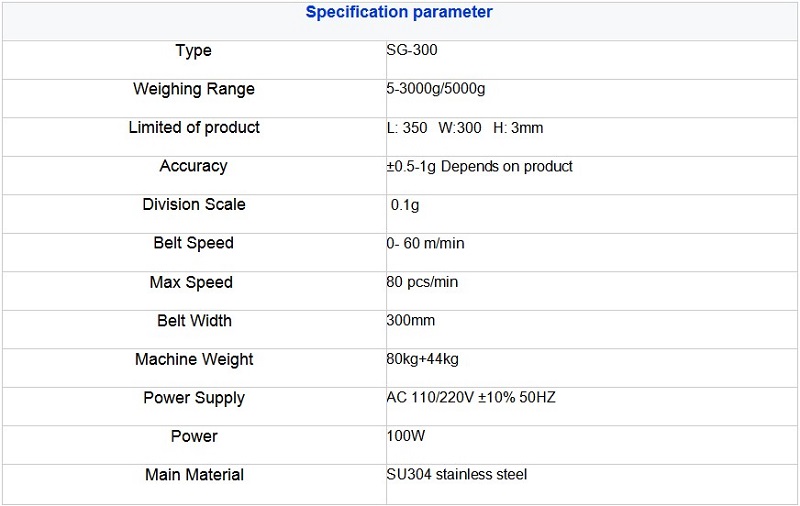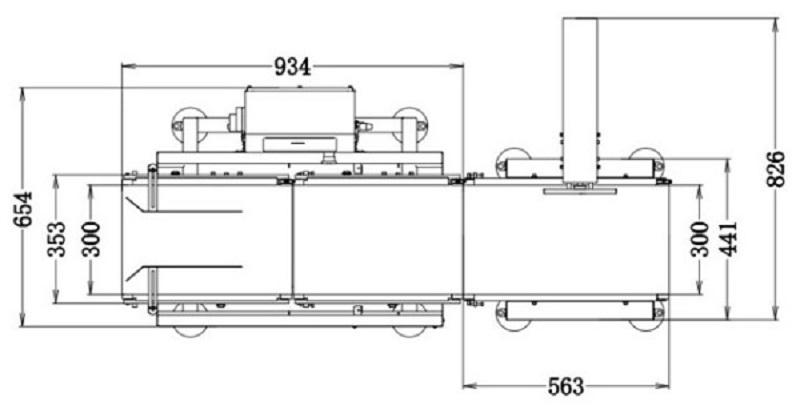 1.Product advantages High detection stability, not easily affected by the environment
  2.Product detection speed is 600ppm, dynamic weighing can reach 7.5KG
  3.The production data can be acquired and transmitted through some interfaces, or can be saved to the USB on the device
   4.Lightweight conveyor design (V2A aluminum plating), no tools required, adjustment of conveyor and belt, continuous conveying speed
  5.The stainless steel base designed with a solid tube structure is easy to clean
  6.Technical advantages Operation panel: 10.4 LCD touch screen, VGA resolution, black and white, optional color display
   7.Conveyor: Lightweight conveyor design (V2A aluminum plating)
   8.Rejection device: air blowing type or push rod type, optional folding belt, sorting door, etc.
   9.Waterproof grade: IP65 (a higher grade is optional)

High speed checkweigher is widely used in food, medicine, daily necessities, hardware accessories, industrial manufacturing, printing, logistics and other industries.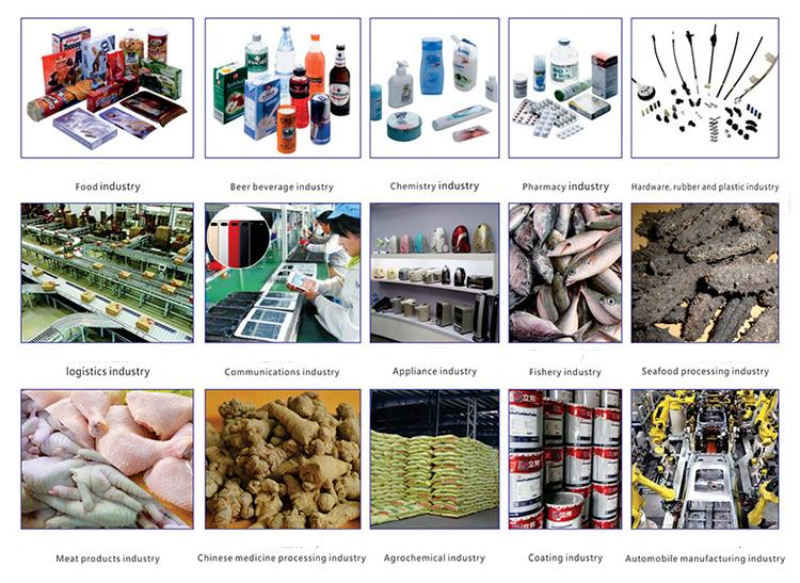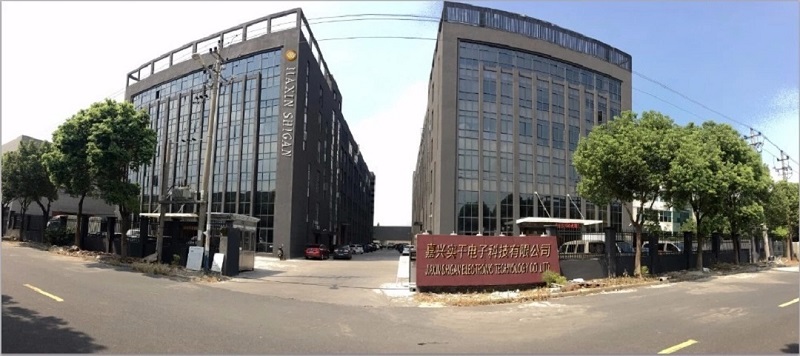 Located in Shanghai, China, Shigan has been engaged in the research and development, production, sales and service of automatic weighing technology for more than 11 years. Our main products are automatic checkweighers, weight sorters, metal detectors, etc. Weigh products from 1 gram to 60 kg, with an accuracy of 120 pcs/min to ±0.1 g. The stable and reliable weighing control system has won customers from Malaysia, Indonesia, the Philippines, Kazakhstan, the United States, Chile, South Africa and many other countries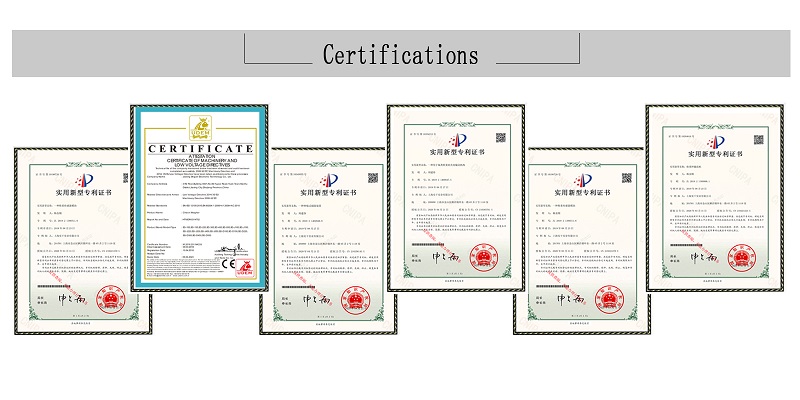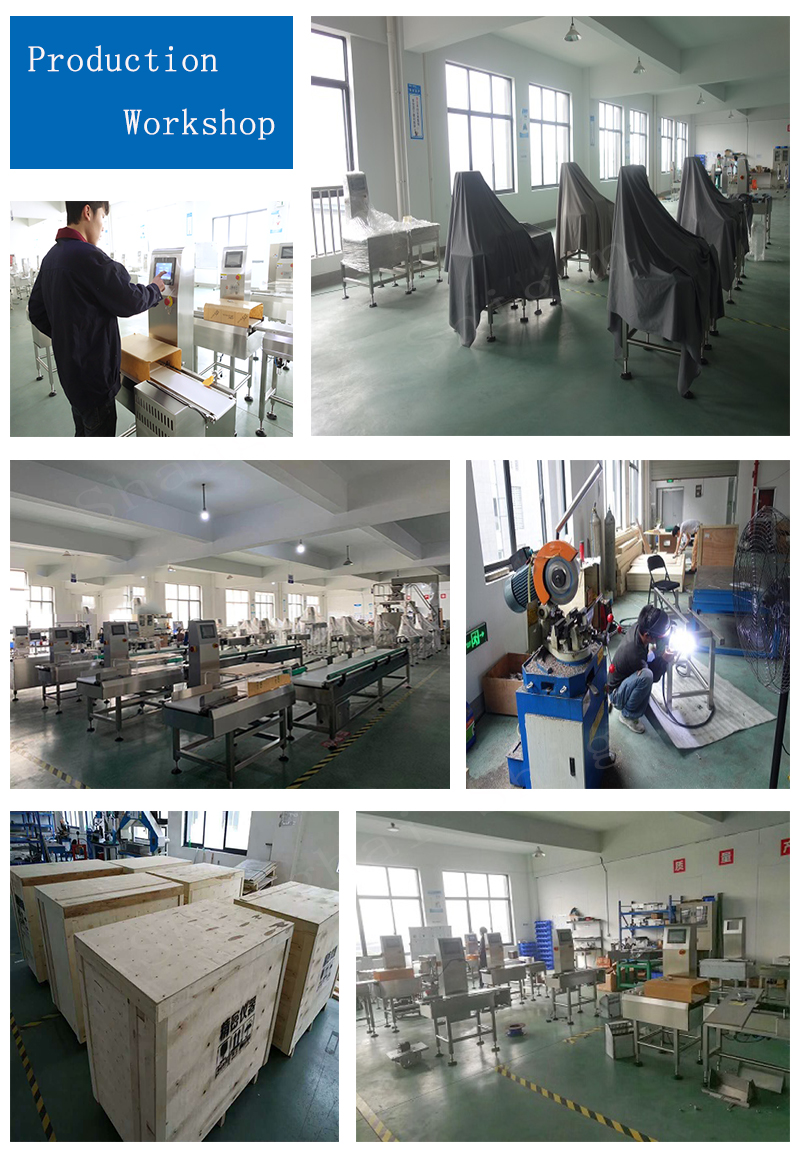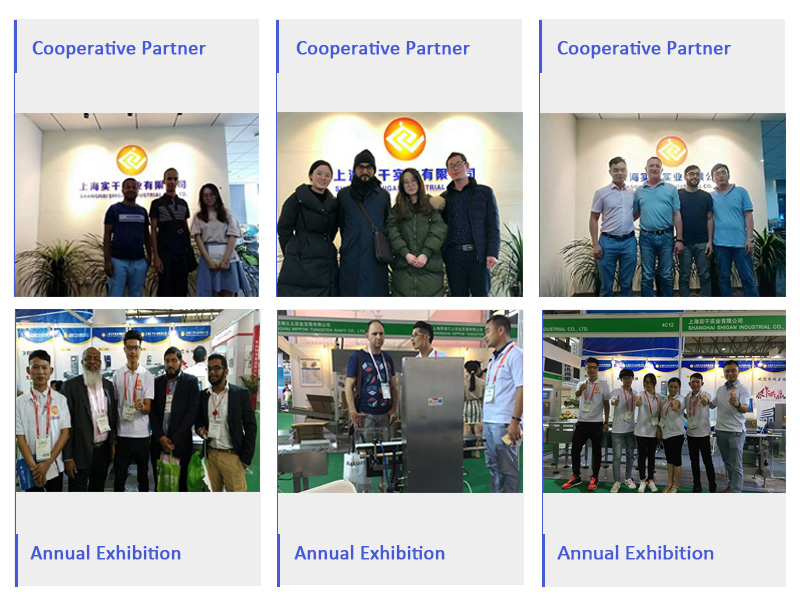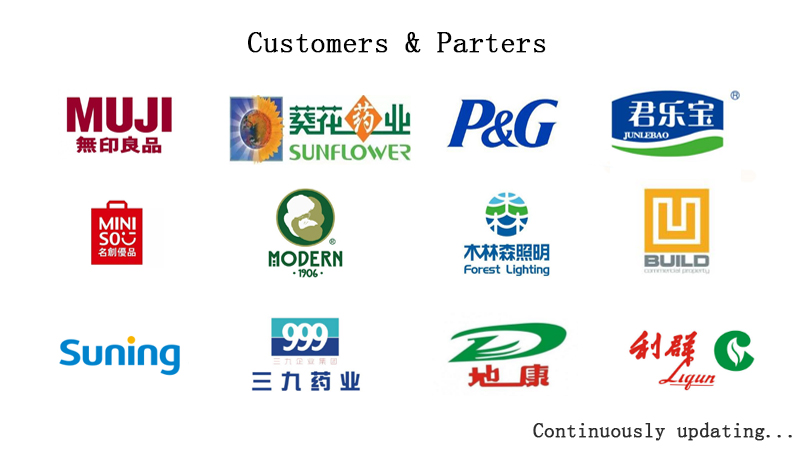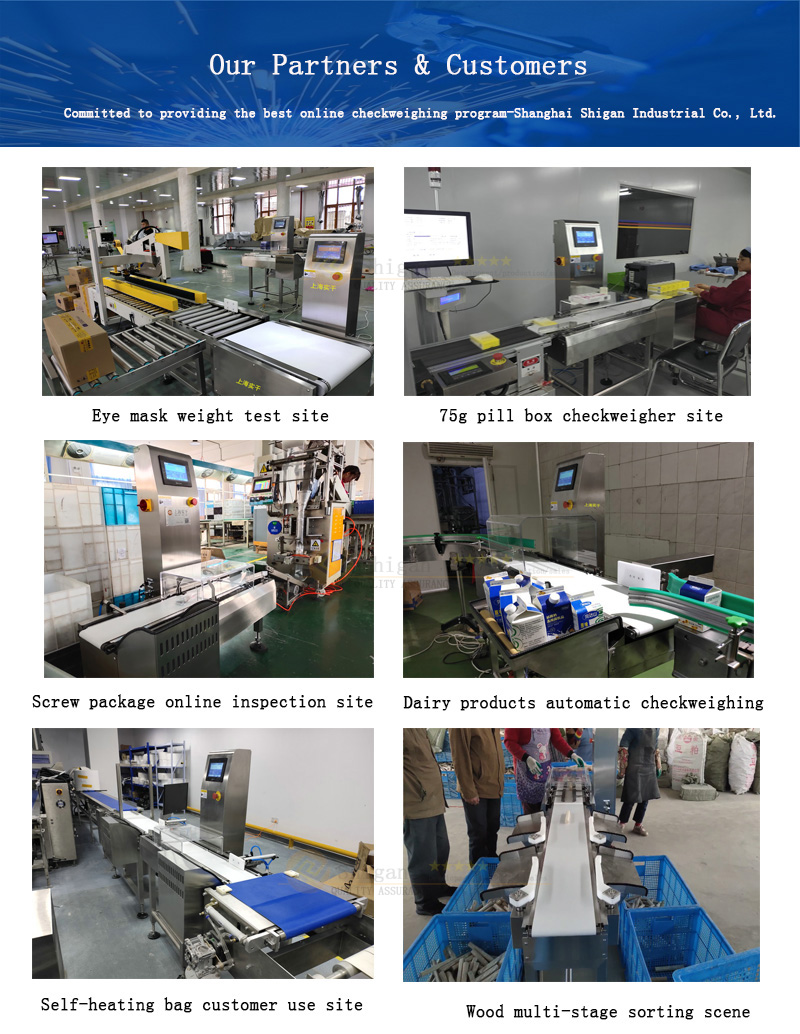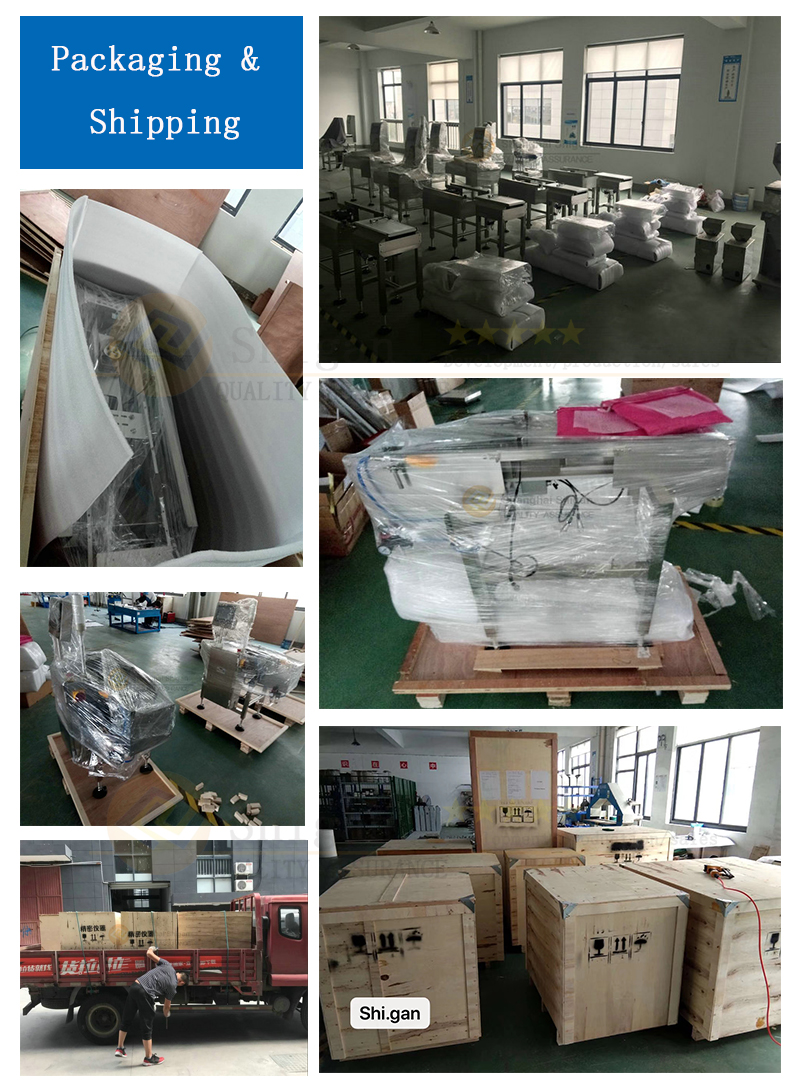 Packaging
1. Before packaged, the machines will be tested strictly to guarantee the stability and high accuracy.
2. After tested, the machines will be wrapped with plastic sheet and carefully packed in wooden cases.
3. We loaded the truck with heavy trucks for loading the cargo to the harbor terminal.At the dock we pack the goods in containers and ship them abroad.
Delivery
Arrange delivery within five days of stock. Customized machines are guaranteed to be shipped within 15 days.

After-sales service commitment:
1. Service tenet: fast, decisive, accurate, thoughtful and thorough
2. Service goal: service quality wins customer satisfaction
3. Service efficiency: If the equipment fails during or outside the warranty period, our company will arrange maintenance personnel to provide maintenance services for customers within 24 hours after receiving the notice.
4. Service principle: The product warranty period is one year. During the warranty period, our company will repair the parts damaged due to quality reasons for free. If the parts are damaged outside the warranty period, only the cost will be charged for the accessories provided. If due to human factors If the equipment is damaged, the parts repaired or provided by our company are calculated at the cost price.
Related Products
Cheese slice net content automatic checkweigher Cigarette dynamic weight sorting checkweigher

Calcium tablets assembly line conveyor belt checkweigher Automatic Check Weight Machine
Inline Weighing Checkweigher Machine Sanitary napkin high speed checkweigher
Hot Labels:Engine oil checkweigher,auto parts check weigher,high speed checkweigher,checkweigher solution,inline check weight machine,supplier