A paper company recently wanted to purchase paper weighing and metal detection equipment, so he searched for online heavy metal detection machine manufacturers on the Internet. After comparing product features, manufacturer strength, after-sales guarantee, and price, he finally chose Shanghai Shigan Industrial Co., Ltd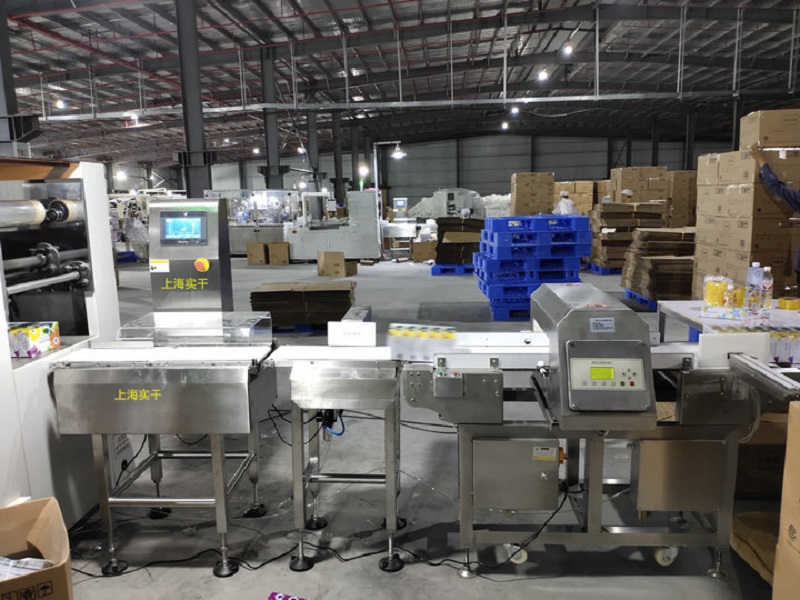 The online chekweigher and metal detector is an automatic weighing and metal detection device, which can replace manual labor, save costs and improve efficiency. The weighing metal detector is divided into two parts, a checkweigher and a metal detector. The automatic checkweigher part adopts a high-precision digital weighing sensor system, high-speed digital filtering and automatic zero tracking functions. It uses a 10-inch color touch screen to display a user-friendly man-machine dialogue interface, which is very convenient to operate.The industry's unique dynamic weighing anti-interference modification technology, the actual weighing accuracy and separation speed double guarantee is far superior to similar equipment. The highest accuracy tested is plus or minus 0.05 grams, the fastest sorting speed is 200pc/min, and the highest is 200 pcs/min.100 Product presets, free switches, user-friendly operating system design, easy operation, and multiple language versions are available. Production data report function, quick understanding of production status, data storage, output printing function. Multiple communication protocol ports can be quickly added to the production system control center to achieve interconnection between devices.
The digital metal detector part has high detection accuracy, good waterproof performance, stability and reliability. It can detect all-metal foreign objects (including iron, copper, aluminum, lead, stainless steel and other metals) mixed in packaging and bulk products. The internal system is equipped with an intelligent operating system. Multi-database (product database, inspection record database, etc.), real-time recording of inspection data, to achieve traceability requirements, and support U disk data export, and the device can print inspection data in real time after connecting to a printer. These two machines are combined flexibly to save production space, and automatically remove products with unqualified weight and foreign objects from the production line; it is the most effective solution for end-of-line inspection.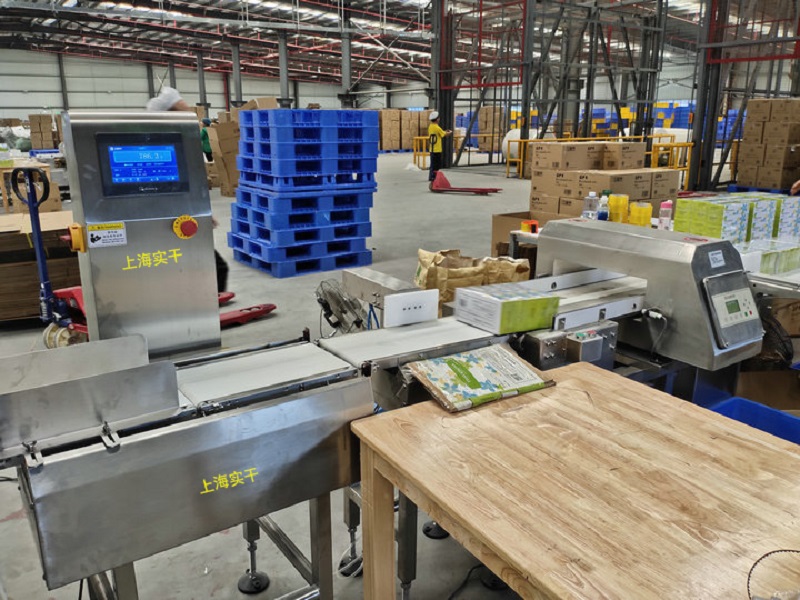 Customer satisfaction is our pursuit! The normal warranty for all our products is 12 months. We provide necessary video guidance and feedback for daily problems, and our technology and engineers support overseas services. Shanghai Shigan is making every effort to provide customers with the best service and best products. We promise that once our service starts, we will always be responsible.Welcome to contact us!
Related Products
Dynamic check weigher manufacturer Food checkweigher for packaging line
Pharmaceutical automatic checkweigher Inline check weight machine for sale
Checkweigher in combination with metal detectors Digital metal detector convey belt