SG-100 food industry online dynamic checkweigher for packaging line
---
Food industry checkweigher is an online weight testing equipment specially designed for automatic packaging lines. Online dynamic checkweigher is widely used in food, medicine, consumables and other industries. It is suitable for weight testing of packaged products. It can automatically eliminate overweight and underweight products to ensure quality compliance. After matching the sorting device in the latter stage, it can realize the multi-stage sorting and classification of products of different weights.Any OEM and customer design orders are welcome! If you are interested in our products, please feel free to contact us.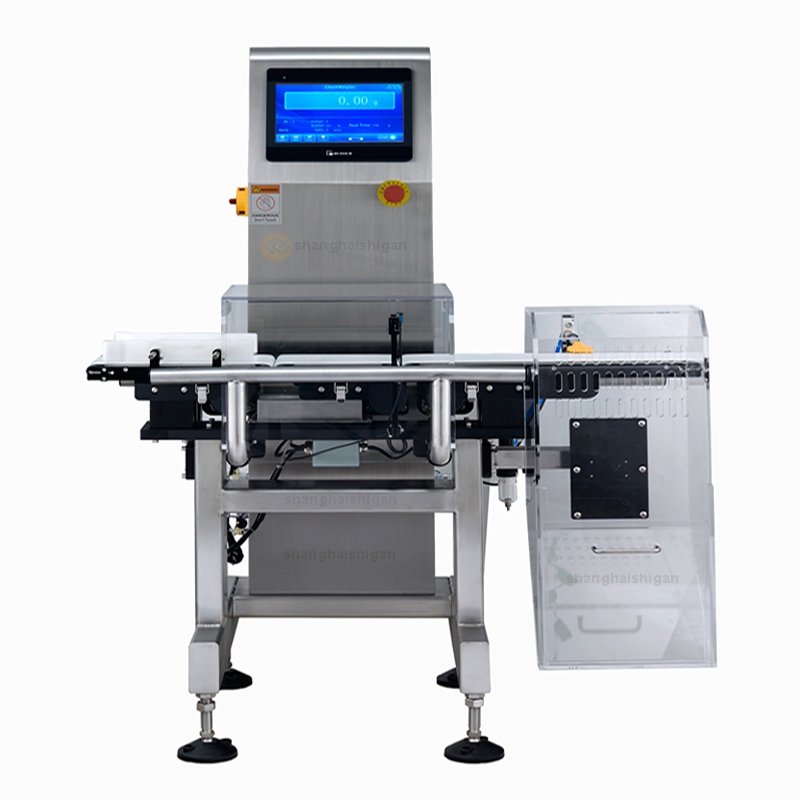 Food checkweigher system parameter
TypeSG-100
Weighing Range2-300g
Limited of productL: 100 W: 100 H: 2-150mm
Accuracy±0.5g Depends on product
Division Scale 0.01g
Belt Speed0- 80 m/min
Max Speed 300 pcs/min
Belt Width100mm
Machine Weight60kg
Power SupplyAC 110/220V ±10% 50HZ
Power100W
Main MaterialSU304 stainless steel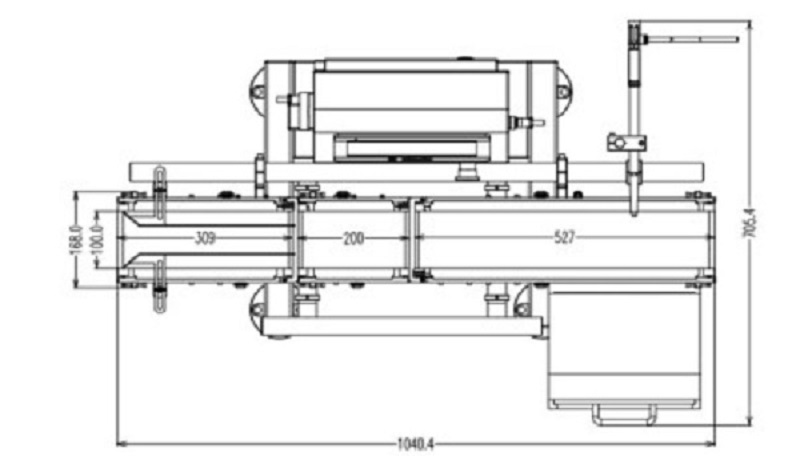 Automatic checkweigher advantage
1. Large-size color LCD touch screen interface, simple operation and intuitive display.
2. Support multiple languages: Chinese, English, Spanish, Italian, Japanese, Korean, etc. (customer specified), the default is Chinese and English.
3. It can store 200 kinds of product inspection data, which is convenient for users to call.
4. USB data storage interface, which can transfer report data to PC for analysis and printing.
5. Parameter setting password protection, only management personnel operate.
6. Automatic zero tracking system to ensure reliable detection data.
7. Built-in temperature and noise compensation system to ensure system stability. Online printing function (customization required).
8. Data external communication interface, which can be connected to other equipment in the production line (eg: labeling machine and inkjet printer) (customization required).
9. Multiple rejection devices: push rod rejection, fall rejection. (Customer required).
10. Simple mechanical structure, easy to disassemble, clean and maintain.
Detail Photos of Packaging Line Checkweigher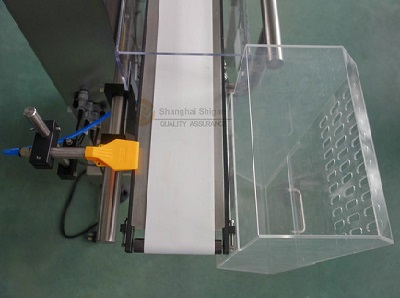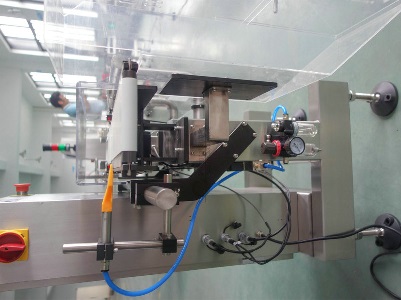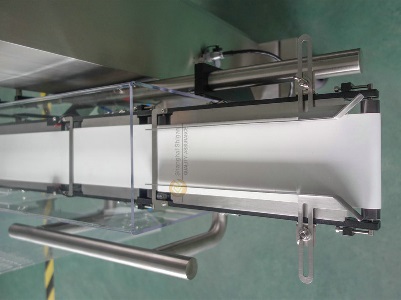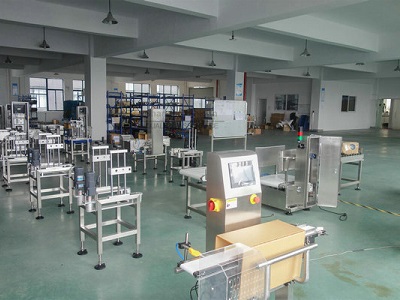 Customized Service

The model shown is only suitable for online checkweighing of 2-300g food products. Our company has a wide range of specifications and models, wide range coverage, and rich selection of accessories. Welcome customers to contact me, we will give the most professional advice.
Application
Automatic dynamic checkweighing machine can solve the detection of insufficient net weight/overweight of packaged food, full box/full bag/full box/full package missing of packaged food, such as instant noodles, puffed food, drinks, nuts, bread, biscuits, seasonings, snack foods , Candy, etc. bagged or canned food.

A professional high accuracy checkweigher manufacturer-Shanghai Shigan Industrial Co,. Ltd
---
Our weighing and sorting checkweigher machines are designed to help customers realize automated production and management. We continue to provide customers with effective solutions to reduce costs and improve market competitiveness. In addition to cooperating with many famous companies in the food and beverage, poultry, seafood and fishery, daily necessities and hardware industries, we also export to overseas markets such as Malaysia, Vietnam, Indonesia, the Philippines, Kazakhstan, Uzbekistan, UAE, Saudi Arabia, and Qatar , Oman, Syria, Yemen, Iran, Spain, Ecuador, Canada, the United States, Chile, Uruguay, Australia, South Africa, etc.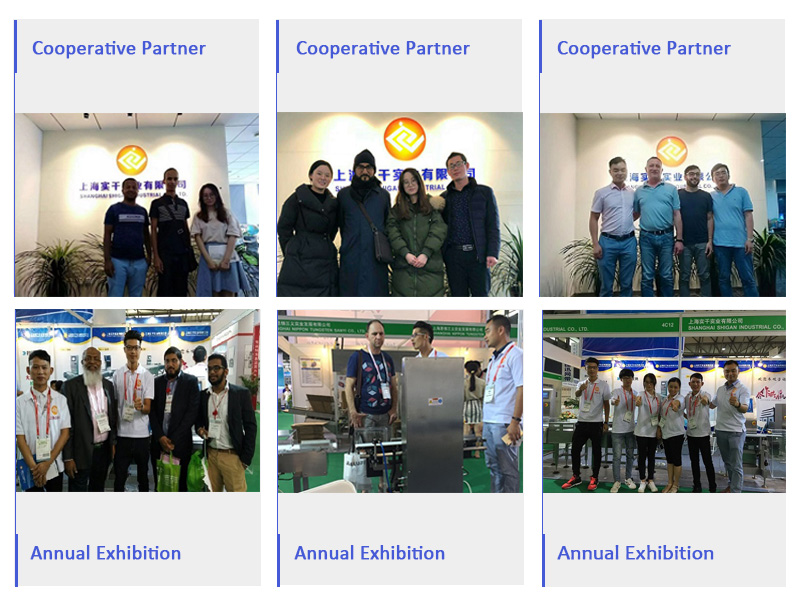 Shanghai Shigan has never stopped in scientific research. We have a professional technical team that researches and upgrades machines every year and overcomes countless problems. Also obtained many patents and CE certification in the professional field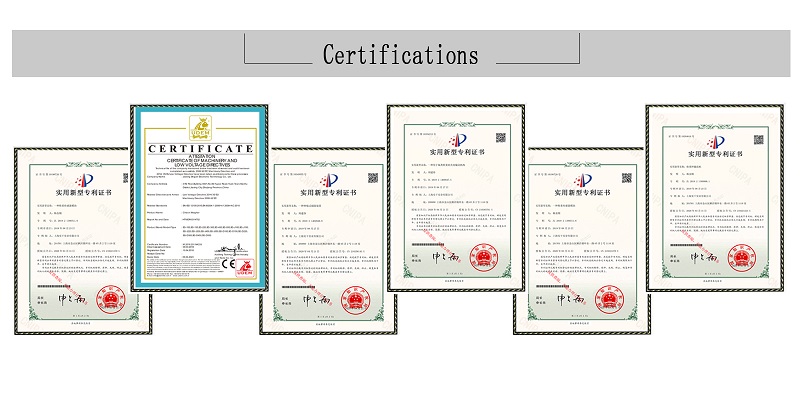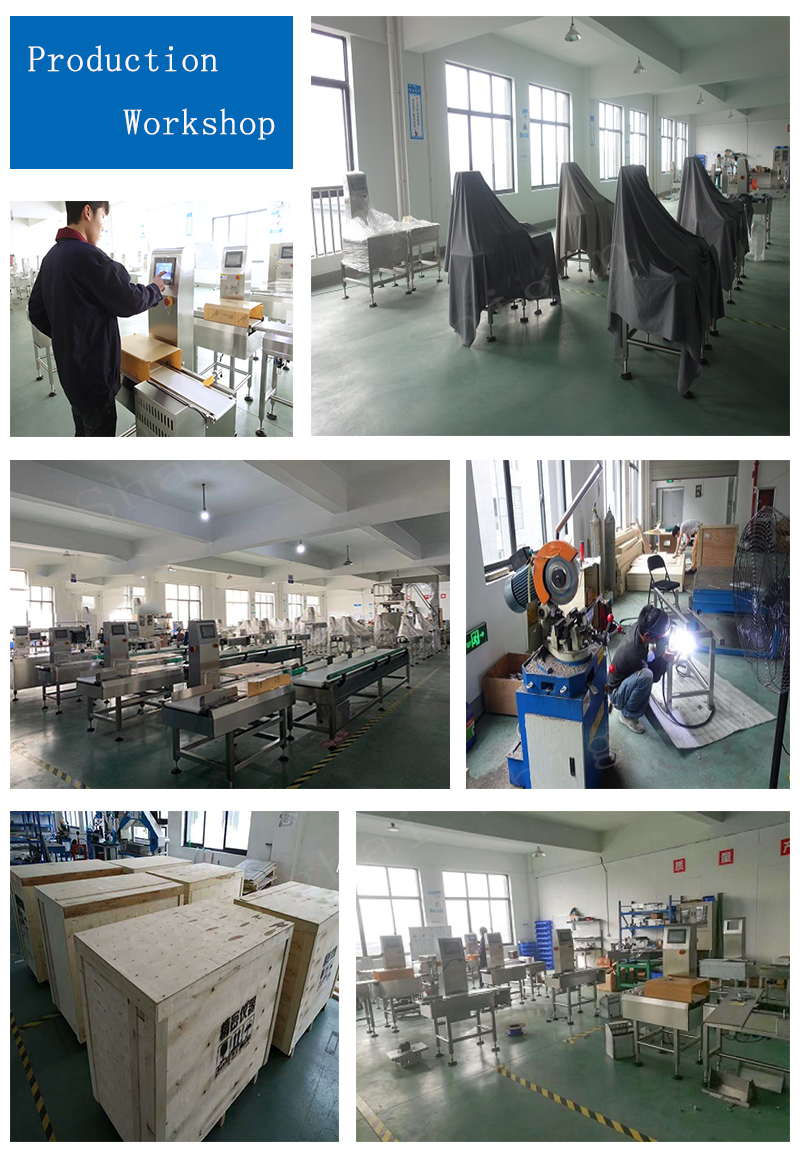 Customer sites of online checkweigher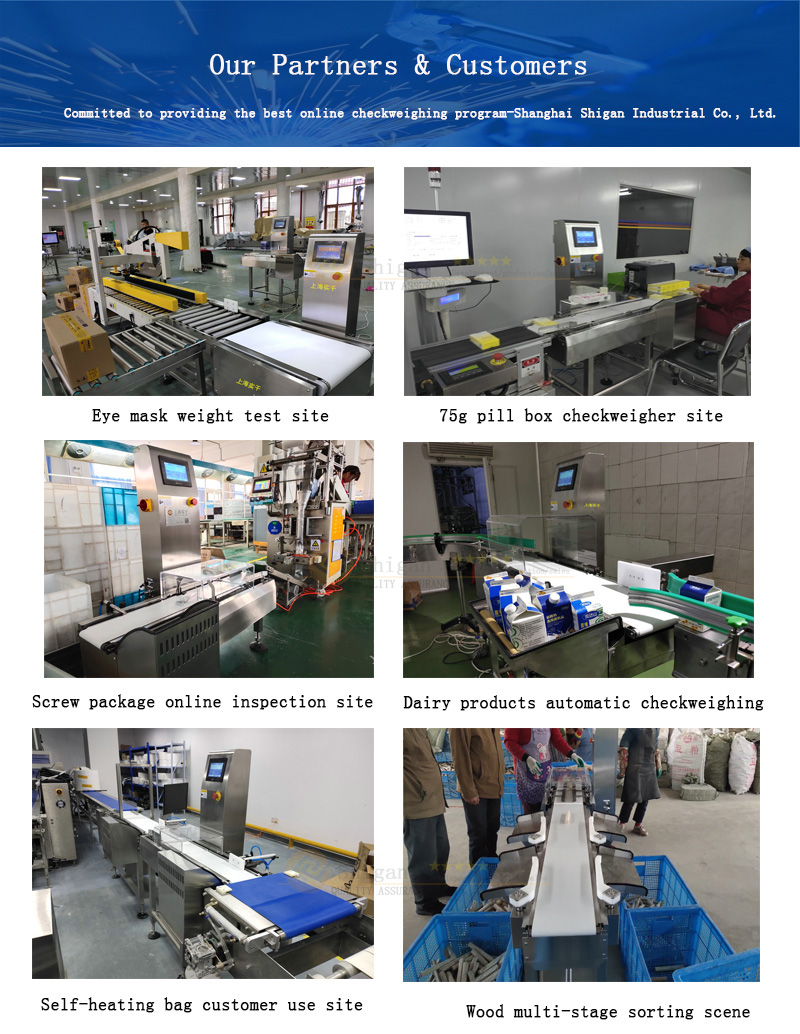 After Sale Service
1. The product is guaranteed for twelve months. During the warranty period, all kinds of failures or parts damage caused by product manufacturing, assembly and quality problems, free repairs or replacement of corresponding parts for users!
2. The product shall provide the original product certificate, product manual, certificate or label
3. For products outside the warranty period, quotation (including spare parts) through the marketing center will cost quickly, troubleshooting after a period of time, to satisfy users
4. The telephone for repairing equipment failure will respond within 10 minutes, and the professional engineer team will handle it within 24 hours
5. Shanghai Shigan has more than ten years of experience in weighing instrument operation, professional marketers, technical engineers, and real-time tracking services for the products sold
6. Regularly organize personnel to conduct return visits to the products sold, solicit users' opinions on product design improvements
7. The product provides free technical training (operation and maintenance), and guarantees that the demand-side operators can use the various functions of the equipment normally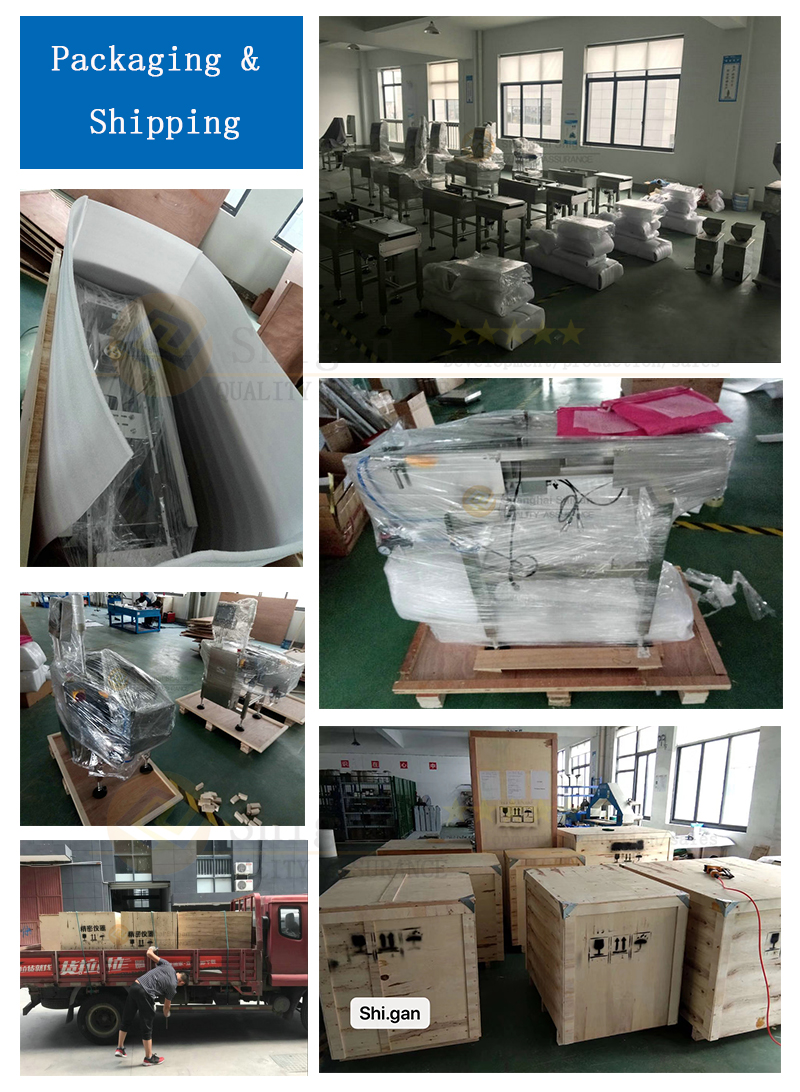 FAQ
1.Order process
Select the product → ask for the price → decide to buy → sign the contract → make to order for you → arrange delivery → buyer sign →the transaction is successful.
2.Payment method
TT,L/C,Western Union,Money Gram,Paypal,International Credit Card.

3.How does your machine connect to a computer, printer, scanner or encoder?
Through the RS232 or RS485 port of the hardware configuration and various compatible communication protocols of the software, it is directly connected with the computer and the printer/scanner to output the weighing data.
4.What kinds of overseas service can you offer?
Our engineer can go abroad to provide you with technical guidance.
Related Products
Food online checkweigher Dynamic check weigher manufacturer
Universal automatic checkweigher 30/50kg High accuracy weight checker conveyor belt
Toothpaste quantitative checkweigher Online weight sorting checkweigher scale for paper
Hot Labels:food industry checkweigher,online checkweigher,dynamic checkweigher,checkweigher packaging line