Overview
---
Detail:

Place of Origin:Shanghai,China Brand Name:SHIGAN

Model Number:SG-300 Power Supply:110-220V(AC)
Display Type:LCD Product name:Checkweigher with cost-effective price for medicine
Material:SUS304 Certificate:CE ROHS
Color:Grey checkweigher Belt Speed:0-60m/min
Weighing Scope:5-3000/5000g Speed:80pcs/min
Function:Checkweigher Warranty:1 year
---
Supply Ability:
Supply Ability: 30 Set/Sets per Month check weigher
---
Packaging & Delivery:
Packaging Details Automatic grain bags weighing scale check weigher with metal detector by wood case
Port Shanghai
Product Display
---
Check and alarm sorting belt scale,automatic check weight machine
Check weight machine as known as online checkweigher,sorting scale,weighing machine,weigt checker,weight inspector,comveyor belt check weigher and so on.

Automatic check weight machine is based on the measurement results will be tested into qualified, positive out of tolerance, negative out of tolerance or qualified products are divided into several categories, in order to select the assembly of automatic machines.It can set 100 products, multiple sorting levels, free switch, and count the number and total weight of each sorting level.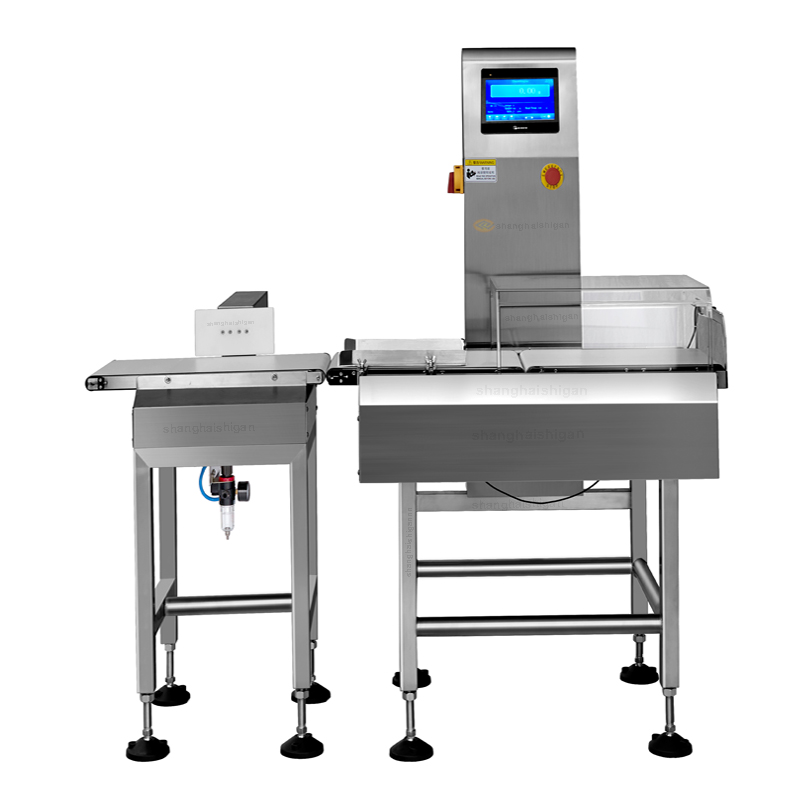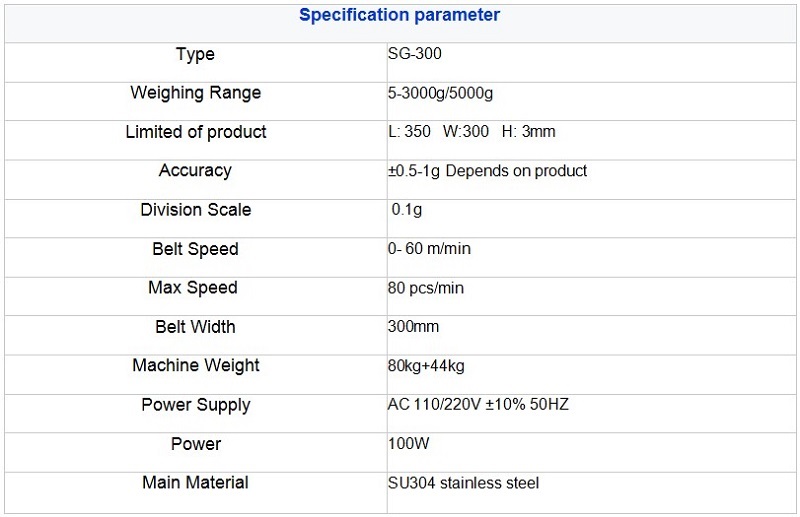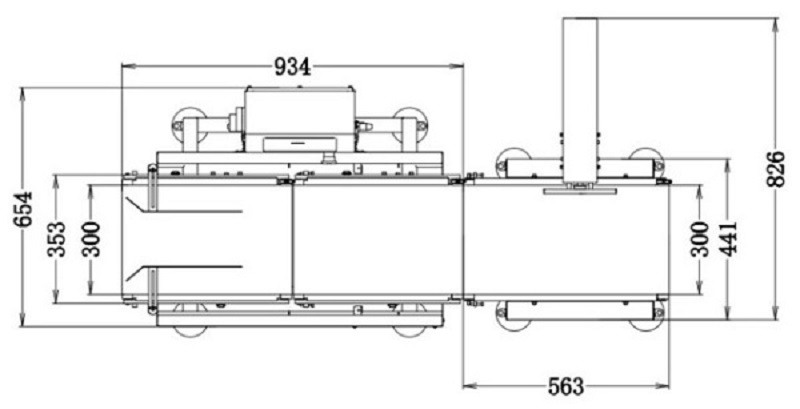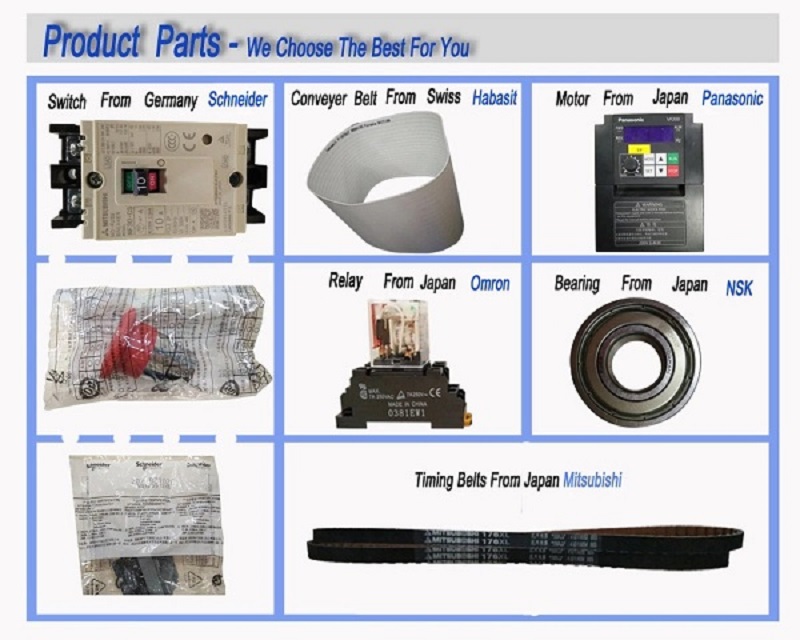 Application
It is mainly used for automatic sorting belt scale, up-down line identification or weight classification selection on various automatic packaging lines. It is widely used for online high-speed packaging weight detection in pharmaceutical, food, health care products, daily chemical, battery, light industry and other industries.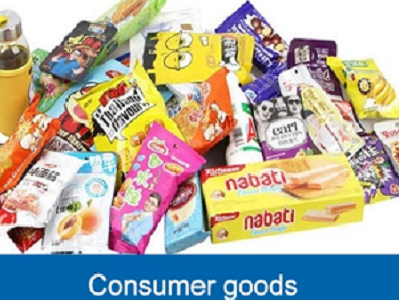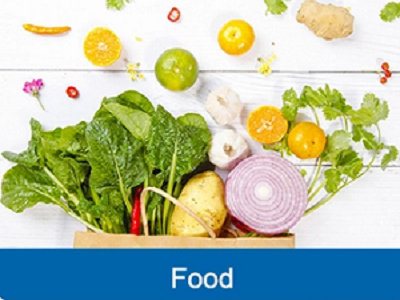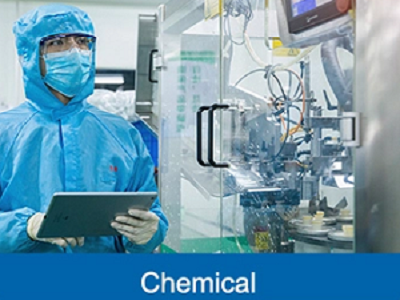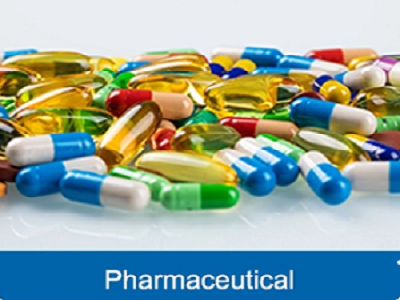 Main Functions
1.Precise reverse detection: The metal detector adopts high-precision imported on-off switch, with the curve fitting algorithm, can accurately complete the reverse detection

2.Depth customization capability: can be equipped with a scanning gun to meet the special requirements of deep customization and function development
3.Easy to operate Smart: The metal detector uses a wide LCD and wizard-style interface, allowing users to set up and operate quickly and easily
4.Safe and reliable data: metal detectors use FRAM safe storage technology to ensure system parameters and data security
5.Advanced manufacturing process: The metal detector uses stainless steel probes and frames, a variety of protection levels for customers to choose, adapt to a variety of production environments
6.Anti-deviation design of conveyor belt: The metal detector adopts a special conveyor anti-deviation design scheme to effectively avoid the deviation of the conveyor belt.
7.Rich peripheral interfaces: Configurable RS-485 data communication, PLC programming nodes, printer output, real-time data for production management systems, remote control, analysis, and monitoring, providing valuable traceability information
8.Efficient reject device: Eliminating devices such as stop arm, air blow, flap, push rod, etc.
Automatic check weight machine images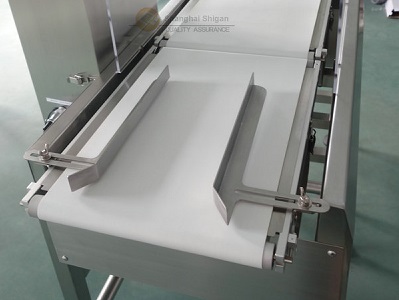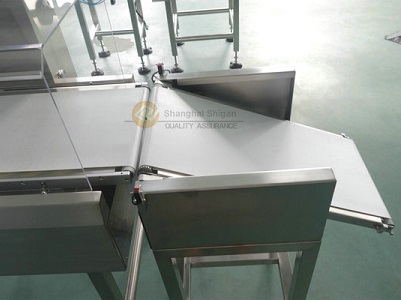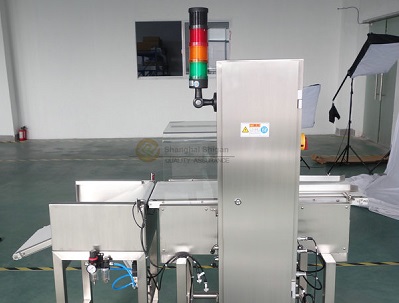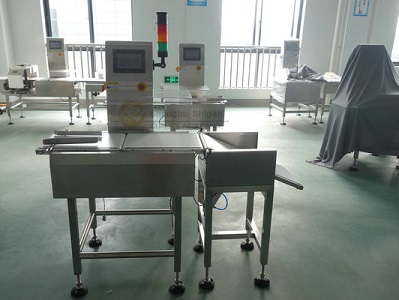 Company & Service
---
Check and alarm sorting belt scale,automatic check weight machine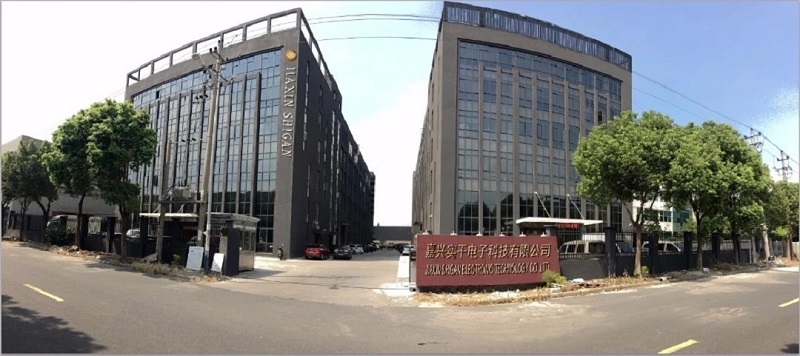 ♥ With years of export experience along with excellent quality, advanced services and competitive prices, Shanghai Shigan has won numerous customers' trust and support.Shanghai Shigan Industrial Co.,Ltd.is a high-tech enterprise incorporating technology,research development and processing and marking.
♥The company has years of experience in weighing and packaging areas.It provides customers with cost effective packaging and weighing equipment.The quality of product is reliable and stable.
♥The company always adheres to operation guideline of "taking quality as king,innovating continuously",and takes "keep promise,user is supreme"as enterprise tenet to cooperate with the majority of users and welcome presence of new and old customers.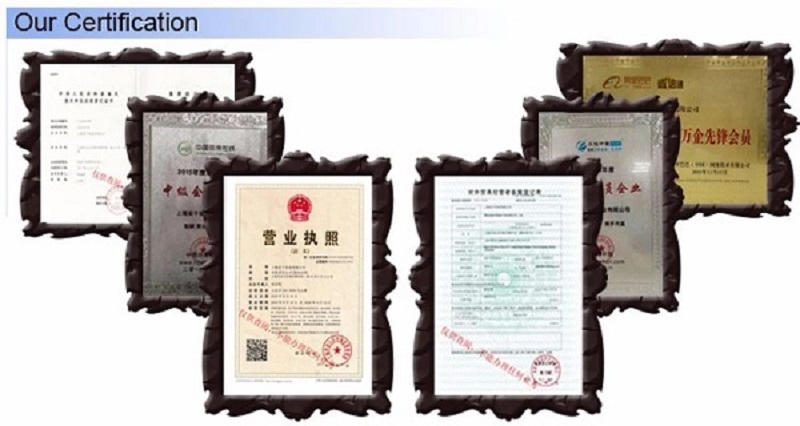 Pre-sales.
* Project design, performance introduction, technical agreement, contract signing, packaging

* Inquiry and consulting support.
* Sample testing support.
In-sales.

* We will provide you with the latest progress in the product assembly, packaging and transportation.

After-sale.

* We will provide free accessories for the damage to non - human parts.

* Training how to install the machine, training how to use the machine with video and so on
* And our technical staff can go abroad to provide technical guidance.
Exhibition
---
Check and alarm sorting belt scale,automatic check weight machine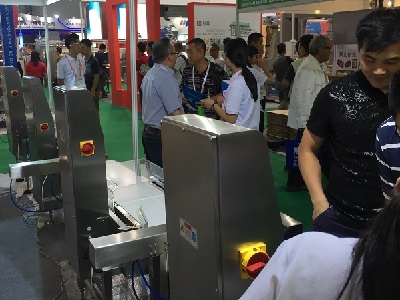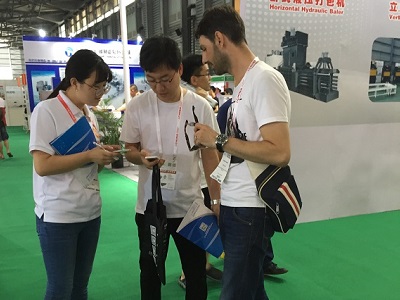 My company products and sell the online checkweigher is mainly used to detect whether the weight of products on the assembly line is qualified, and automatically eliminate unqualified products with the weight. The online weigher of our company is widely used in the food, pharmaceutical, daily chemical and other industries, and the user's praise is constant!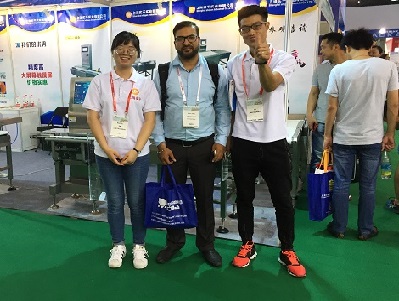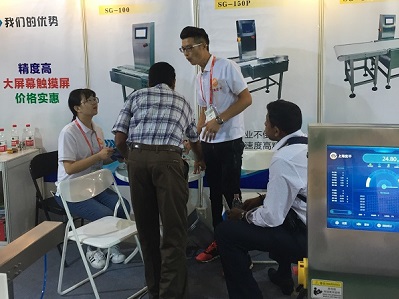 Customers & Packing Details
---
Check and alarm sorting belt scale,automatic check weight machine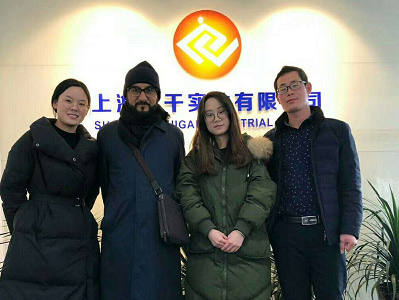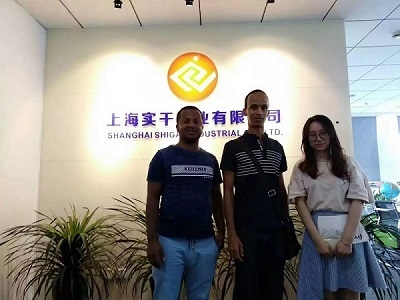 1. Before packaged, the machines will be tested strictly to guarantee the stability and high accuracy.
2. After tested, the machines will be wrapped with plastic sheet and carefully packed in wooden cases.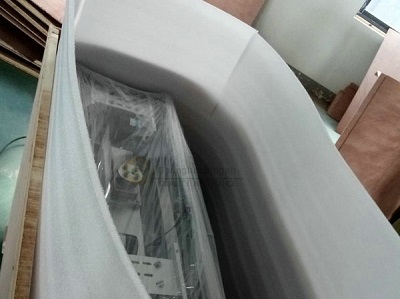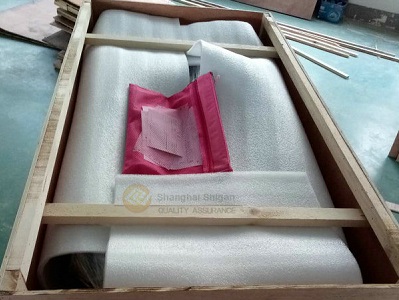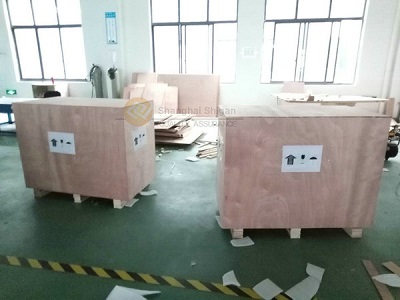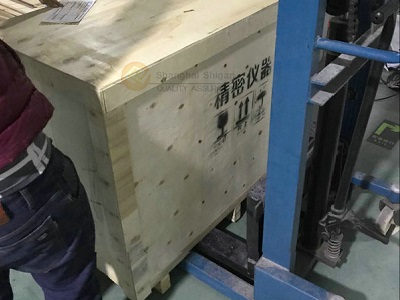 Customized & Technology
---
Check and alarm sorting belt scale,automatic check weight machine
Customization Philosophy:
The product demonstrating may not perfectly meet your requirements,

our philosophy is to customize your real need.
To minimizing idle capacity and function. To supply you performance and cost balanced products. Following are the factors shall be taken into account during customization:
1.Products to be packed
2.Container to be filled, type and specification.
3.Capacity requirement
4.Automation requirement
5.Protection requirement
6. Other specific requirement
1.Calibration method of online weight sorting machine
(1)Weighing preparation:When the product enters into the sorting scale, we first set the speed of the sorting scale.At this time, we will generally decide jointly according to the space of the product and the required speed.(2)The weighing process:When the product enters the sorting scale, the system of the sorting scale will identify the product to be detected to enter the weighing area according to the external signal, such as the photoelectric switch signal, or the internal level signal....More Information
2.The application of online automatic checking weigher with large range
(1).It is used in the product packaging and processing process at the back end of the product line to detect whether the FCL products are missing parts, missing or overpacked.(2). It is mainly used with quantitative packing machine and quantitative filling machine to test whether the weight of large products is qualified....More Information
3.What are the reasons for the conveyor belt of the weigher not running?
(1). Inspection of check weigher conveyor belt
(2). Accuracy and speed
(3). Correct reset after disassembling or inspecting the equipment....More Information
Q&A
---
Check and alarm sorting belt scale,automatic check weight machine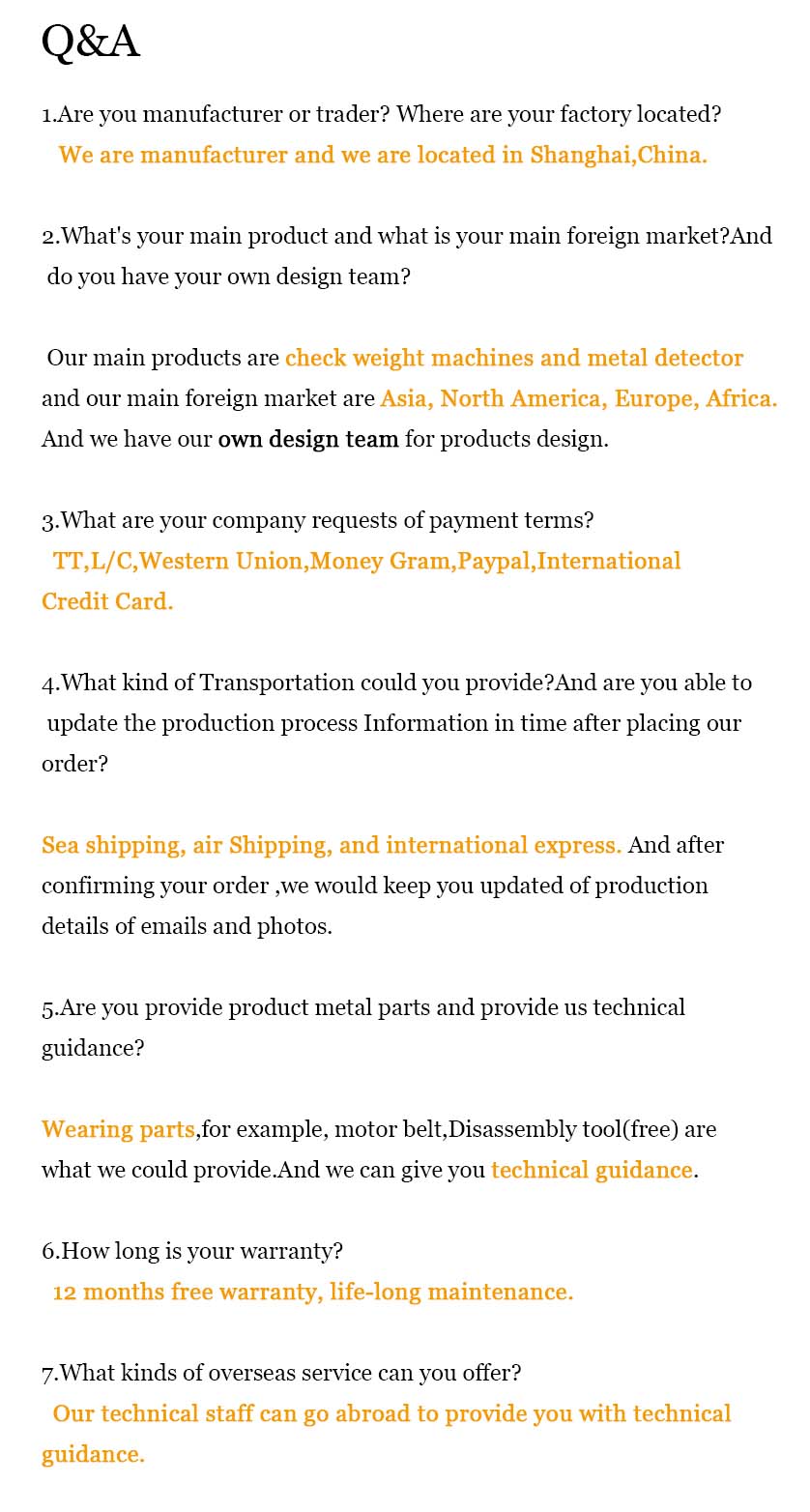 You Maybe interested
Dynamic check weigher manufacturer Fruit sorting and weighing scale
Automatic weight checker price Digital conveyor belt weighing machine
Multistage sorting scale Cosmetics automatic weighing system
HOT LABELS:alarm sorting belt scale,automatic check weight machine,check weight machine,sorting scale,online automatic checkweigher