The real-time checkweigher labeling machine is manufactured by Shanghai Shigan Factory. This automatic weighing and printing labeling machine of our company is a production and packaging equipment that improves labor efficiency. The weighing unit and the labeling unit are integrated, which can print real-time weight labels, production date and other variable information. Set the unit price of a product, and automatically calculate the total price of a single product. The intelligent weighing labeling machine can also be connected to the system to generate a two-dimensional traceability code to trace the product.For further information about our machine, or if you would like one of our professionals to contact you, please do not hesitate to contact us.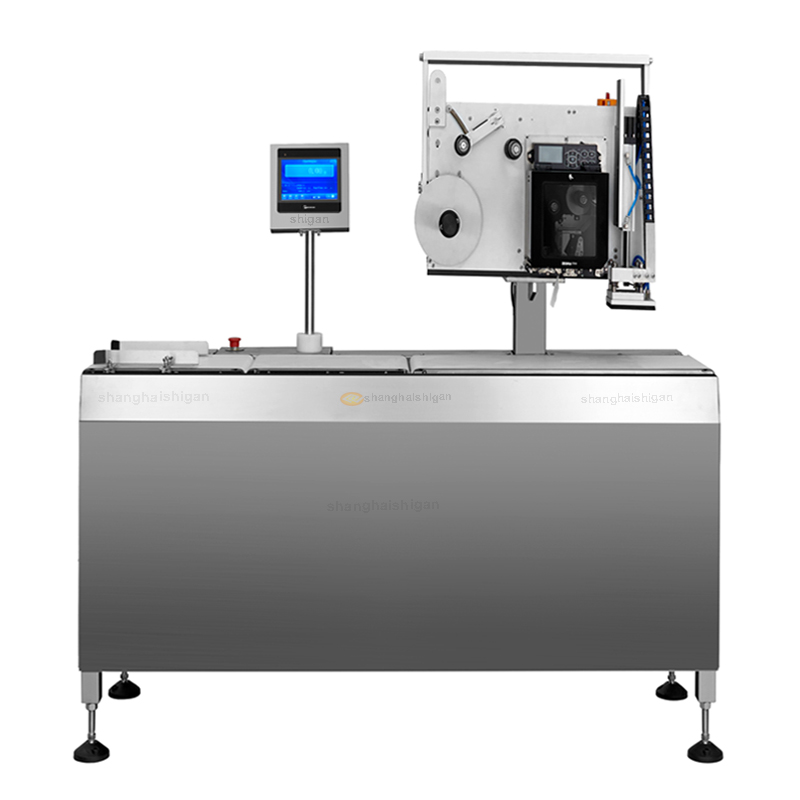 Specification parameter of assembly line checkweigher labeling machine
Weighing range: 5g—1500g
Maximum detection accuracy: ±0.5g (the larger the weight, the faster the speed, the worse the accuracy, depending on the product size, speed, and weight)
Minimum scale: 0.1g
Belt width: 220mm
Belt height from the ground: 800mm±50mm
Conveying speed: 20-60m/min (variable frequency control)
Detection speed: 60~120 pieces/min
Conveying direction: facing the screen from left to right
Power supply: 220V 50-60HZ
External air source: 0.6—1Mpa
Air pressure interface: ¢8mm
Work rate: about 200W
Dimensions: about 1543mm(L)*721mm(W)*1470±50mm(H)
Host weight: about 100Kg
Main Advantages
1. The program storage function of the online weighing labeling machine: the user can preset the setting parameters for various products (such as the number of labels, delay, alarm processing method, etc.) in the control computer, and call them when the production needs are changed. Use, no need to reset.
2. The checkweigher with labeling machine has a variety of labeling methods: pneumatic, blowing, sweeping and other methods for users to choose, which can meet the labeling requirements of different occasions/different items.
3. Counter function: A variety of counter functions are convenient for users to understand and follow up the production status, material status, label usage, etc. Different counting methods can greatly improve the flexibility of users for different production and statistical needs.
4. Alarm function: When the real-time weighing labeling machine fails, the system will pop up the corresponding alarm information or stop, so that the user can clearly understand the failure situation. (Optional alarm methods include: "close/open" signal and "stop/non-stop" command, etc.).
5. The check weigher with labeling machine has the function of real-time printing and labeling to prevent leakage, and the function of automatic labeling (reprinting) can be selected to meet the special needs of the production line.
6. Flexible editing software: The automatic weighing labeling machine is compatible with most Chinese/English label editing software, and the printing content editing has strong flexibility.
7. Extended function: The high speed weighing labeling machine can be connected to other equipment (such as: barcode reader, electronic pop, testing equipment or other industrial equipment, etc.) to form an integrated system to meet the user's complex production management and logistics monitoring application requirements.
8. Connection function: The dynamic weighing labeling machine is connected to the main system via Ethernet to achieve the purpose of real-time management and system integration, eliminating the need for on-site configuration control computers.
9. Easy to use: The touch screen of the checkweigher and labeling machine is equipped with a humanized Chinese-English bilingual user interface, which is simple and easy to use.
10. Easy to install: stand up stand, easy to adjust; the distance between objects is large, which reduces the need for fine-tuning during installation.
11. The assemble line weighing labeling machine adopts imported electrical components from world-renowned brands to ensure the long-lasting stability and reliability of the whole machine.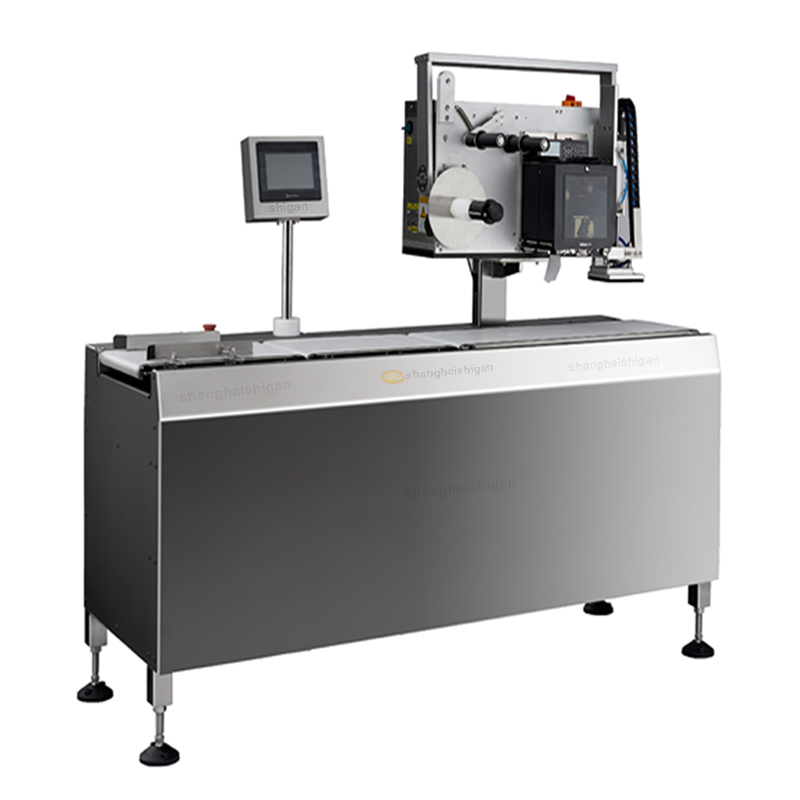 Application

The assemble line weighing labeling machine realizes online weighing and real-time printing and labeling can be done on one device, instead of manual weighing, manual labeling process, saving manpower, and higher speed, improving efficiency, our company said The re-labeling machine can be used in various industries. Large and small cartons, boxes, bags, packages, and bottles can be weighed and labeled. It is an ideal equipment for automated packaging production.Widely used in food, medicine, daily chemical, industrial manufacturing, printing, logistics and other industries.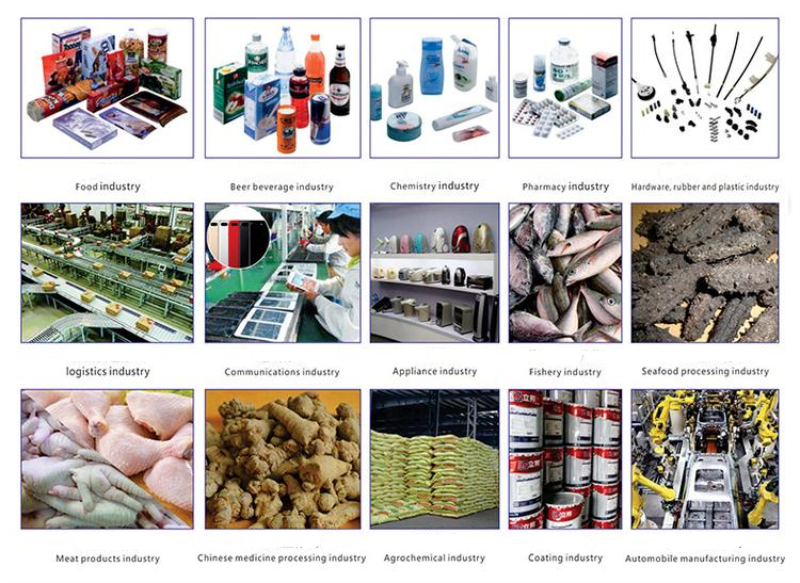 About Us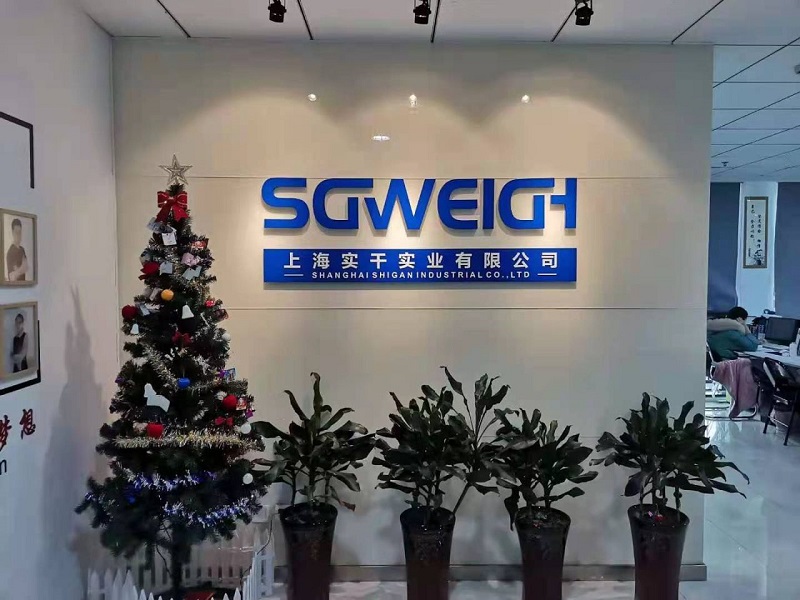 Shanghai Shigan Industrial Co., Ltd. is located in the beautiful scenery of Shanghai, China. It has been engaged in the production and development of assembly line weighing equipment since 2010, and has obtained CE certification and a number of professional certificates. The company has always adhered to the business philosophy of "innovation, quality and efficiency" Provide you with perfect, high-quality products and services. Now our company's products have been sold all over the world, and have gained the trust and praise of countless customers!
Our main products are: online checkweighers, digital metal detectors, weighing labeling machines,weighing metal detectors, and a series of assembly line packaging testing equipment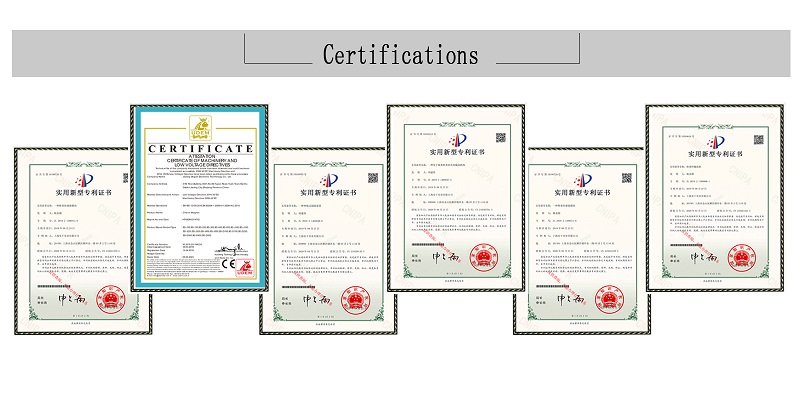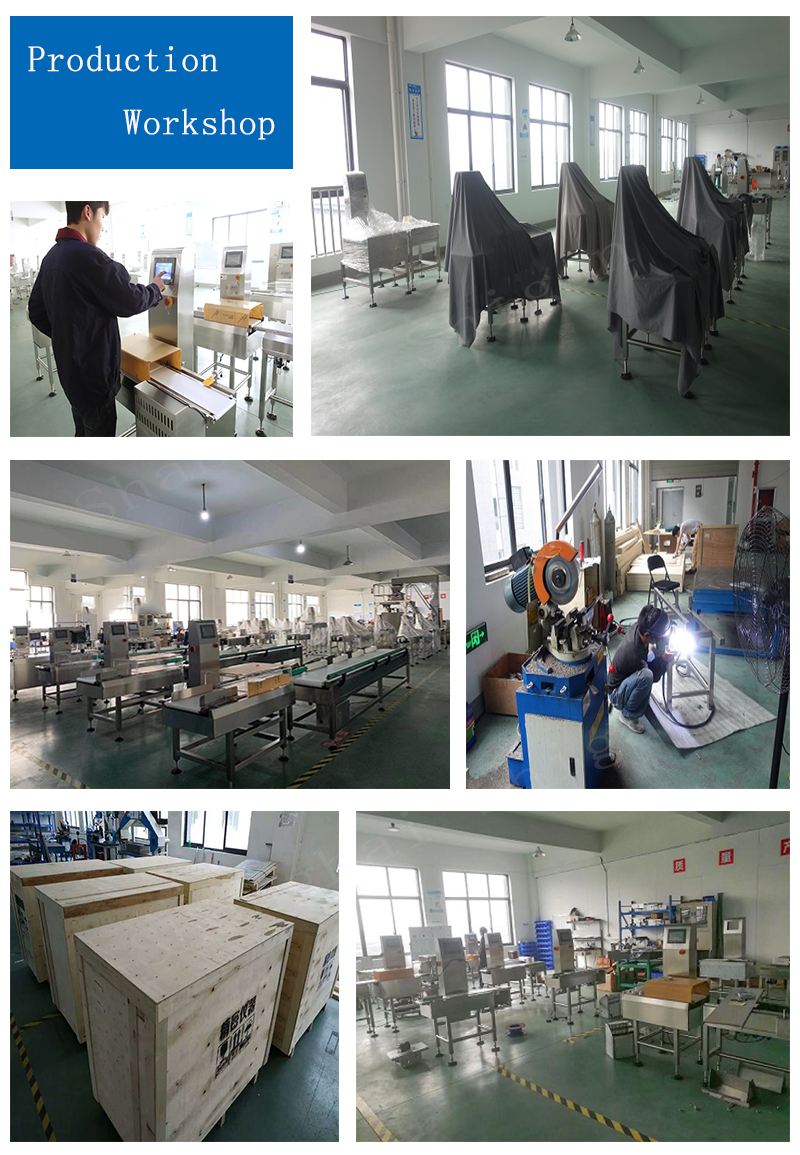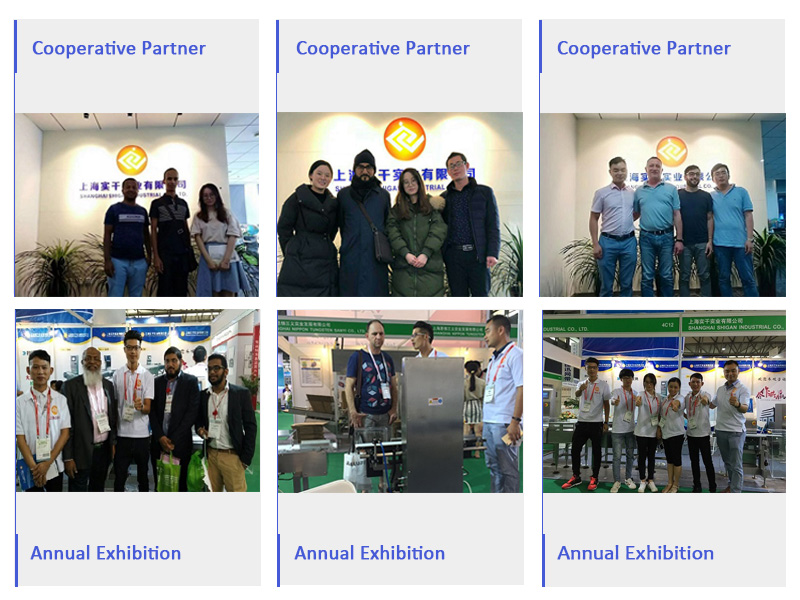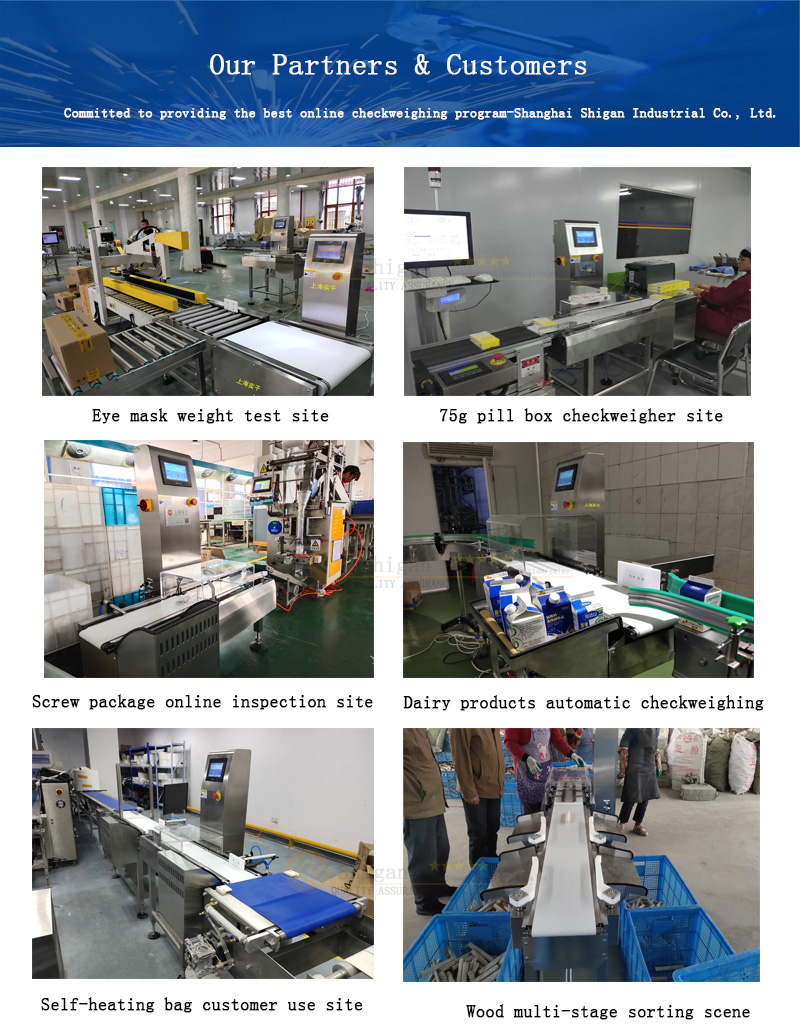 After Sale Service
Based on the spirit of pursuing high-quality products and customer satisfaction, Shanghai Shigan Industrial Co,.Ltd solemnly promises you with the principles of preferential prices, considerate service, and reliable product quality.
1.Product quality commitment:
(1). The manufacturing and testing of products have quality records and testing data.
(2). For product performance testing, we sincerely invite users to personally check the whole process and performance of the product, and then pack and ship the product after it is confirmed to be qualified.
2. Product price commitment:
(1). Under the same competitive conditions, our company will sincerely provide you with preferential prices on the basis of not reducing product technical performance or changing product components.
3. Delivery time commitment:
(1). Product delivery time: Try to meet user requirements. If there are special requirements, it needs to be completed in advance, and strive to meet user needs.
Related Products
Power roller checkweigher manufacturer price Dynamic weight detection check weigher
Electronic checkweigher for pharmaceutical Reject check weigher for unqualified products
60g nut high speed check weight machine Boxed badminton automatic checkweigher
Hot Labels:automatic,real-time,assembly line,checkweigher labeling machine,price, intelligent,computer,weighing labeling machine