High precision industry checkweigher is a weighing equipment specially used for online inspection of packaging products. The birth of the modified equipment has greatly improved the production efficiency and quality of the enterprise. High precision check weigher can be embedded in the production line, matched with various packaging equipment or used alone; through quantitative settings, online inspections one product weight, automatic identification of underweight and overweight products and automatic rejection. Become a necessary equipment for many industries. It is a new high-tech product integrating conveying, weighing, metering and control.If there is any need, please contact me at any time.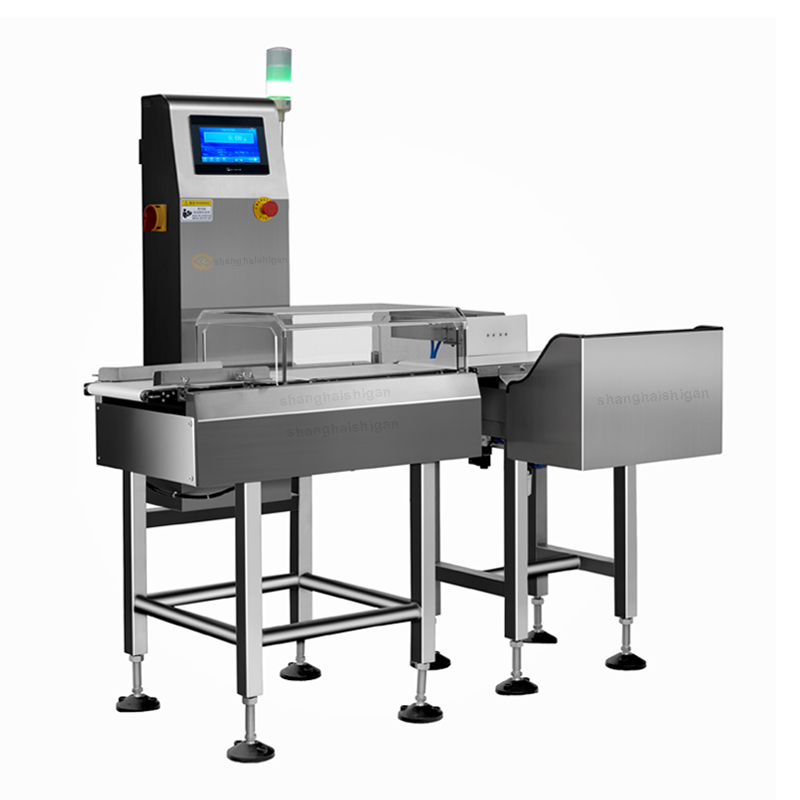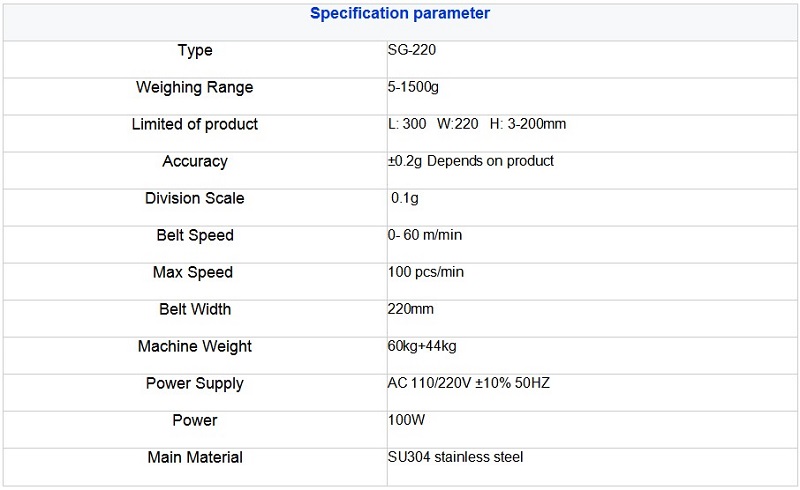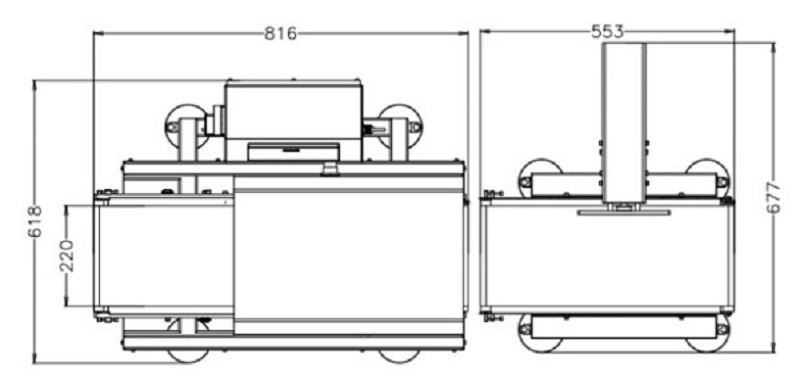 1. Large-size color LCD touch screen interface, simple operation and intuitive display.
2. Support multiple languages: Chinese, English, Spanish, Italian, Japanese, Korean, etc. (customer specified), the default is Chinese and English.
3. It can store 200 kinds of product inspection data, which is convenient for users to call.
4. The USB data storage interface can transfer report data to a PC for analysis and printing.
5. Parameter setting password protection, only management personnel operate.
6. Automatic zero tracking system to ensure reliable detection data.
7. Built-in temperature and noise compensation system to ensure system stability.
8. Online printing function (customization required).
9. Data external communication interface, which can be connected to other equipment in the production line (eg: labeling machine and inkjet printer) (customization required).
10. A variety of rejection devices: lever type, air blowing type, roller push rod type, belt push rod type, drop type, flap type, belt contraction type.
11. Simple mechanical structure, easy to disassemble, clean and maintain.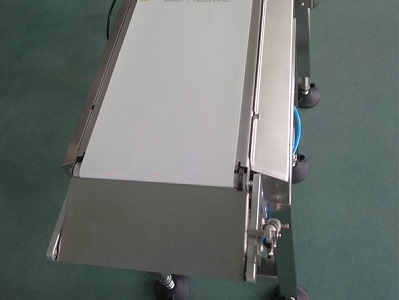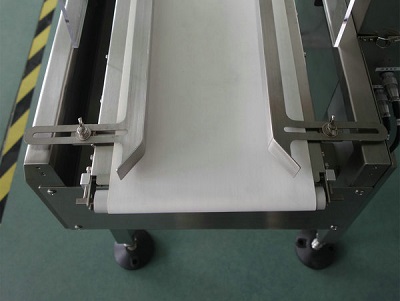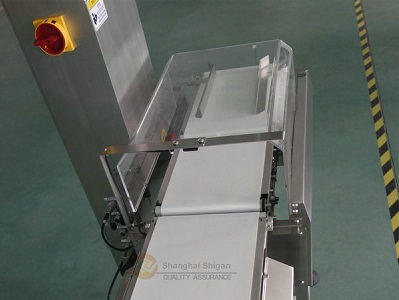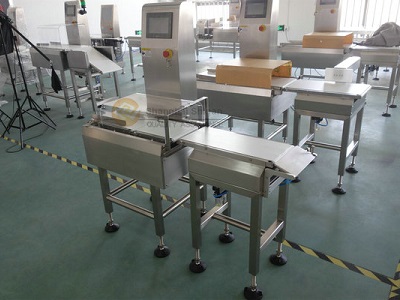 High precision checkweigher effectively saves labor costs and improves the standardization of products. It is widely used in fruit and vegetable, seafood, fishery, poultry, pharmaceutical, daily necessities, logistics, chemical and other industries.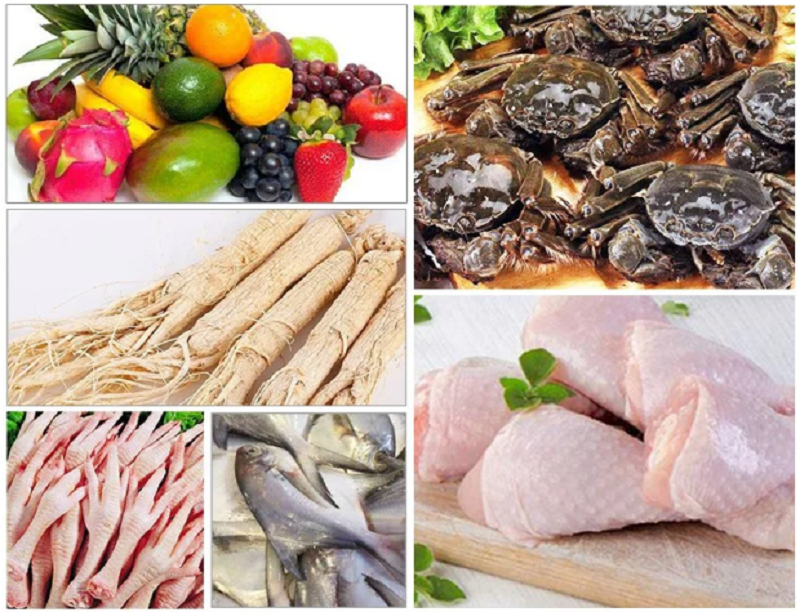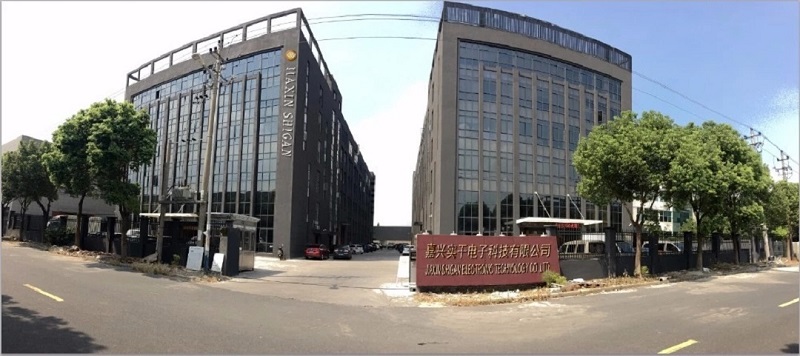 Shanghai Shigan Industrial Co.,Ltd is a high-tech enterprise incorporating technology, research development and processing and marketing. The company has years of experience in weighing areas. It provides customers with cost-effective checkweigher, multi-level screening scale and corresponding auxiliary devices with excellent design capability and complete process control. The quality of product is reliable and stable. Some products not only surpasses similar imported products, but also exports to all over the world. It is popular with the masses of users and dealers and gains praise from them.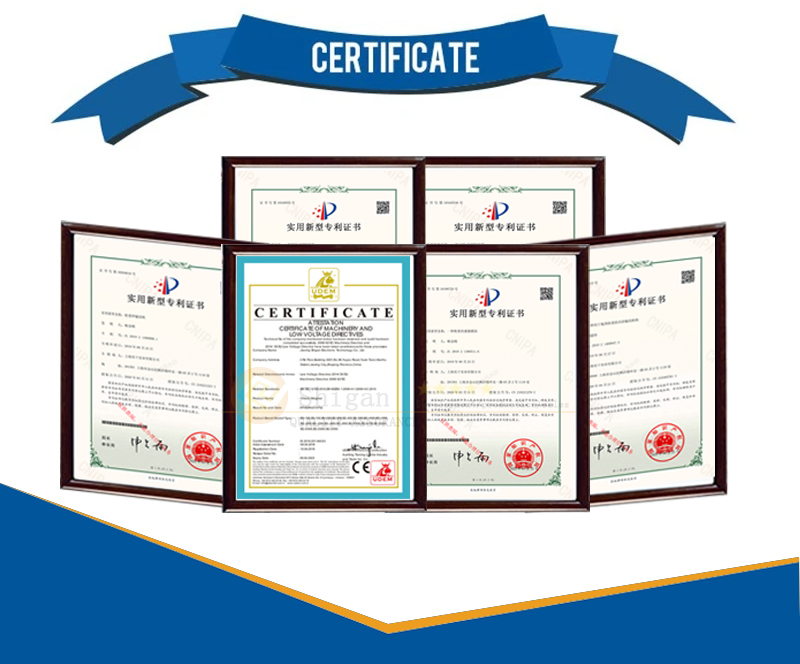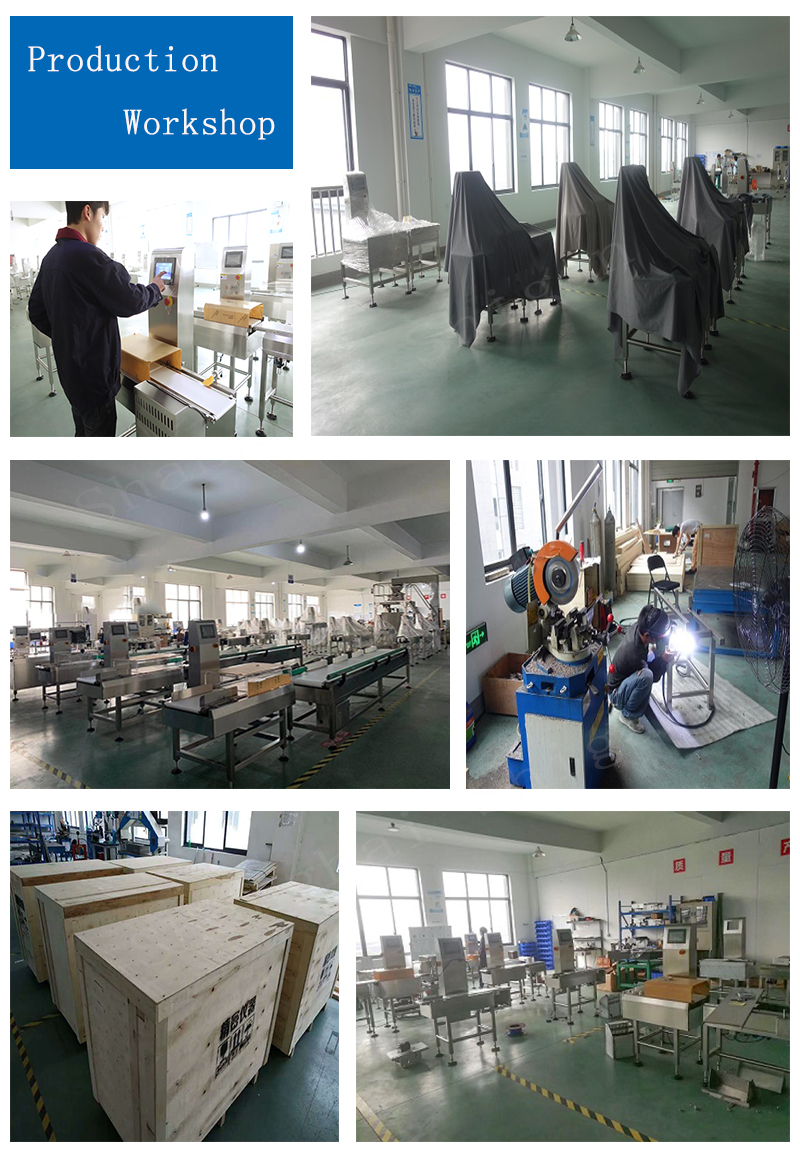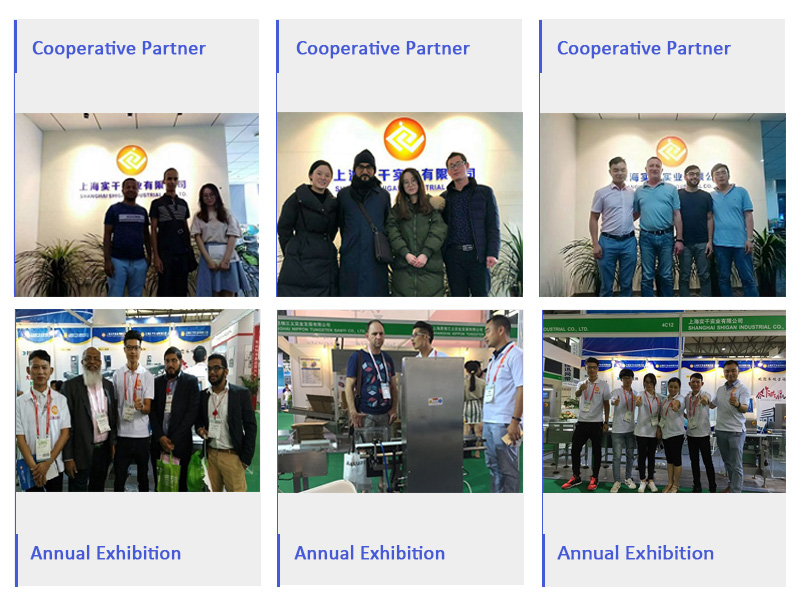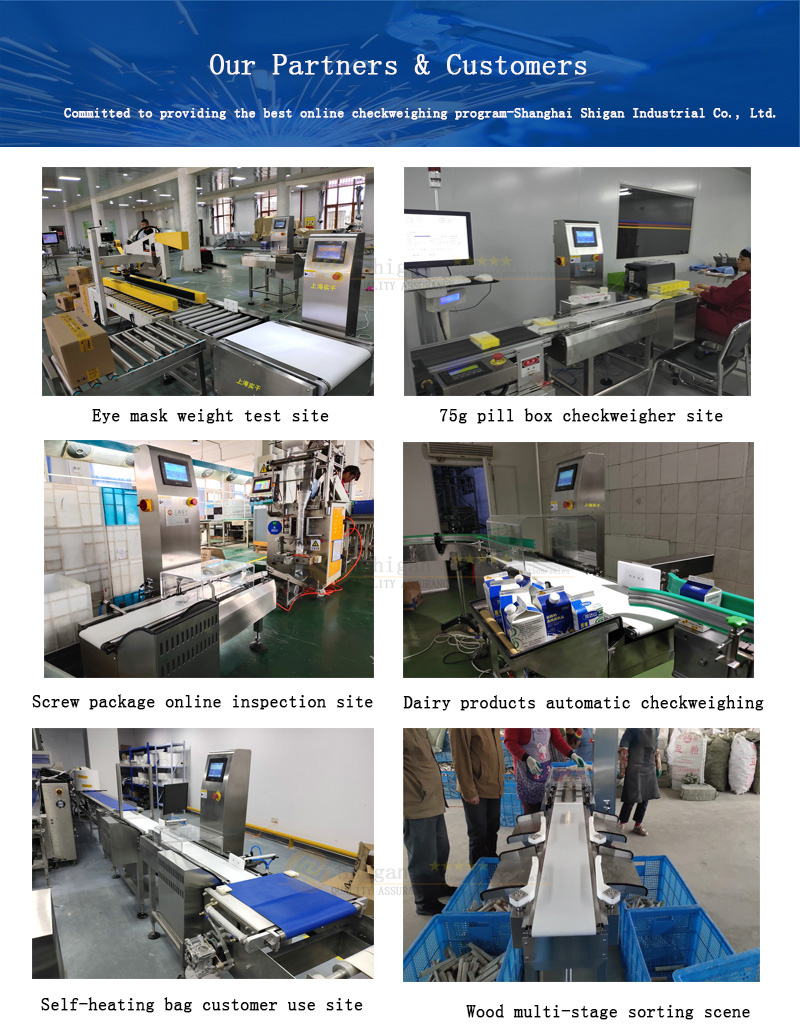 1. How to install a new high accuracy checkweigher?
First of all, our machine is designed to be easy to install; we also provide you with a very detailed operation manual and installation video. If necessary, we will arrange technical engineers to serve overseas. We will share the cost with our customers.
2. How to solve the problems in the use of the online checkweigher?
We have a dedicated after-sales service team, ready to solve problems for customers at any time. First of all, customers can describe the problem to us via email or phone; sometimes we need you to provide problem pictures and videos for our technical engineers to refer to. After finding the problem, we will discuss and provide you with the most effective solution in a short time. If necessary, we will arrange the most experienced engineer to go to your factory to solve your problem as soon as possible.
3. Warranty period and spare parts supply?
We have a one-year warranty and lifetime maintenance. In the first year, if there are any non-human damaged parts, we will provide new replacement parts free of charge.
4. Do you provide OEM service?
Yes. Provide OEM service. Our professional designers will make your private ideas into reality. We will protect your sales area, design ideas and all private information.
We are negotiating with agents and distributors in many countries.
5. Does your machine have an invention patent?
Yes. We have obtained 5 core software copyrights and 9 patented technology authorizations.
6. How to connect your machine with computer, printer, scanner or encoder?
Through the RS232 or RS485 port of the hardware configuration and various compatible communication protocols of the software, it is directly connected with the computer and the printer/scanner to output the weighing data.

Related Products
Automatic Check Weight Machine Inline Weighing Checkweigher Machine
Sanitary napkin high speed checkweigher High speed weight sorting checkweigher factory
Automatic detection of multiple metals machine Checkweigher & metal detector combo
Hot Labels:High precision checkweigher,industry checkweigher,online check weight machine,checkweigher price,automatic weight checker,checkweigher manufacturer