The packaged products pass the checkweigher conveyor belt scale weighing test, the qualified ones will be sent back to the original conveyor belt, the unqualified ones will be rejected (or alarm shutdown), and the products are classified and counted according to the settings, and the feedback signal is automatically provided to adjust and correct the feeding equipment , Text display fault alarm information, multiple graphic statistics display and other functions.Dynamic checkweigher can help companies save manpower, improve efficiency, avoid unnecessary loss due to excessive packaging or customer complaints due to insufficient weight, so as to improve customer satisfaction. It is a quality inspection equipment for automatic production lines and packaging lines.If you are interested in our products and services,please contact us.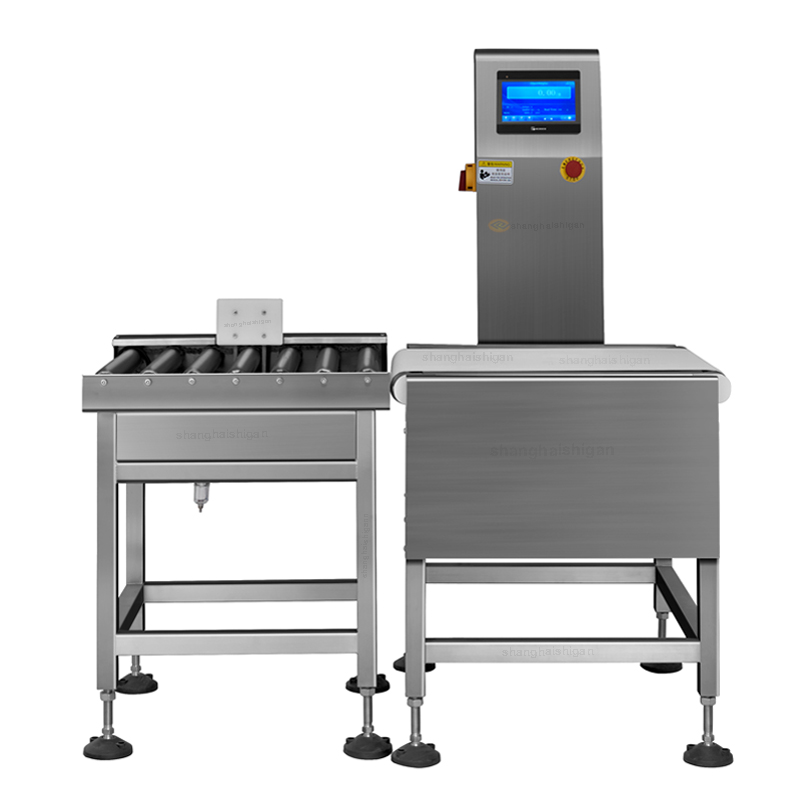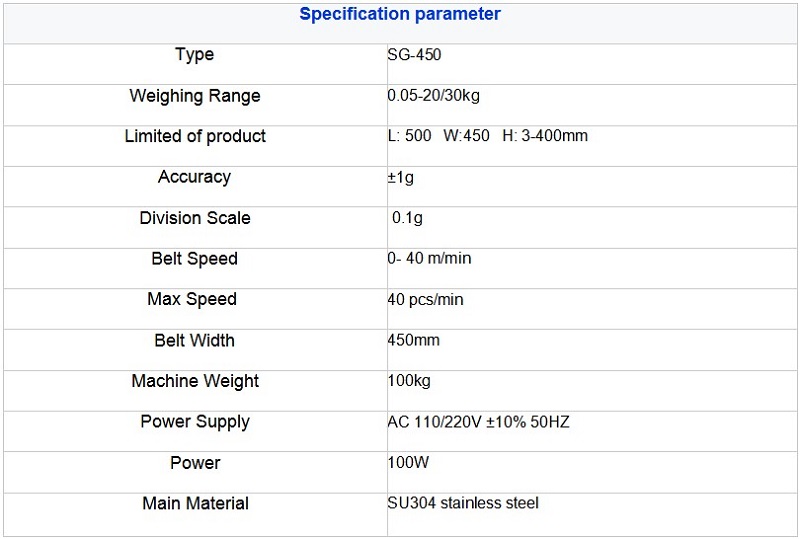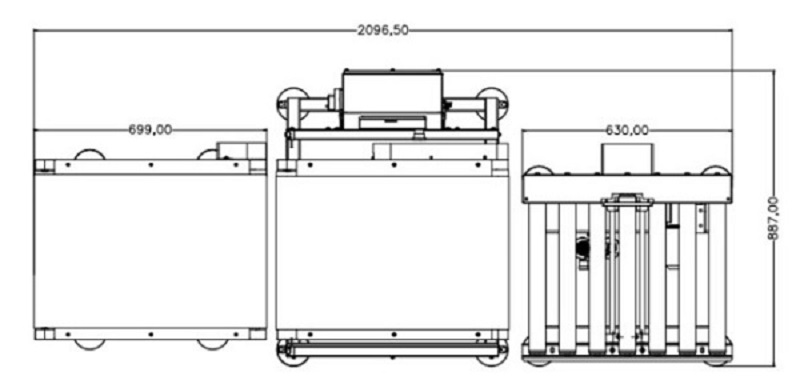 The above parameters are the experimental values of the equipment in the standard state. The above parameters may be affected due to the difference in the working state of the equipment, the working environment, and the shape of the detected object.

a. Standard SUS304 stainless steel body, in line with various specifications for food and pharmaceutical production
b. Fast belt replacement system, easy to clean the conveyor belt
c. High-precision imported sensors and motors ensure the high precision and high speed of the automatic checkweigher
d. A variety of commonly used product presets; simple product editing and storage functions.
e. High-speed product switching and automatic adjustment of the sorting speed of corresponding products.
f. Color touch screen integrated control, Chinese and English one key switch, simple and convenient operation.
g. The input and output of external equipment realize online function, which can carry out various controls
h. Automatic zero tracking technology
i.U disk data storage, production data 2G-4G large-capacity storage, and statistical functions such as histogram, sliding average, standard deviation, convenient for customers to read and make various production adjustments at any time

This online automatic checkweigher is widely used in food, beverage, condiment, cosmetics, daily necessities and other industries for full box weighing inspection. Casting's assembly line checkweigher can quickly detect missing parts/missing packages/underweights, etc.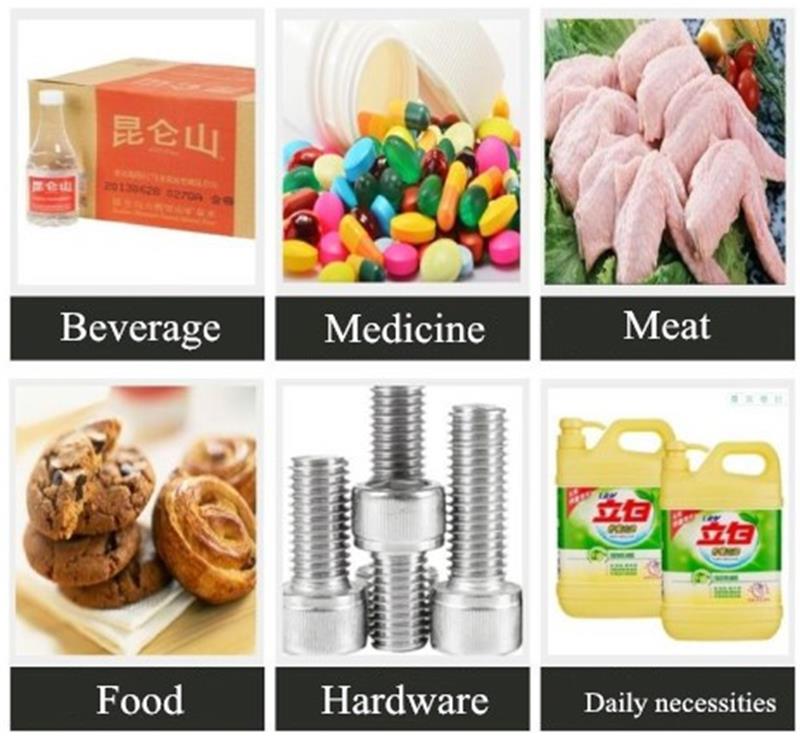 ♥ With years of export experience along with excellent quality, advanced services and competitive prices, Shanghai Shigan has won numerous customers' trust and support.Shanghai Shigan Industrial Co.,Ltd.is a high-tech enterprise incorporating technology,research development and processing and marking.
♥The company has years of experience in weighing and packaging areas.It provides customers with cost effective packaging and weighing equipment.The quality of product is reliable and stable.
♥The company always adheres to operation guideline of "taking quality as king,innovating continuously",and takes "keep promise,user is supreme"as enterprise tenet to cooperate with the majority of users and welcome presence of new and old customers.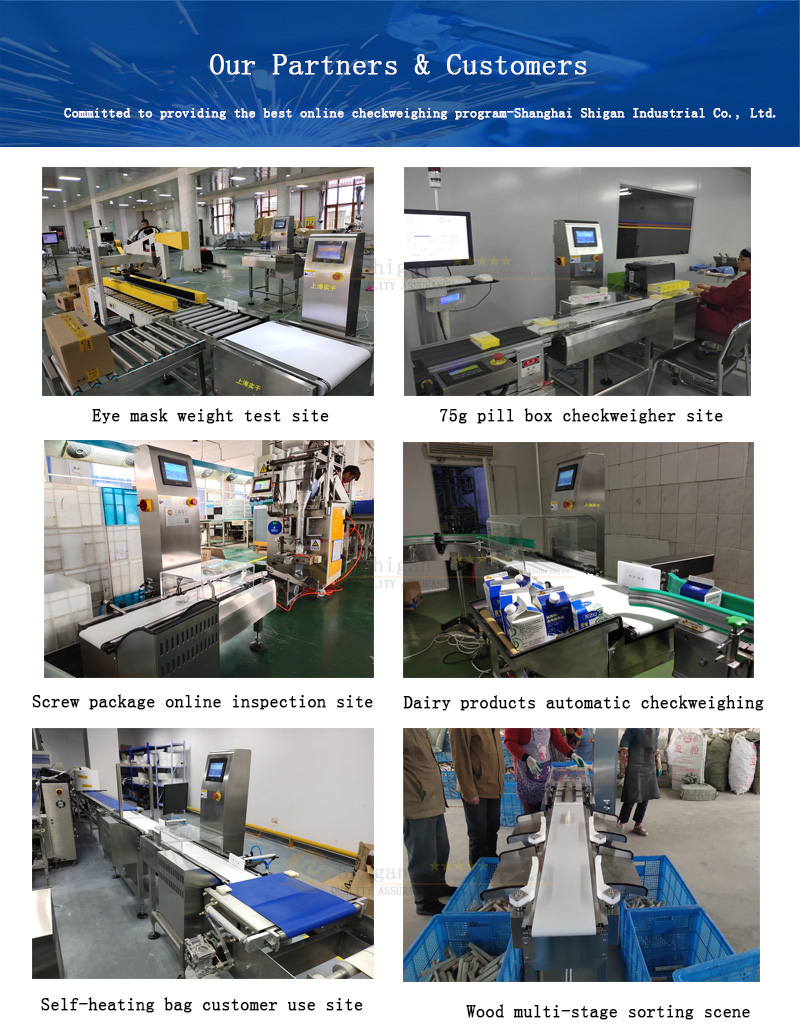 1.Are you a manufacturer?

Yes, we are a professional checkweigher manufacturer with our own factory, and we also welcome you to visit our factory
2. What is the detection accuracy of your company? How fast can it be?
There are many determinants of the accuracy of testing products, which are related to the weight, size, speed and use environment of the product. In general, the greater the weight, the larger the product size, and the faster the speed, the worse the accuracy of the product detected, which is inversely proportional. The inspection speed can currently reach 300 pieces/minute.
3. How long does it take for your company's products to be delivered?
For customers who can use standard machines, our company has them in stock. After receiving the payment, they can be shipped within three working days. For non-standard equipment, due to the need to redesign and change, the delivery time is about 2-3 weeks. The company currently introduces a processing technology team to shorten the delivery time as much as possible.
4. What are the dimensions of the product?
Our company supports product size customization, please contact technical staff for details
5. Payment method
There are many payment methods we support, such as:TT,L/C,Western Union,Money Gram,Paypal,International Credit Card.

Based on the spirit of pursuing high-quality products and customer satisfaction, Shanghai Henggang Company solemnly promises you with the principles of preferential prices, considerate service and reliable product quality.
1.Product quality commitment:
(1). The manufacturing and testing of products have quality records and testing data.
(2). For product performance testing, we sincerely invite users to personally check the whole process and performance of the product. After the product is confirmed qualified, it will be packed and shipped.
2. Product price commitment:
(1). Under the same competitive conditions, our company will sincerely provide you with preferential prices on the basis of not reducing product technical performance or changing product components.
3. Delivery time commitment:
(1). Product delivery time: try to meet user requirements, if there are special requirements, need to be completed in advance, and strive to meet user needs.
Related Products
Canned dynamic food checkweigher Quantitative seafood sorting checkweigher
Agricultural automatic checkweigher price Sock packed high speed checkweigher
Weighing and labeling machine supplier Bottled medicine checkweigher & metal detector
Hot Labels:logistics checkweigher,industry check weigher,checkweigher conveyor belt, check weight scale checkweigher manufacturers,price