Product Information
This foil packaging metal detector can detect iron and non-ferrous metals, with adjustable sensitivity, with memory function, which can preset the parameters of 12 kinds of detection substances. Automatic metal detector has good exclusion for products with moisture and frozen products, and has a breakthrough. Part of the equipment is only sensitive to the technical bottleneck of magnetic substances. The detection instrument adopts sound and light alarm, and it will automatically stop at the same time, or the alarm will not stop. It can be equipped with a kick function and a humanized menu.Any OEM and customer design orders are welcome! If you are interested in our products, please feel free to contact us.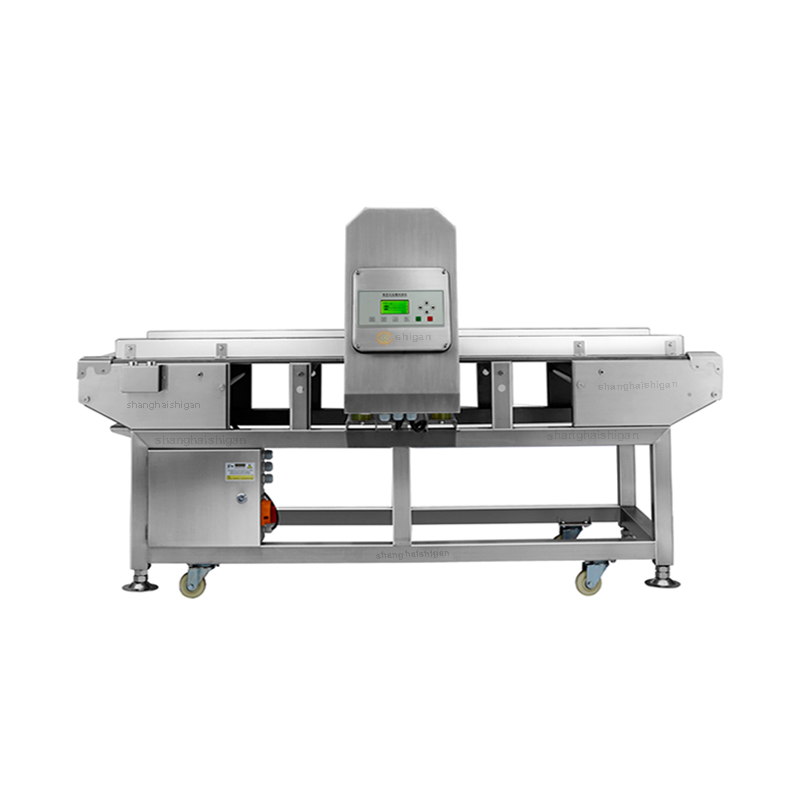 Specification Parameter
Name: metal detector
Type :SG-8500
Main material:SUS Stainless steel (304)
Sensitivity:(Depend on the detection height)
Detection Width:300mm400mm500mm
Detection Height:100 mm120 mm150 mm200 mm
Belt Height: Customized
Max Belt speed :25m/min
Material for conveyor belt:Food grade PU belt,
Display and operation mode:LCD flat key input
Frequency:About 90 W
Powder:AC 110V/ 220V 50-60 Hz
Alarm way:Alarm, belt stop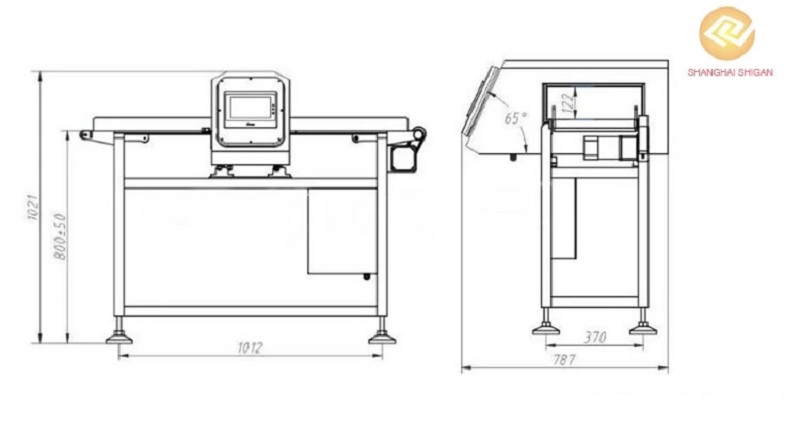 Main Advantages
1. Double loop electromagnetic wave detection, the new analog circuit and digital circuit are combined, which greatly improves the reliability and intelligence of the product.
2. Adopting a new type of touch screen input and a large-scale integrated circuit, the CPU completes the collection of analog signals and converts them into digital quantities for processing and output, automatically collecting the best points of the metal content of the detected objects, greatly improving the sensitivity and reliability of the detection .
3. Using humanized interface design, the entire operation process is simple and intuitive, the man-machine interface is clear at a glance, all functions can be operated directly on the screen to complete the executed functions.
4. Various required functions and modes can be set, and self-check function can be set.
5. Sensitivity, adjustable to increase or decrease (1-9 levels adjustable).
6. When trace metal is detected, sound, light, and instrument will alarm at the same time, and the machine will stop or kick out unqualified products.
7. This product uses a computer to form a control system. According to the special requirements of users, it can complete the number of detections, the classification statistics of qualified products, non-conforming products, data storage and printing, dry and wet concentration product identification, and mutual interference caused by multiple devices working at the same time The separation and other requirements.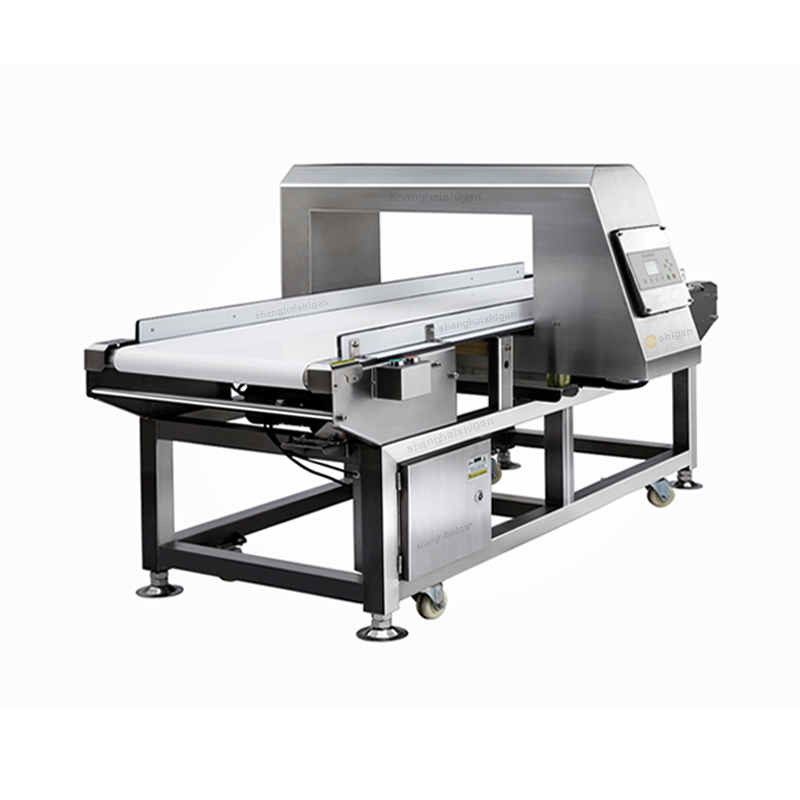 Application
The automatic metal detector can be used for dry and semi-dry food products, including local products, tea, cooked food, coffee, textiles, toys, clothing, shoes and hats and other industries. It is also used for the detection of parallel foods such as aquatic products, poultry, meat, frozen and refrigerated products.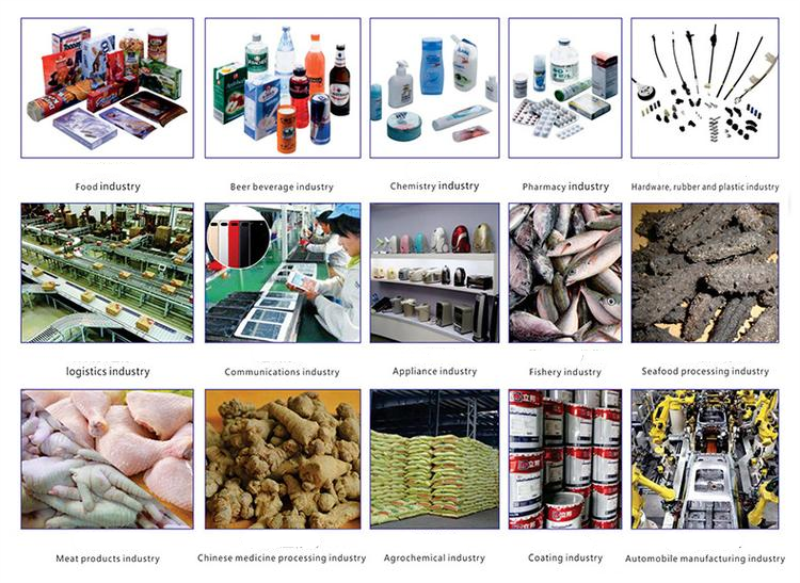 About Us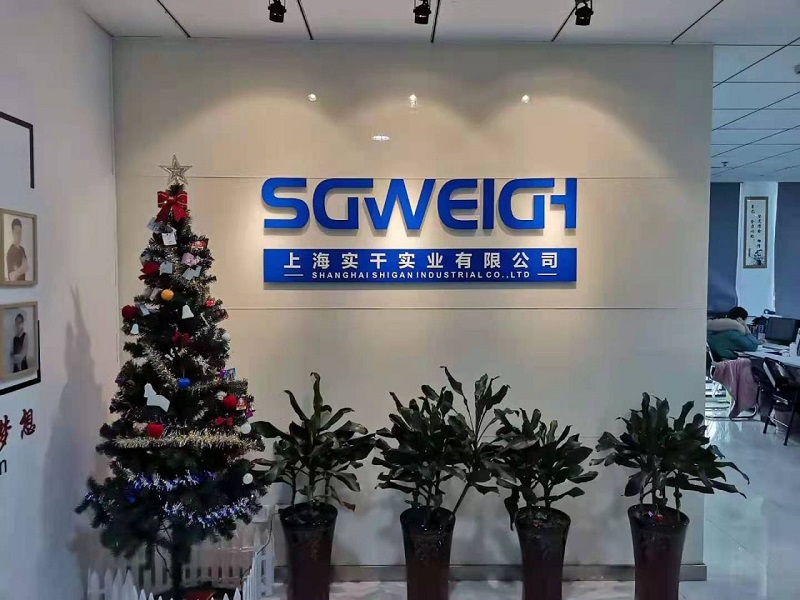 Shanghai Shigan Co., Ltd. is a mechanical automation equipment manufacturer integrating R&D, design, production and sales. Located in the developed area of the machinery industry-Shanghai, China, it upholds "Excellent Service, Good Quality". The company has complete equipment and independently produces various mechanical transmissions and hardware accessories. The courage to research innovative technology and continuous improvement has won unanimous praise from the majority of enterprises. Shanghai Shiqian has always been committed to the research and development and manufacture of a series of packaging testing equipment such as online checkweighers, automatic metal detectors,checkweigher with metal detector,weighing labeling machine, etc., bringing products that balance performance and price To every corner of the world.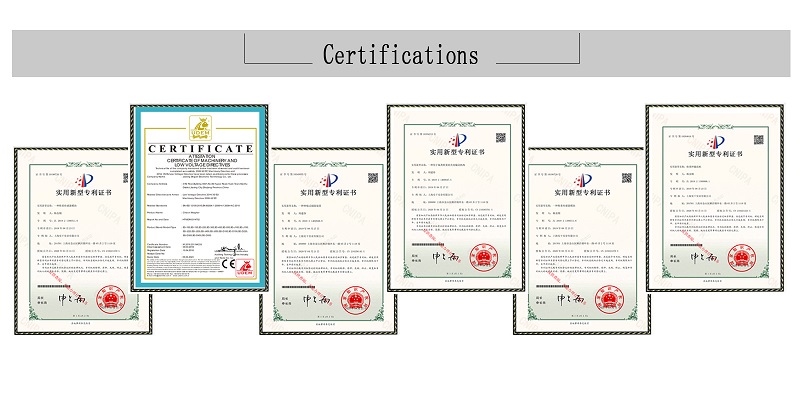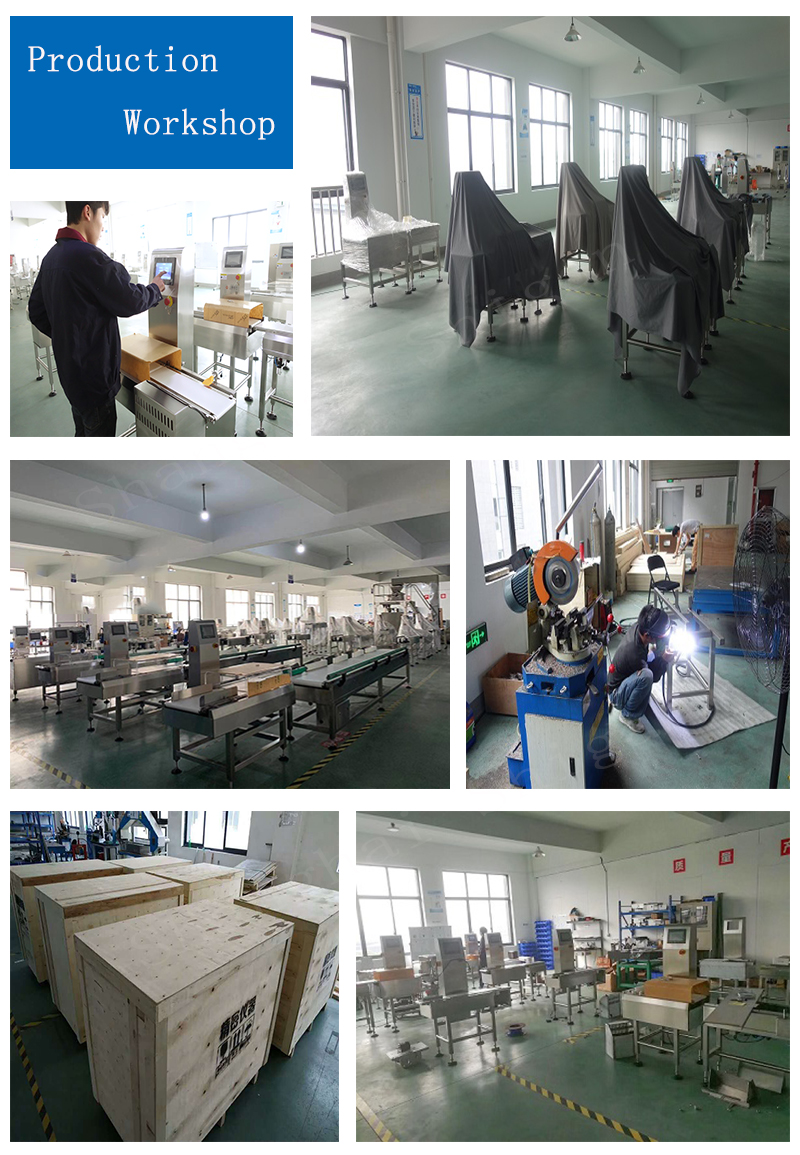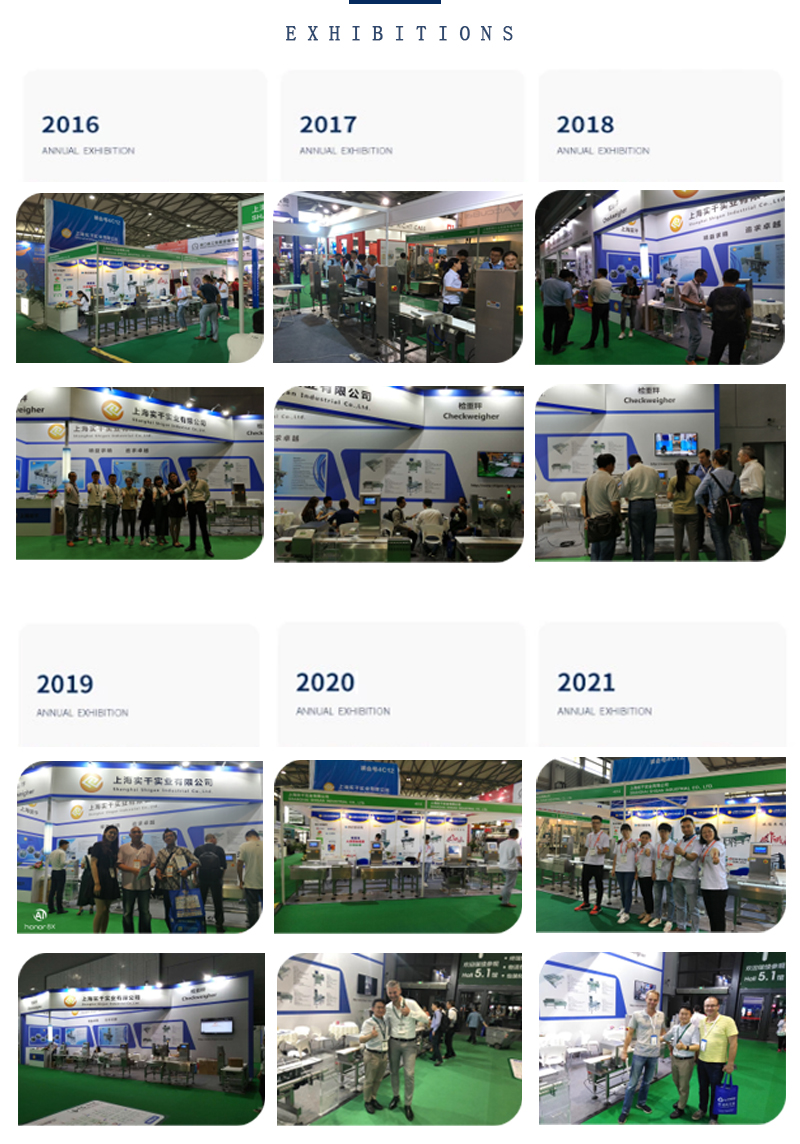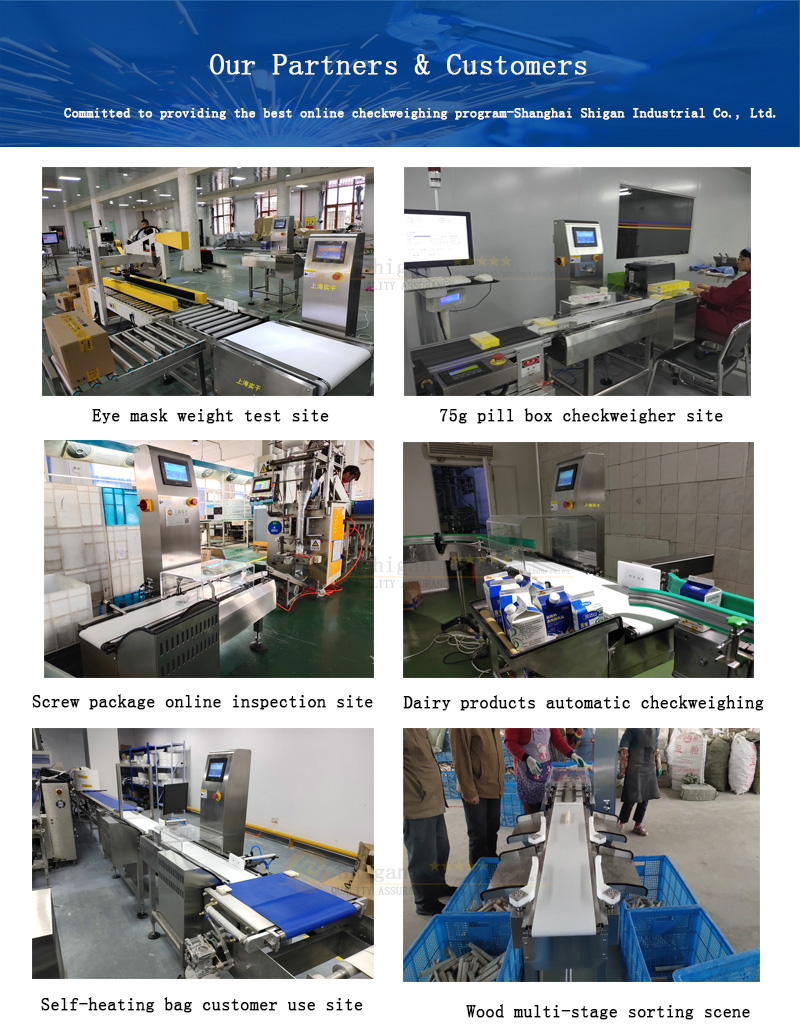 After Sale Serivce
Based on the business tenet of providing customers with satisfactory products and services, Shanghai Shigan Industrial Co., Ltd. solemnly promises: While ensuring the reliability and stability of the instrument, it will continue to improve the quality of service, from in-sale to after-sale delivery, Commissioning, instrument maintenance and management, technical services, user technical training and other aspects, to ensure that customers can receive caring services, so that customers are satisfied and assured.
1. Ensure that the packaging of the instrument meets the requirements of moisture-proof, rain-proof, rust-proof, anti-corrosion and shock-proof, and the identification is clear and correct, so that the goods can be delivered to the site safely and in time.
2. High-quality and fast technical services
In order to better ensure the normal operation of the instrument, answer questions raised by users in a timely manner, and help users solve problems, the company's maintenance center is responsible for providing customers with free technical consulting services at any time.
Related Products
Hardware accessories weight checking machine Belt type automatic weighing machine
Bottle online check weight machine China Large range metal detection machine
Intelligent printing weighing labeling machine Production line check weigher solution
Hot Labels:foil,packaging,metal detector,manufacturer, waterproof,easy to clean,metal detection machine,supply