Product Description
The fully automatic checkweigher is based on dynamic weighing technology, which realizes that the products in motion are automatically transported to the weighing platform for automatic weighing and classification, and the unqualified products are automatically removed from the online weight sorting machine. The online check weight machine has the advantages of high precision, full automation, simple and convenient operation.For further information about our machines, or if you would like one of our professionals to contact you, please do not hesitate to contact us.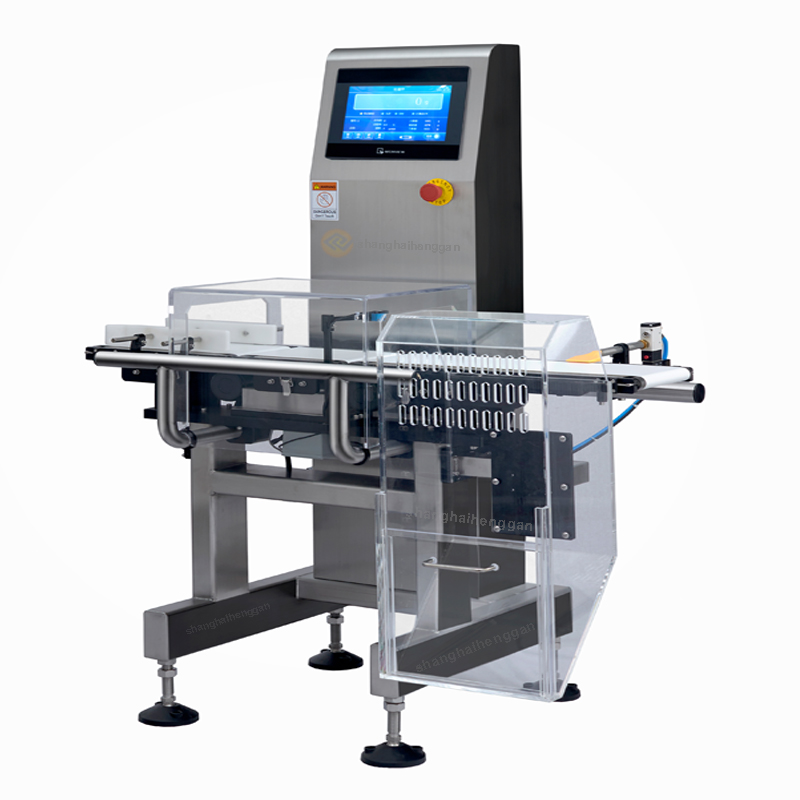 Specification Parameter
TypeSG-150
Weighing Range3-500g
Limited of productL: 200 W:150 H: 3-200mm
Accuracy±0.1g Depends on product
Division Scale0.1g
Belt Speed0- 65 m/min
Max Speed150 pcs/min
Belt Width150mm
Machine Weight60kg
Power SupplyAC 110/220V ±10% 50HZ
Power100W
Main MaterialSU304 stainless steel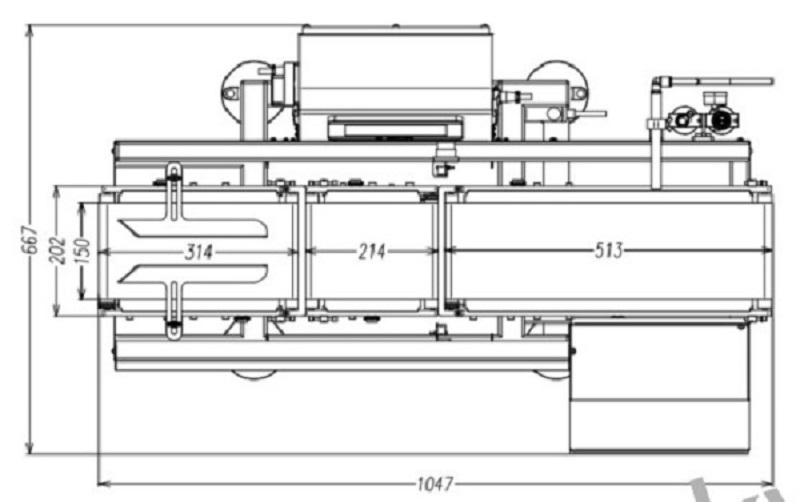 Main Advantages
1.The main body of the weighing machine adopts PLC automatic control system and man-machine interface operation system, which has good matching type, fast response to detection data and simple operation.
2.The weighing detection sensor uses German HBM to ensure the weight accuracy of the product. The imported food-grade belt conveyor belt is adopted to ensure the best smoothness of the conveying process.
3.The reinforced stainless steel 304 frame complies with GMP and HACCP specifications.
4.Zero point automatic analysis and tracking technology.
5.Convenient USB check data copy storage function.
6.10 sets of product preset values can be easily edited and stored.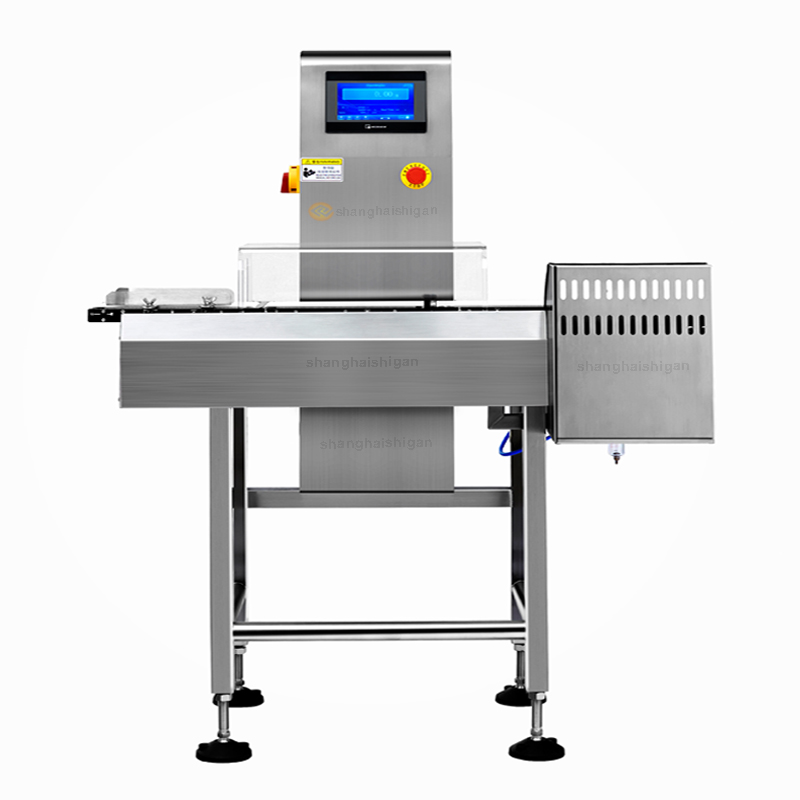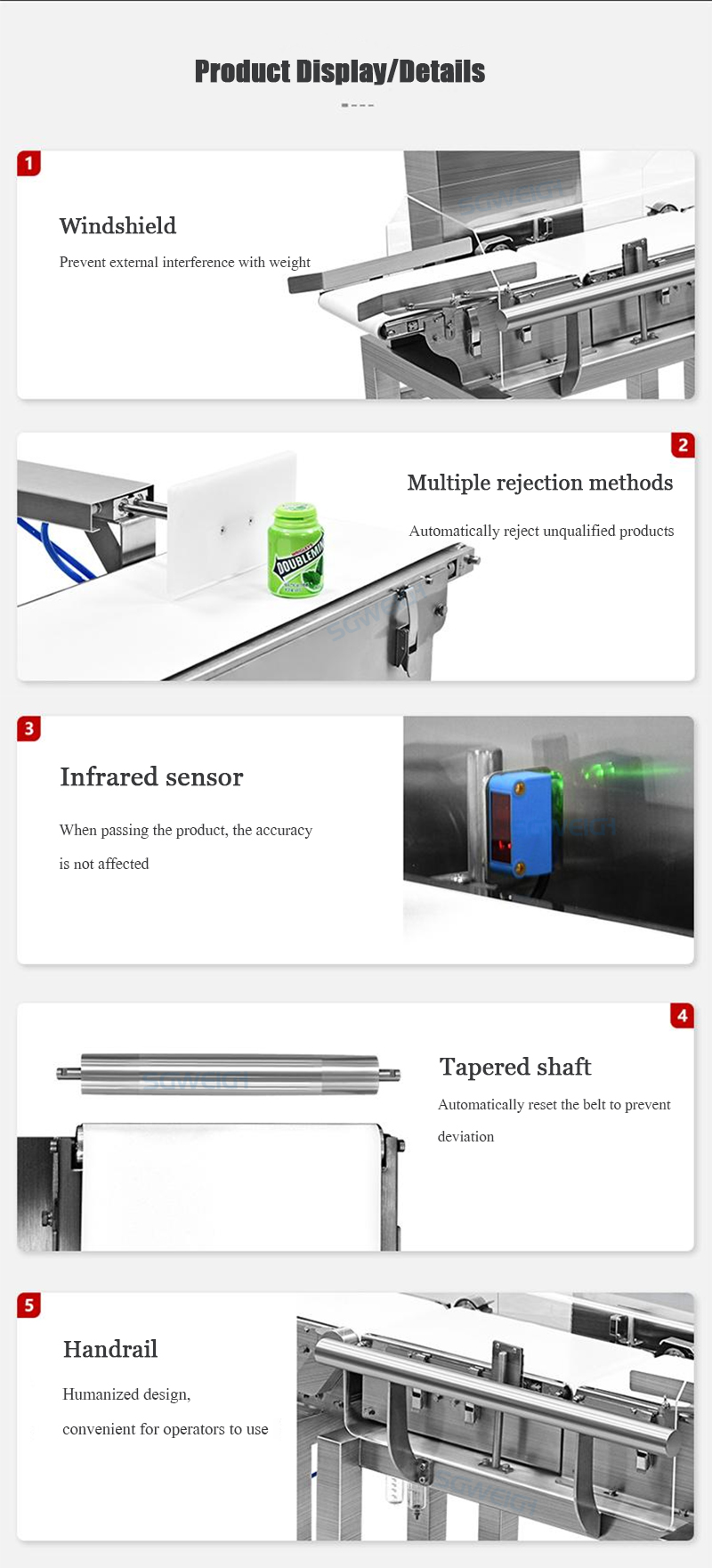 Application
Online check weight machine is widely used in the inspection of packaging boxes (bags), boxes, bottles, cans and other packaging products in the pharmaceutical, food, and daily chemical industries.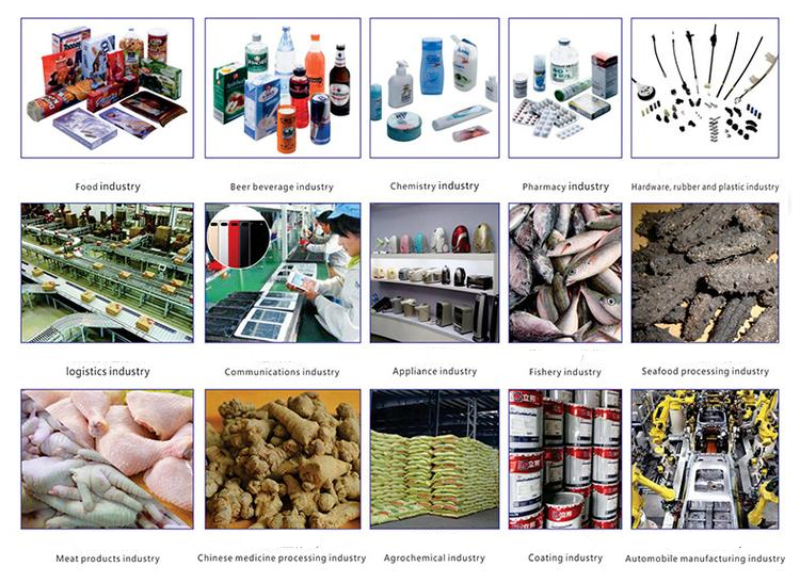 Our Company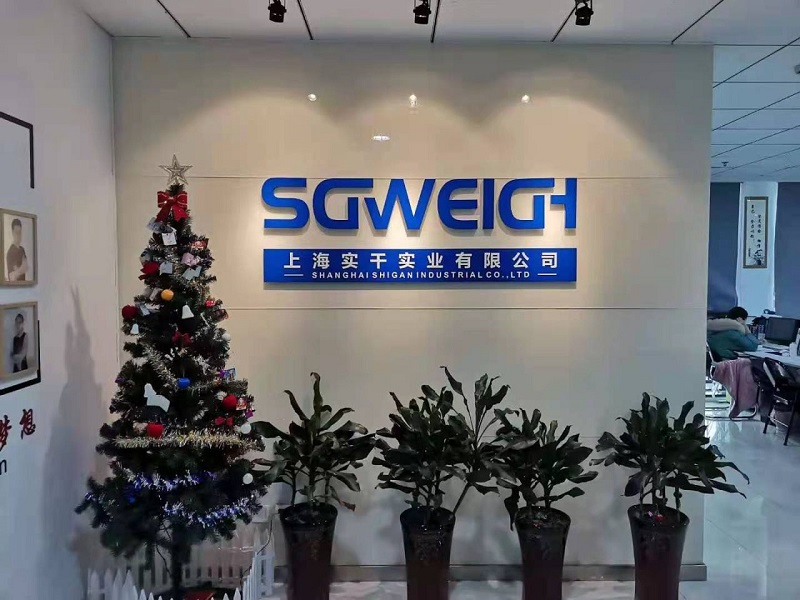 Shanghai Shigan has long focused on the technology research and development of online checkweighers, inline check weighing machine, automatic metal detector,checkweigher and metal detector, weighing labeling machines and other assembly line testing equipment. It is a high-tech enterprise integrating R&D, production, marketing and service. Shigan's Relying on the long-term stable and reliable weighing control system and high-efficiency and high-quality hardware structure, the equipment has won the trust and praise of domestic and foreign customers, and has cooperated with many well-known domestic food, aquatic, poultry and other industries.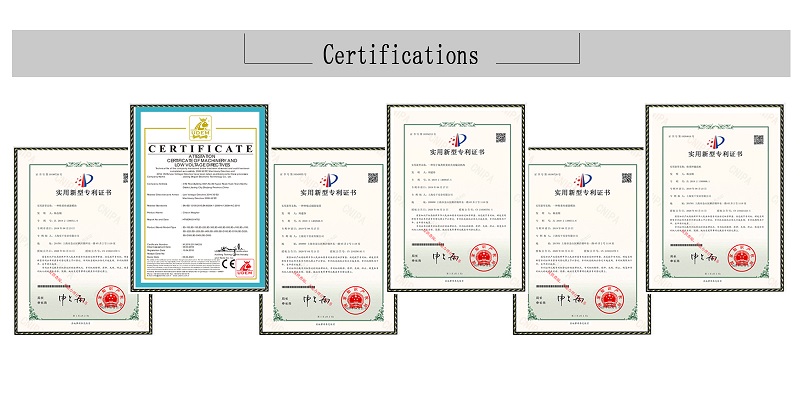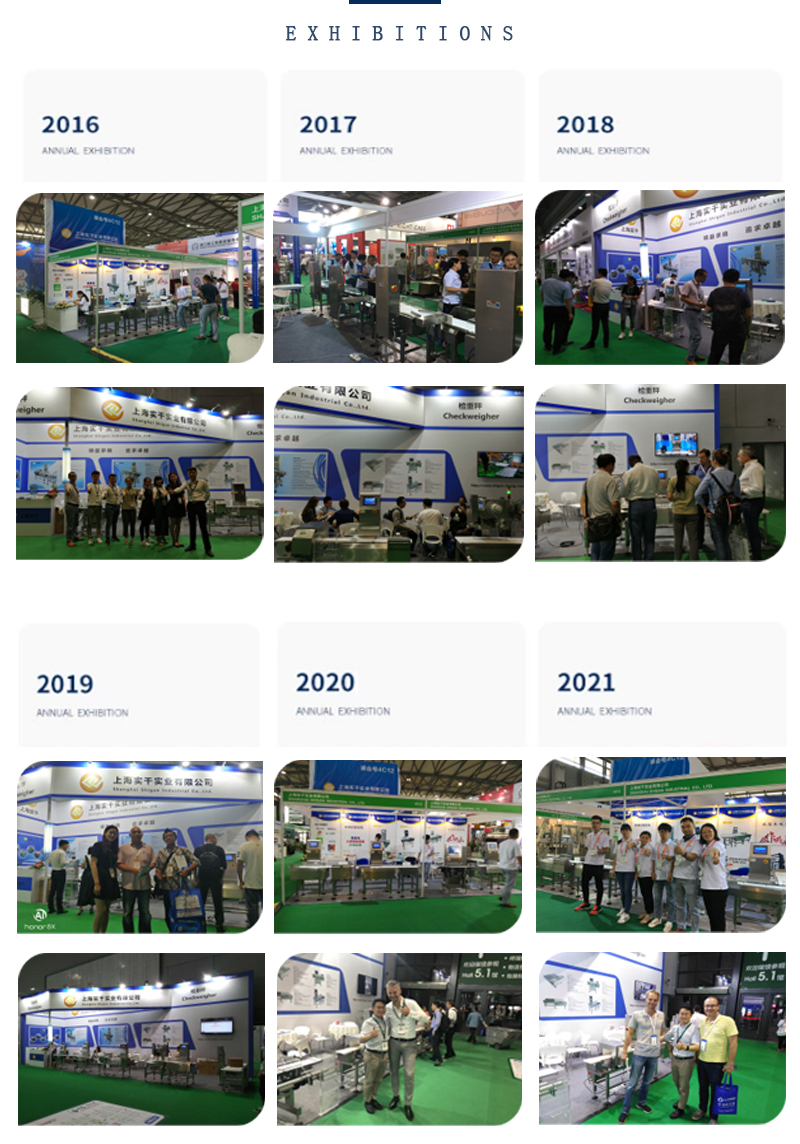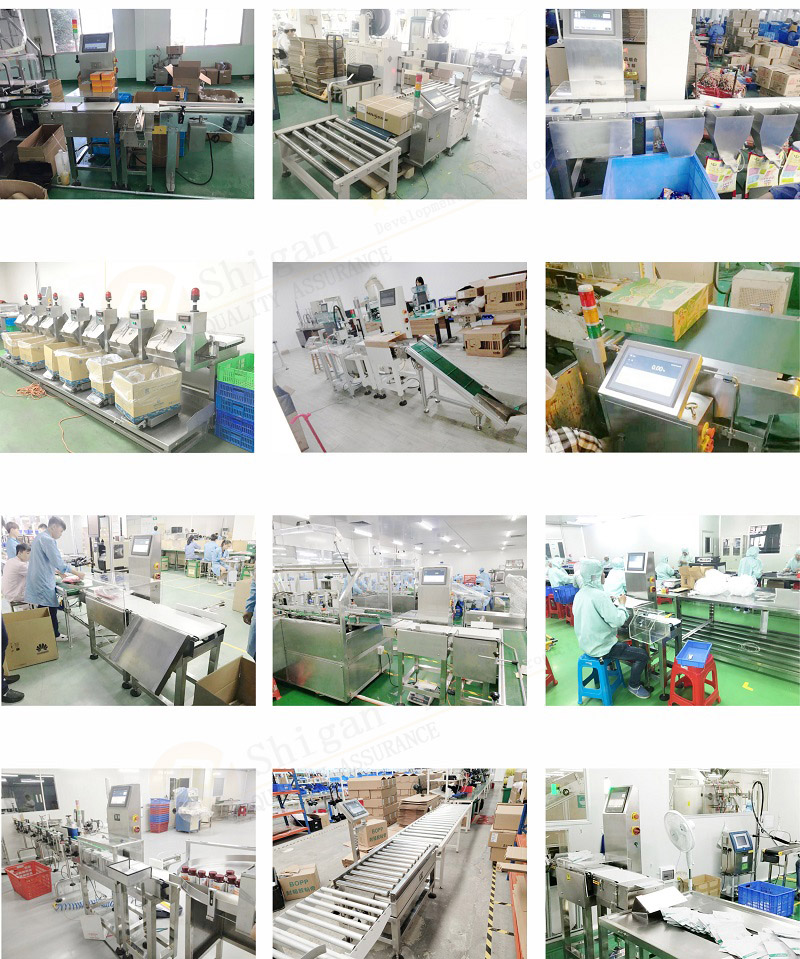 After Sale Service
1. Service tenet: fast, decisive, accurate, thoughtful and thorough
2. Goal: Satisfy all users with high-quality and thoughtful service
3. Service efficiency: If the equipment fails during the warranty period or outside the warranty period, the supplier will give the solution as soon as possible after receiving the notice
4. Warranty principle: The product warranty period is twelve months. During the warranty period, the supplier will repair and replace the parts damaged due to quality reasons free of charge. If the parts are damaged outside the warranty period, only the cost will be charged for the parts provided. , Equipment damage caused by human factors on the demand side, repairs or accessories provided by the supplier are all calculated at cost.
Related Products
Bean products metal detector for food industry Intelligent checkweigher with labeling machine
Capsule bottle high-speed checkweigher system Recycling line metal detector for FCL products
Large volume automatic online checkweigher High-precision inspection check weighing machine
Hot Labels:fully,automatic,weighing,sorting,checkweigher, bottle,online,check weight machine,China