Product Description
High-speed checkweighers are systems used to assure compliance with label weight regulations and to minimize product giveaway. Our check weigher solutions will help you make sure items are not missing from packaging, reducing customer complaints, speeding up production and minimizing your giveaway. Any OEM and customer design orders are welcome! If you are interested in our products, please feel free to contact us.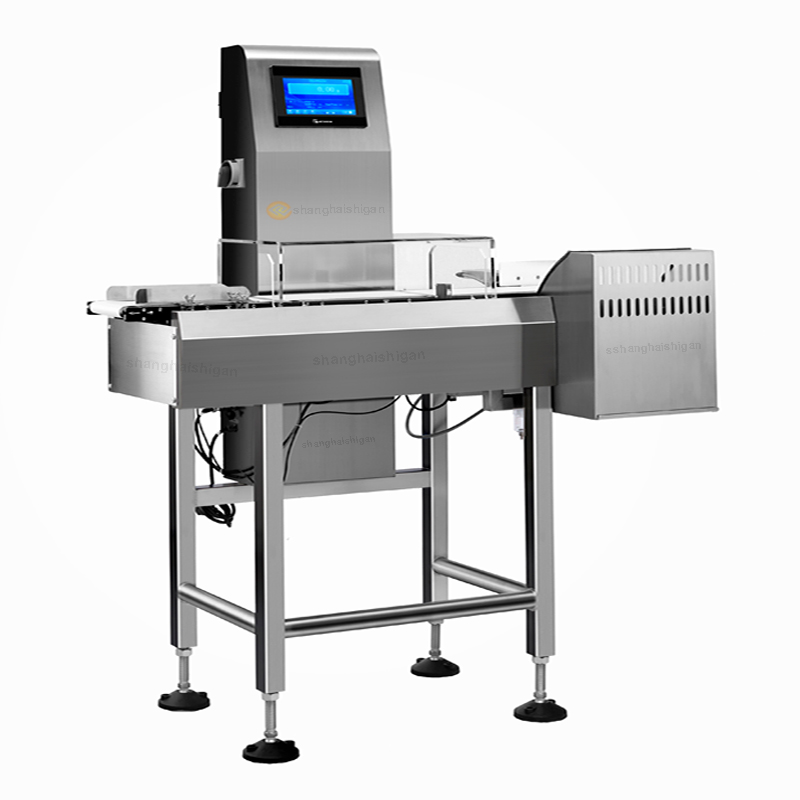 Specification Parameter
Type SG-150H
Weighing Range 3-500g
Limited of product L: 100 W:150 H: 3-150mm
Accuracy ±0.1g Depends on product
Division Scale 0.1g
Belt Speed 0- 90 m/min
Max Speed 160 pcs/min
Belt Width 150mm
Machine Weight 60kg
Power Supply AC 110/220V ±10% 50HZ
Power 100W
Main Material SU304 stainless steel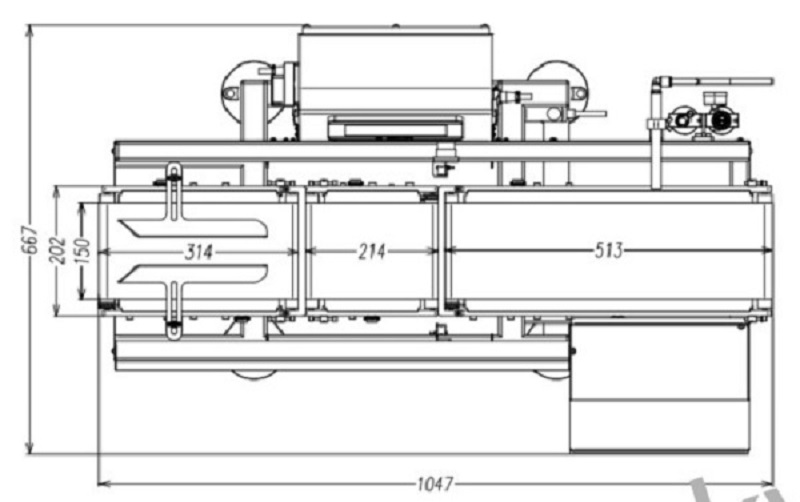 Main Advantages
• Easy to integrate: height adjustable, modular design
• Rugged and durable structure: 304 stainless steel
• Easy to use: touch screen operating system is easy to use, with user password protection
• Easy to clean: The detachable belt is easy to disassemble for cleaning and cleaning settings.
• Variable speed: speed can be configured according to the application
• High speed and accuracy: equipped with advanced sensors and load cells, with ultra-fast processor, can achieve excellent accuracy and speed
• Zero tracking: manual and automatic calibration to improve accuracy
•Report and data export: built-in-real-time report, can be exported as an Excel file, U disk to store production data for 1 year
• Connectivity: standard port for data export, connect to PC
•Fault report: The system can detect and report the faulty part of the system, which is convenient for diagnosing problems
• Output port: RS-485 and RS-232, you can connect printers and labeling machines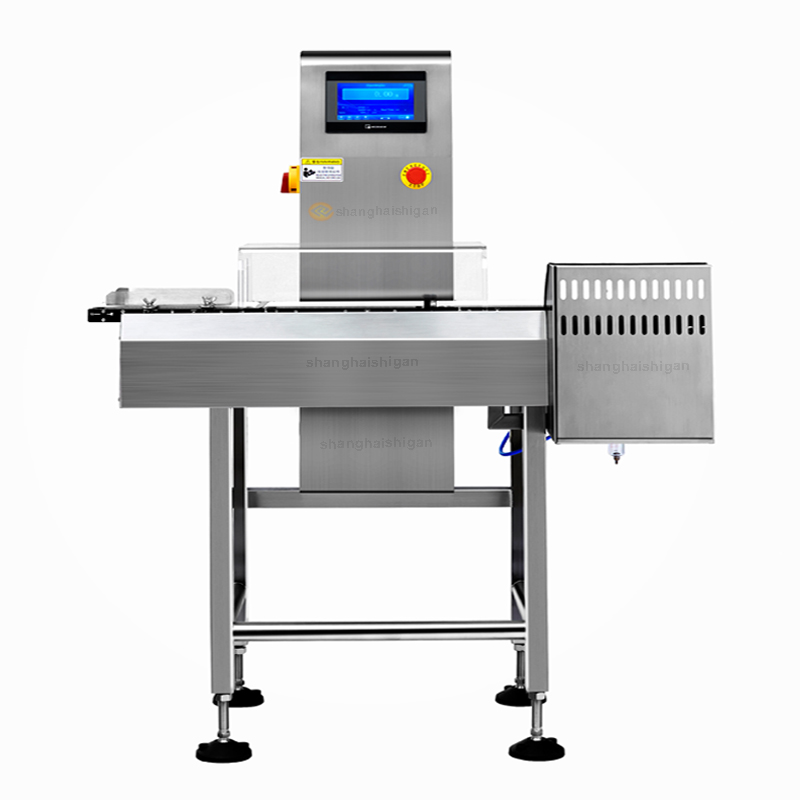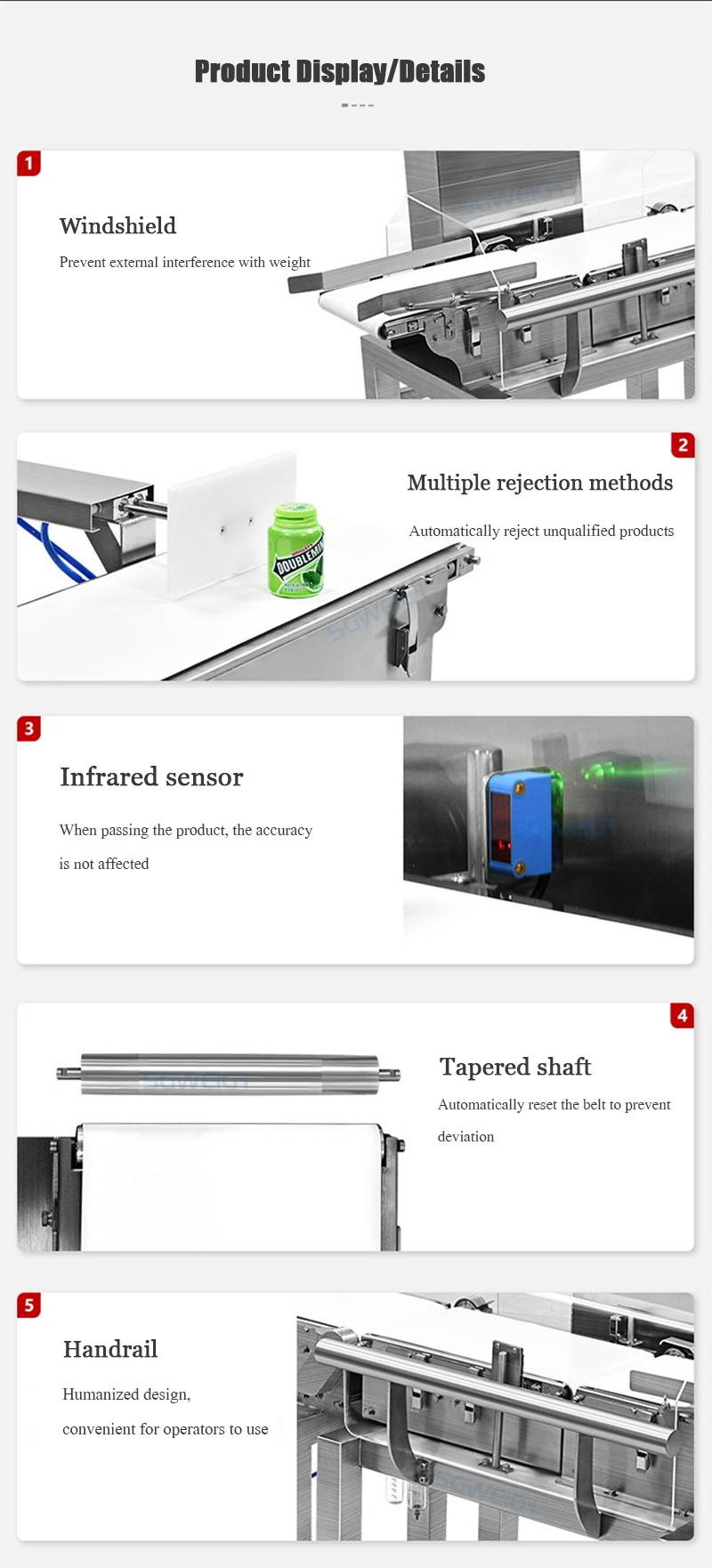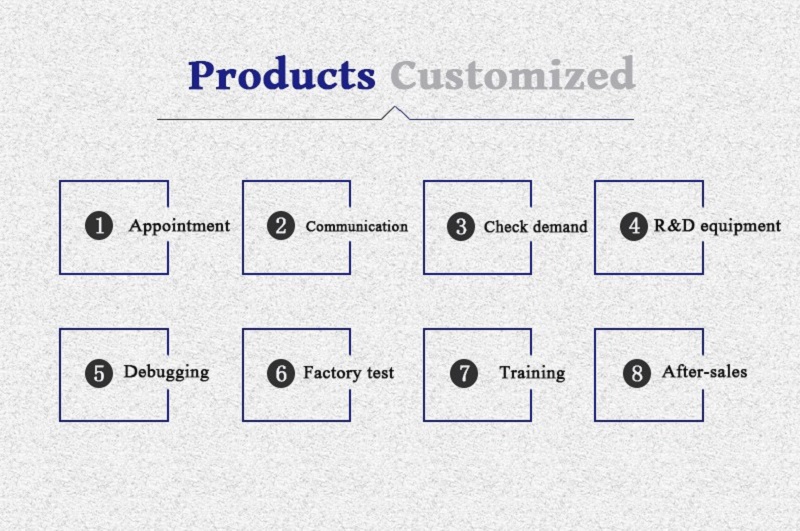 Application

Online checkweigher is suitable for checking whether the weight of a single small item is qualified. It is widely used in electronics, food, pharmaceutical, beverage, health care, chemical and other industries. For example, it can be used in the food industry to check the weight of flavors, cakes, ham, instant noodles, frozen foods, food additives, preservatives, etc.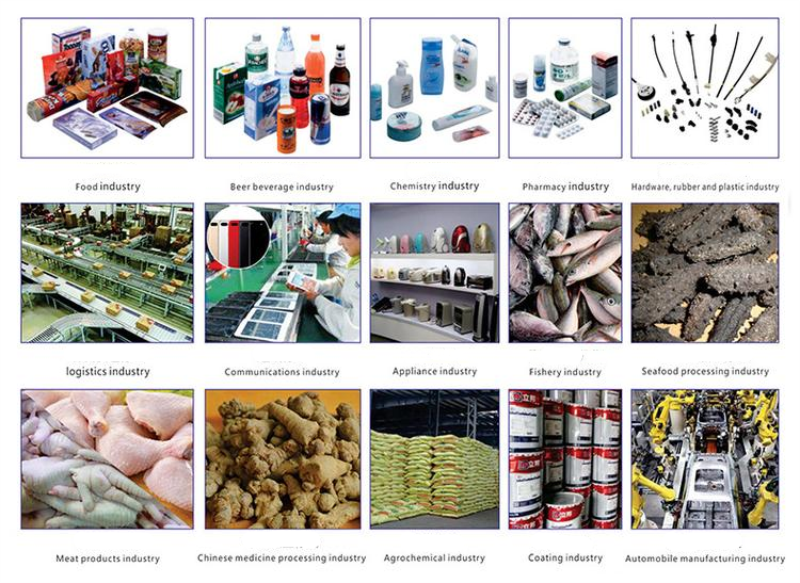 About Us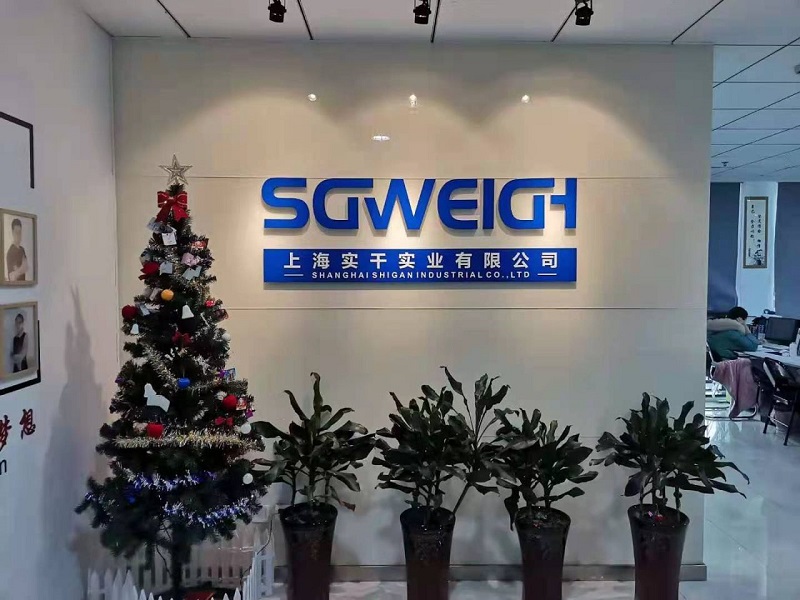 Shanghai Shigan Co., Ltd. was founded in 2010 and is located in Shanghai. Shanghai Shigan has an independent large-scale R&D institution, a complete manufacturing system and a huge marketing service network. It is an international assembly line weighing equipment manufacturer integrating R&D, manufacturing, marketing and service. At present, our company's products have passed the CE EU certification and exported to Europe, the United States, Singapore, Thailand and other countries and regions. The products are widely used in food, medicine, daily chemical, chemical, agricultural and veterinary drugs and other industries. Over the years, the company has continuously carried out technological transformations, and the product quality has been significantly improved, which has been highly recognized by customers at home and abroad. The main products are: online checkweigher,automatic metal detector,checkweigher with metal detector,checkweigher labeling machine combo,etc.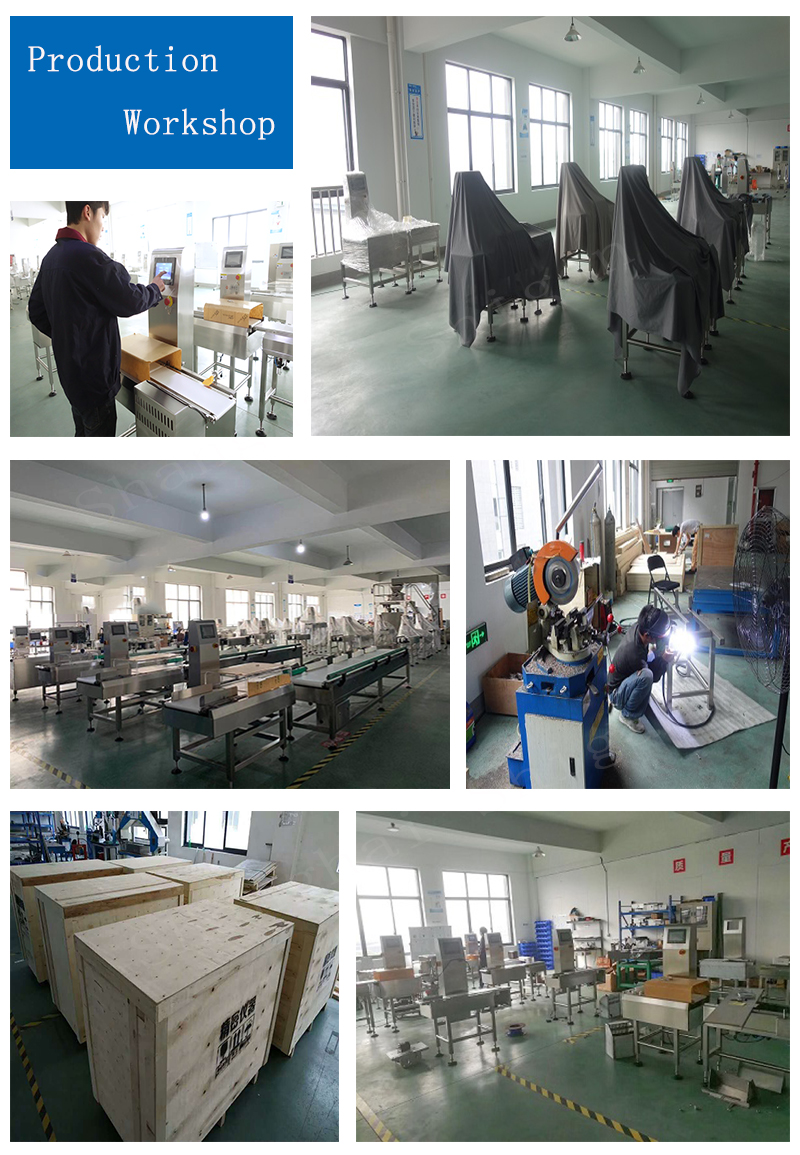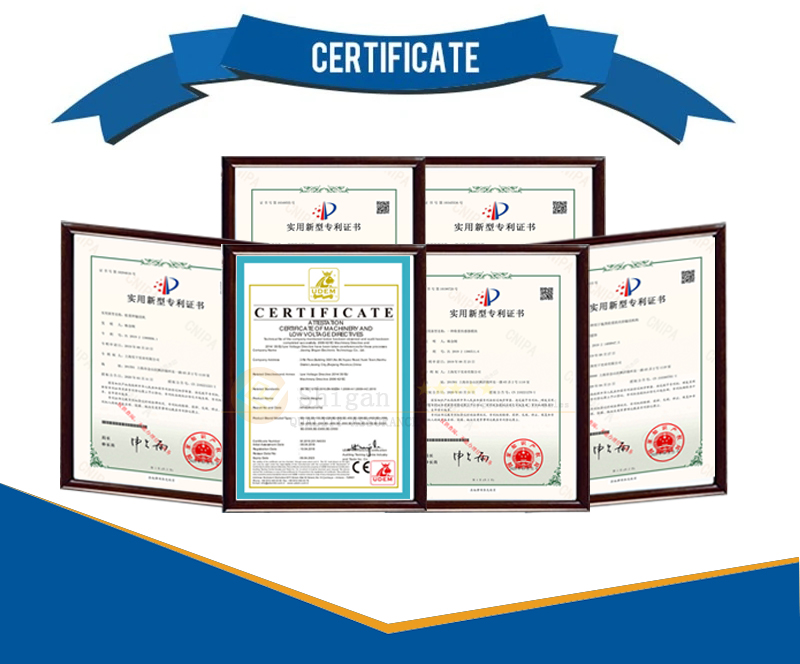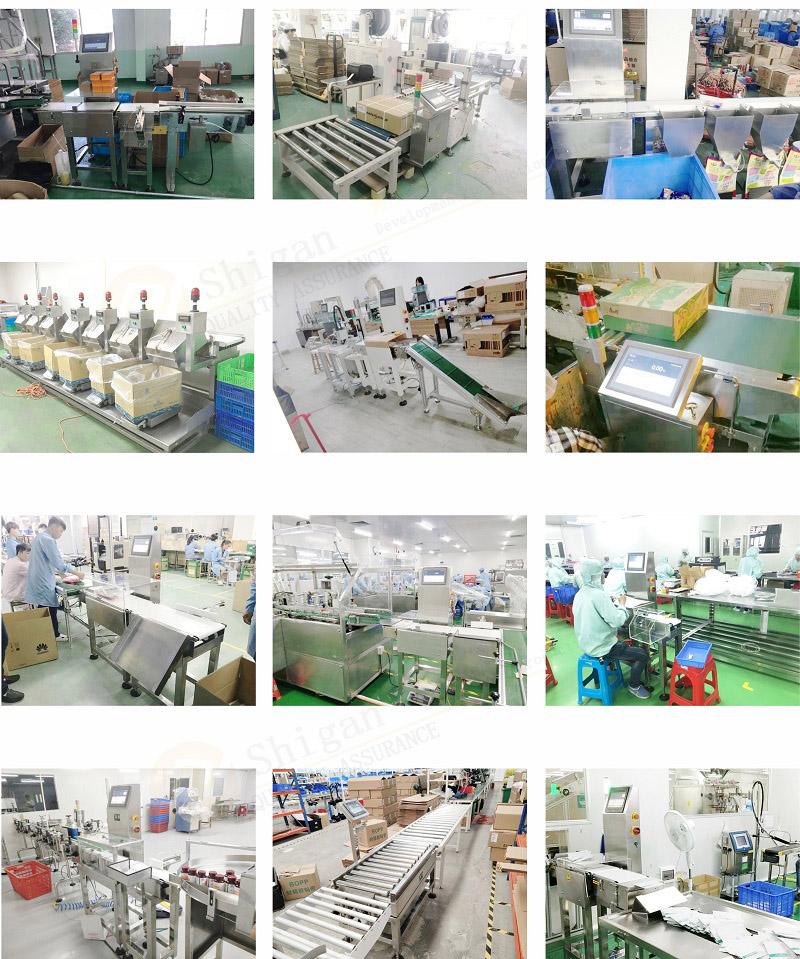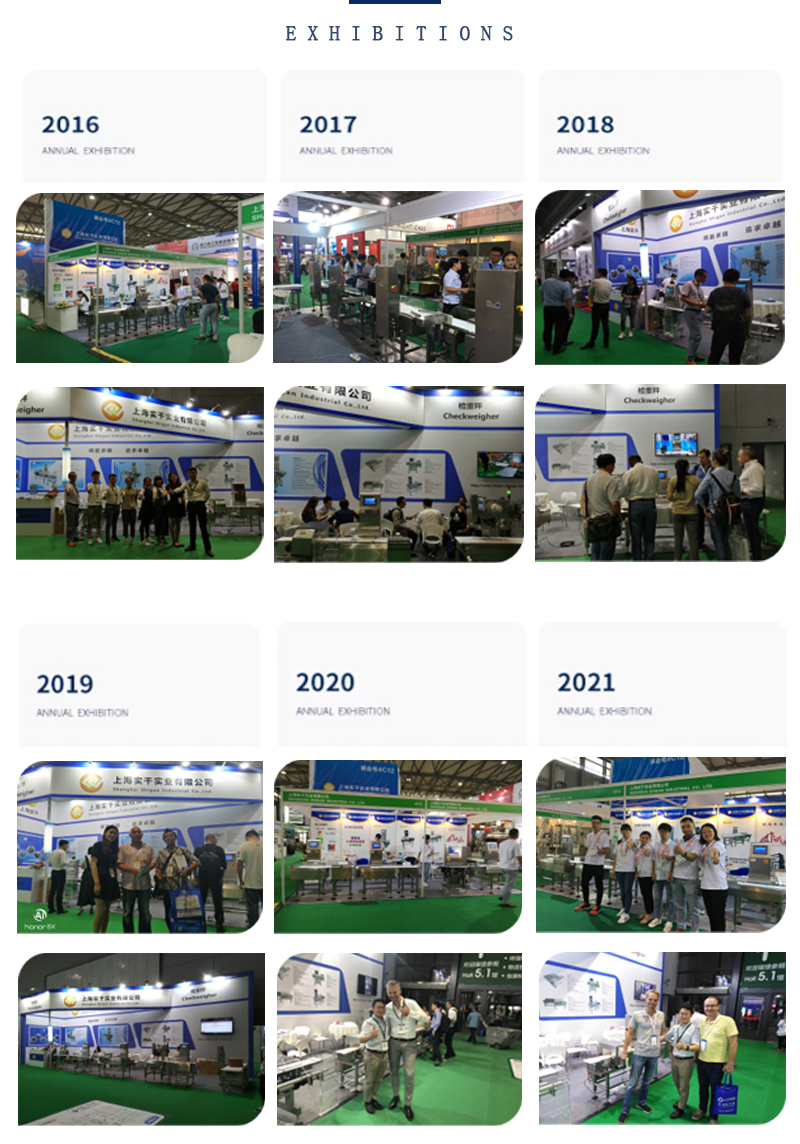 After Sale Service
In order to allow customers to purchase our products at ease, our company makes four major commitments to our customers:
1. Service tenet: fast, decisive, accurate, thoughtful and thorough
2. Goal: Satisfy all users with high-quality and thoughtful service
3. Service efficiency: If the equipment fails during or outside the warranty period, the supplier will provide you with a solution as soon as possible after receiving the notice.
4. Warranty principle: The product warranty period is twelve months. During the warranty period, the supplier will repair and replace the parts damaged due to quality reasons free of charge. If the parts are damaged outside the warranty period, only the cost will be charged for the parts provided. , Equipment damage caused by human factors on the demand side, repairs or accessories provided by the supplier are all calculated at cost. ...
Related Products
Recycling line metal detector for FCL products Large volume automatic online checkweigher
High-precision inspection check weighing machine Online standard weight checking machine
Multi-stage sorting dynamic rejection checkweigher Pickles intelligent dynamic weight
Hot Labels:capsule,bottle,high-speed,checkweigher,system, pharmaceutical,production line,check weigher,solution