Product Information
The online multi-stage checkweigher professionally produced and sold by Shanghai Shigan can choose single-stage sorting or multi-stage sorting according to the needs. This multi-stage checkweigher is mainly used for automatic weight detection and online judgment on various automated packaging lines,or weight classification option.Conveyor belt check weighing machine can replace manual weighing, so as to improve production efficiency and weighing consistency and reliability.Any OEM and customer design orders are welcome! If you are interested in our products, please feel free to contact us.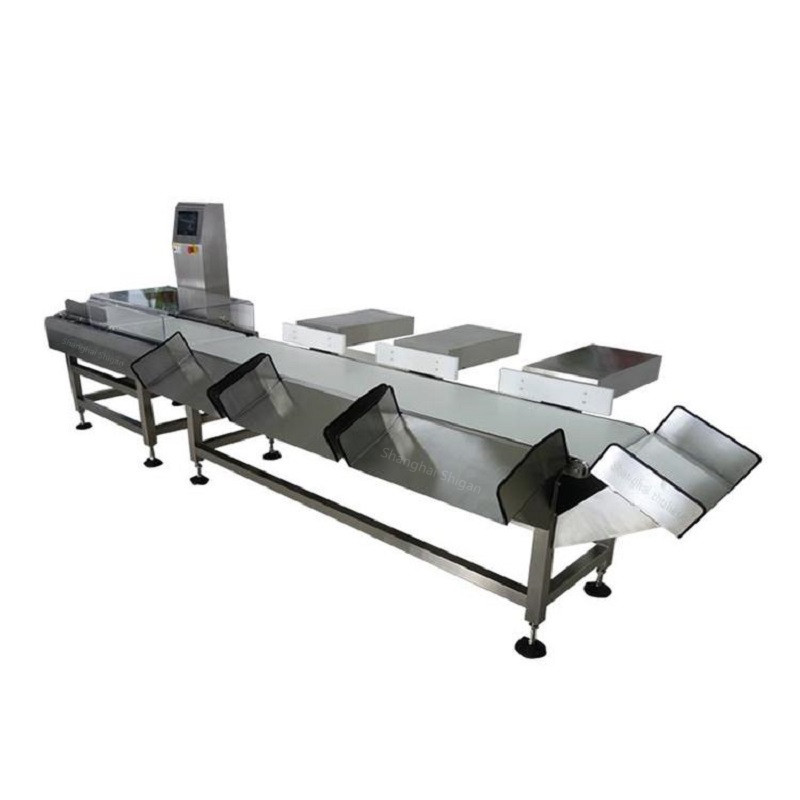 Specification Parameter
TypeSG-D220
Weighing Range10-1200g
Limited of productL: 200 W:150 H: 3-200mm
Accuracy±0.2 Depends on product
Division Scale0.1g
Belt Speed0- 60 m/min
Max Speed100 pcs/min
Belt Width220mm
Machine Weight60kg+44kg
Power SupplyAC 110/220V ±10% 50HZ
Power100W
Main MaterialSU304 stainless steel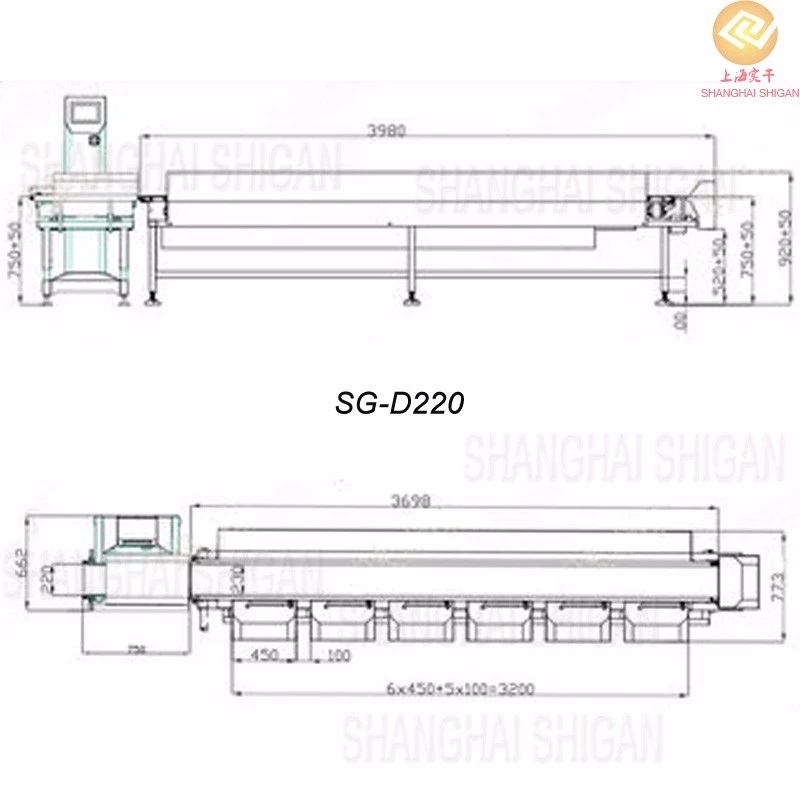 Main Advantages

1. Reinforced stainless steel frame; surface waterproof design.
2. Adopt German HBM high-precision sensor; based on high-speed digital signal processing technology to achieve high-speed and stable detection.
3. Dynamic weight automatic compensation technology; zero point automatic analysis and tracking technology.
4.50 groups of product presets; easy product editing and storage.
5. Product switching and automatic adjustment of the corresponding product sorting speed.
6. Convenient USB test data copy storage function (optional).
7. Color LED touch operating system, multi-language operation interface, easy to operate.
8. Optional scanning system and automatic inkjet printer.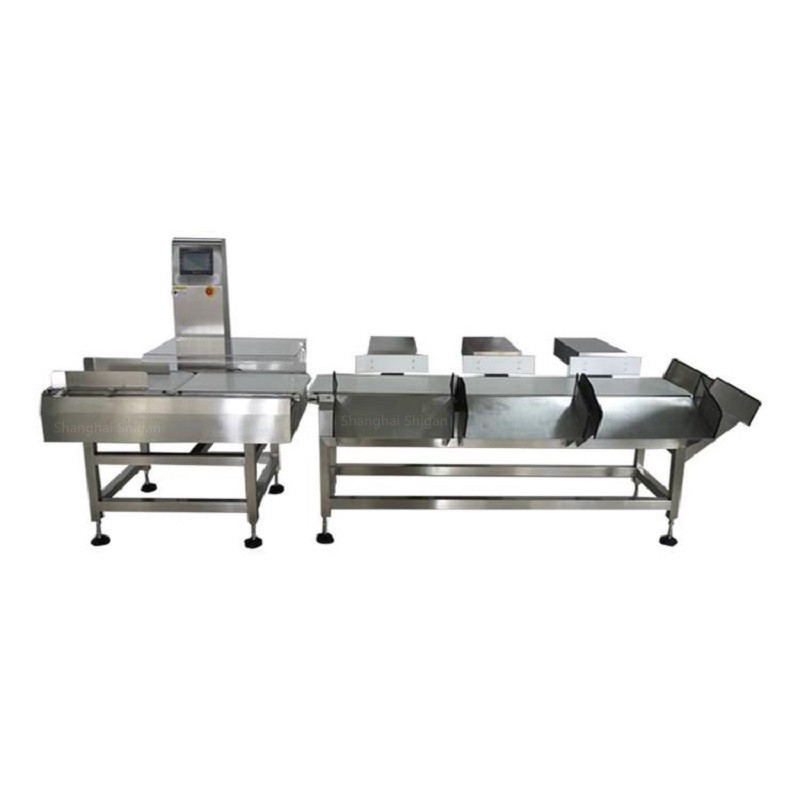 Application
Application of multi-stage automatic checkweigher:
1. Aquatic product classification: fresh fish, shrimp, abalone and other aquatic products;
2. Poultry product classification: chicken wings, chicken legs, whole chickens, ducks and other poultry products;
3. Fruit and vegetable classification: apples, oranges, potatoes and other fruit and vegetable products;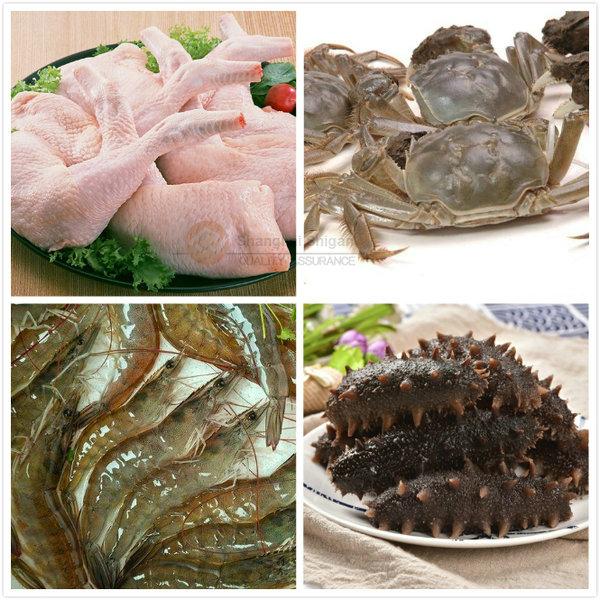 Our Company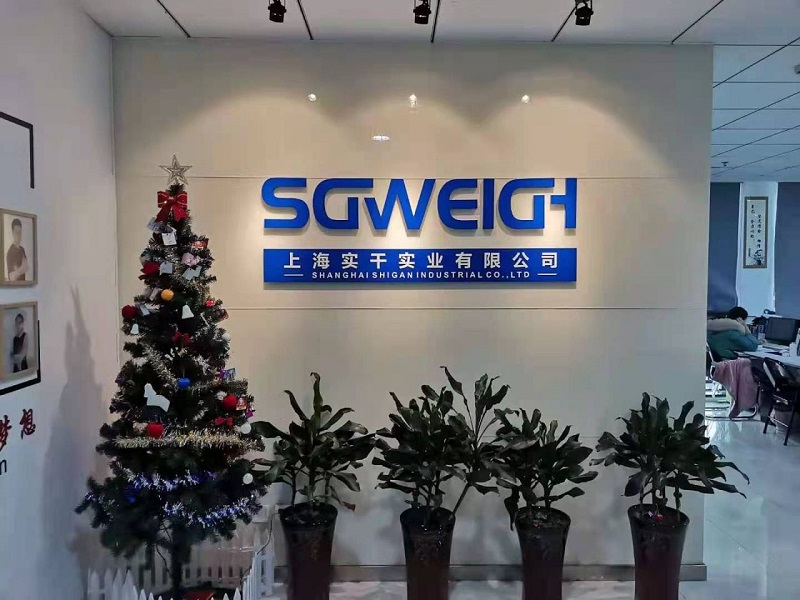 Shanghai Shigan Co., Ltd. was founded in 2010 and is located in Shanghai. Shanghai Shigan has an independent large-scale R&D institution, a complete manufacturing system and a huge marketing service network. It is an international assembly line packaging and testing equipment manufacturer integrating R&D, manufacturing, marketing and service. At present, our company's products have passed the CE EU certification and exported to Europe, the United States, Singapore, Thailand and other countries and regions. The products are widely used in food, medicine, daily chemical, chemical, agricultural and veterinary drugs and other industries. Over the years, the company has continuously carried out technological transformations, and the product quality has been significantly improved, which has been highly recognized by customers at home and abroad. The main products are: online checkweigher, automatic metal detector, weighing labeling machine, checkweigher and metal detector, etc.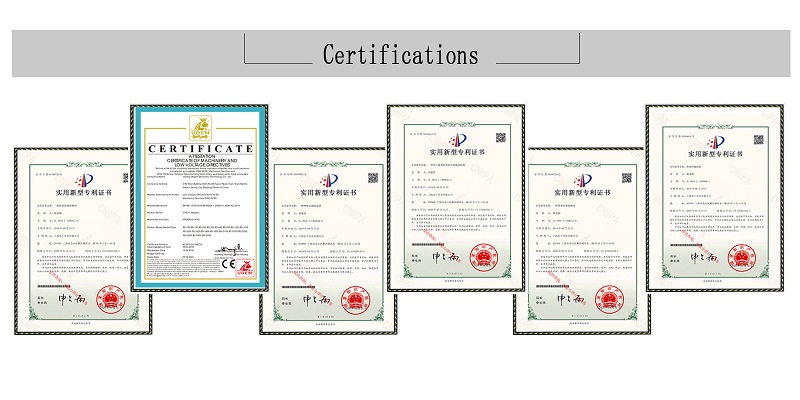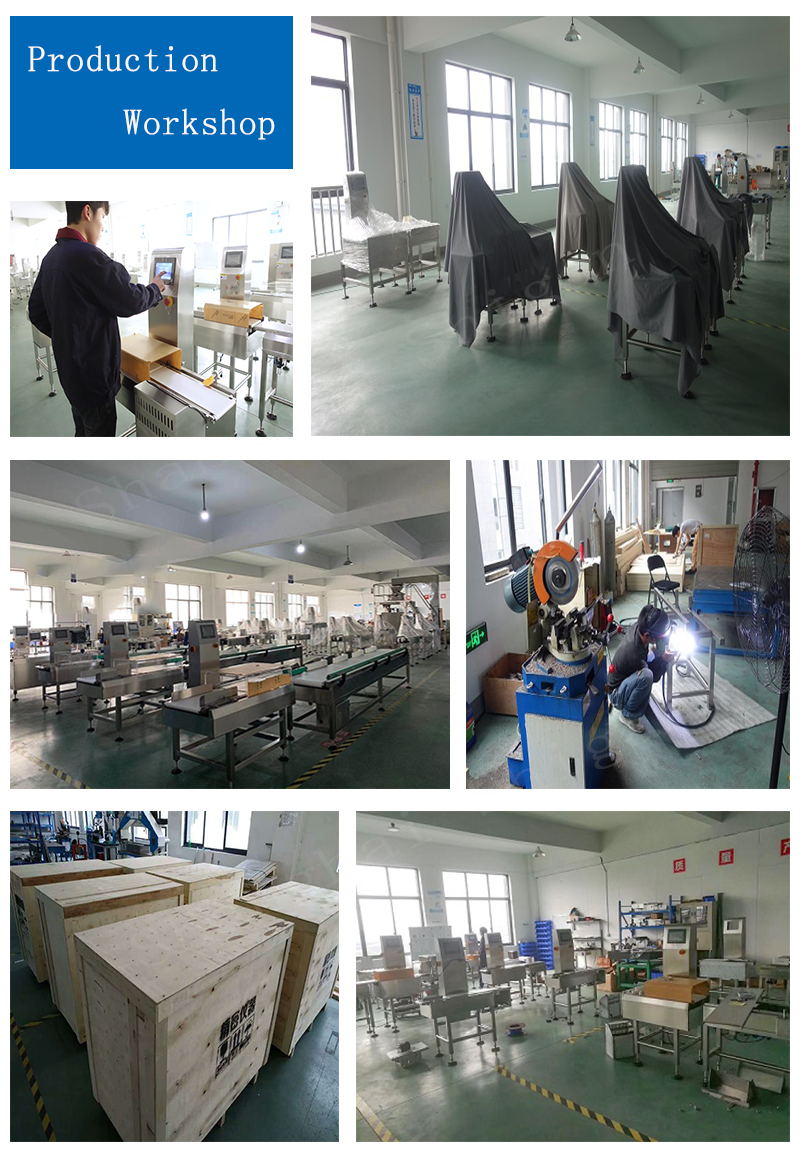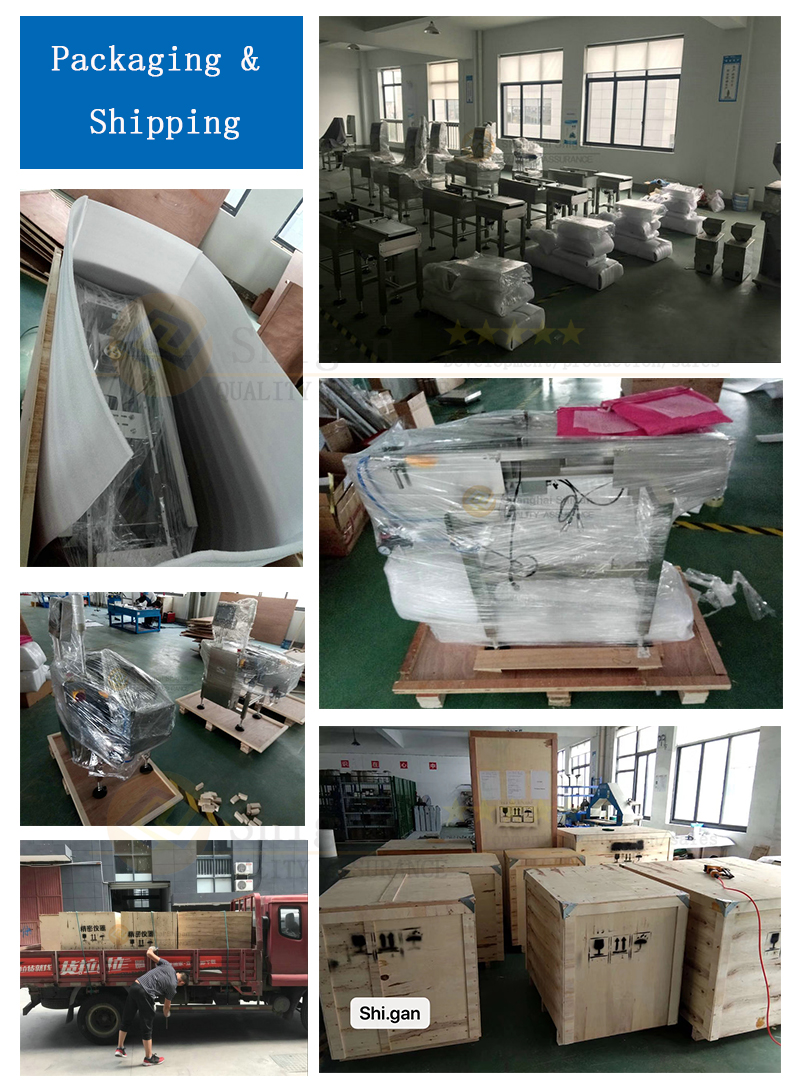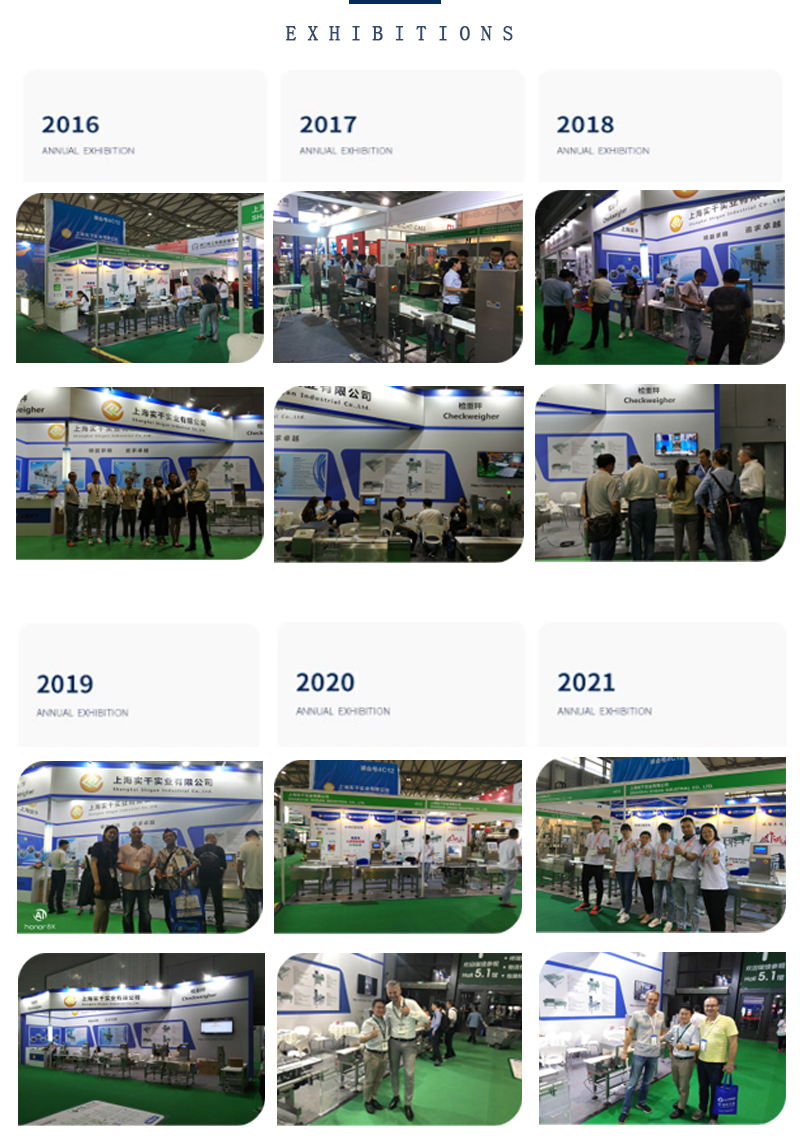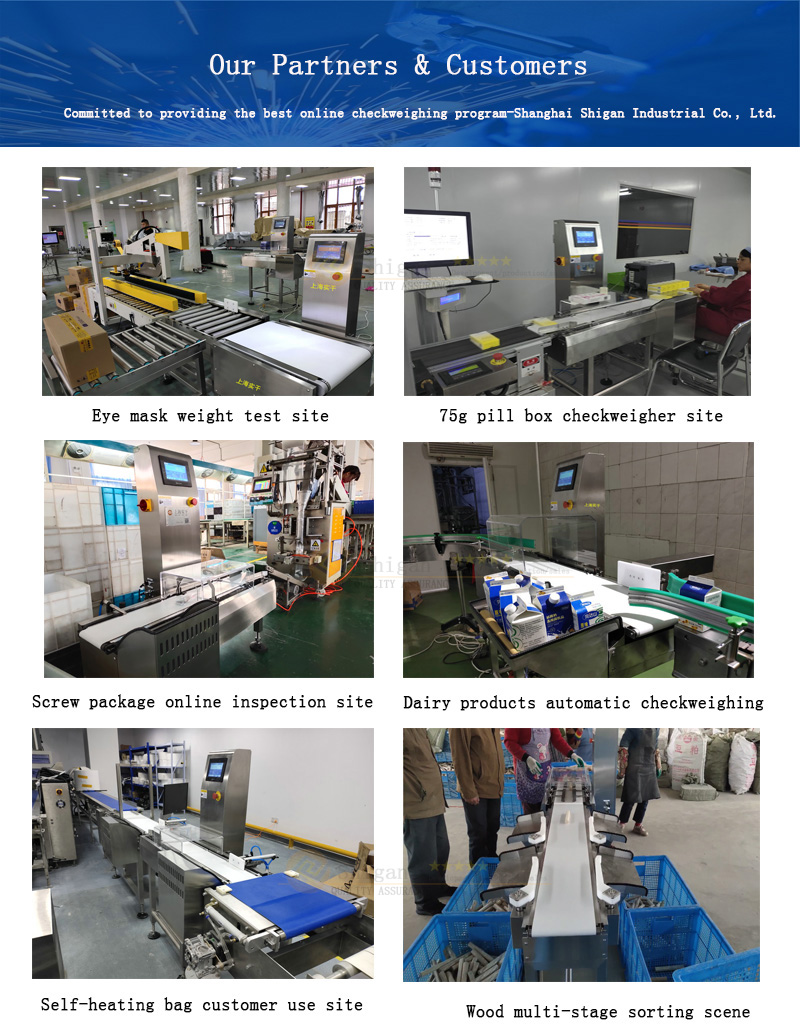 After Sale Sevice
In line with the business tenet of "providing customers with satisfactory products and services", Shanghai Shigan Industrial Co., Ltd. solemnly promises: While ensuring the advanced nature, reliability, and stability of the equipment, it will continue to improve the quality of service After-sales delivery, commissioning and opening, equipment maintenance and management, technical services, user technical training, etc., ensure that customers can get good services and make customers satisfied and assured.
1. Ensure that the equipment packaging meets the requirements of moisture-proof, rain-proof, rust-proof, anti-corrosion and shock-proof, and the identification is clear and correct, so that the goods can be delivered to the site safely and in time.
2. High-quality and fast technical services
In order to better ensure the normal operation of the equipment, answer questions raised by users in a timely manner, and help users solve problems, the company's maintenance center and local maintenance outlets are responsible for the opening, maintenance and technical consulting services in each region. In the maintenance center, a full-time engineer is responsible for providing customers with free technical consulting services at any time.
3. Free commissioning and commissioning for users
The engineer is responsible for the installation, commissioning, opening and testing of the equipment.
Related Products
Foil packaging metal detector manufacturer Inline checkweighing combination system solution
Belt type automatic weighing machine Fully automatic weighing sorting checkweigher
Stainless steel metal detection machine price Intelligent printing checkweigher with labeling machine
Hot Labels:multi-stage,poultry,checkweigher, food,grade,conveyor belt,check weighing machine,for sale,Belarus