Overview
---
Detail:
Place of Origin:Shanghai,China Brand Name:SHIGAN
Model Number:SG-100 Power Supply:110-220V(AC)
Display Type:LCD display Product name:Boxes of medicine automatic dynamic checkweigher systems
Material:SUS304 Certificate:CE ROHS
Color:Silver checkweigher Belt Speed:80m/min
Warranty:12 mouth
---
Supply Ability:
Supply Ability: 25 Set/Sets per Month check weigher
---
Packaging & Delivery
Packaging Details Automatic grain bags weighing scale check weigher with metal detector by wood case
Port Shanghai
Product Description
---
Boxes of medicine automatic dynamic checkweigher systems
Dynamic checkweigher systems as know as online checkweigher,automatic check weighing machine,weigihing mmachien,sorting scale,weight inspector and so on.
Dynamic checkweigher systems are mainly used for the quality inspection and classification of products on the automatic assembly line, and can also be used for the inspection of multiple and missing parts after product packaging.The online checkweigher for pharmaceuticals can also replace manual weighing to improve production efficiency, consistency and reliability of weighing.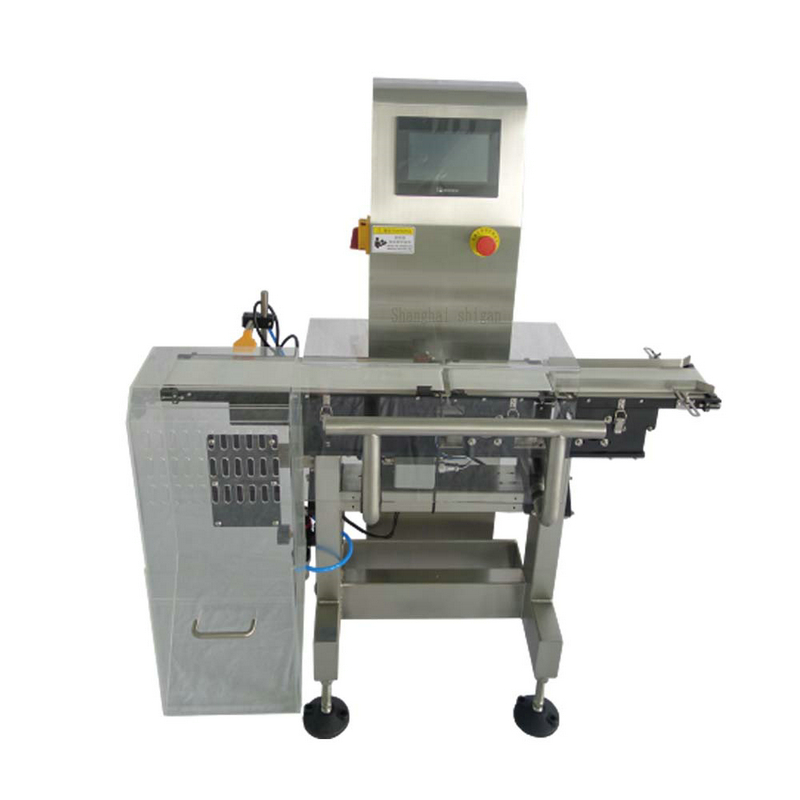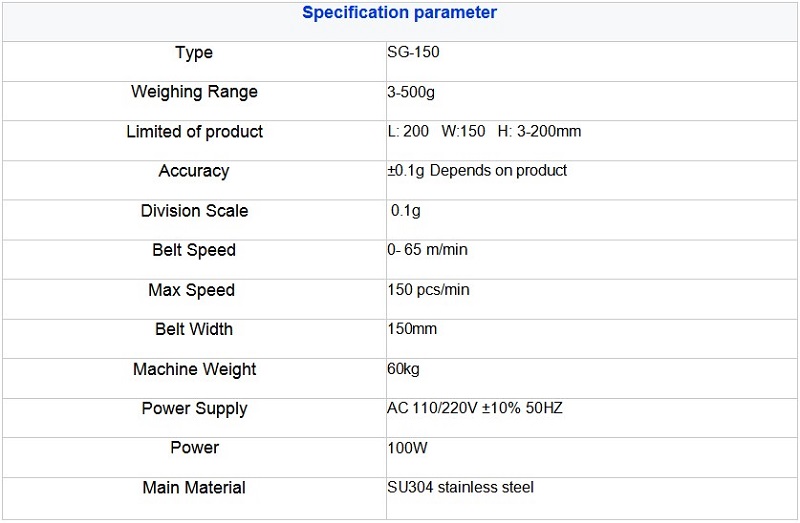 Application
The series checkweigher widely used in the medical industry.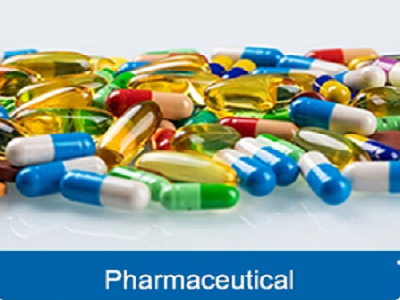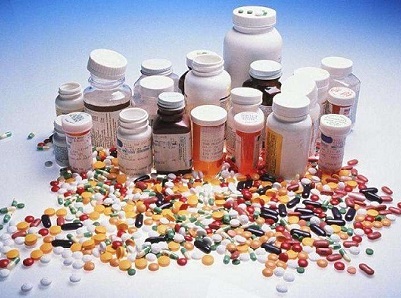 Main Function
1. Adopt 7/10 inch "Weilun" touch screen, simple operation and intuitive display.
2 The weighing module adopts the German HBM brand.

3.It can be set to store 100 kinds of product detection data to facilitate users to switch to use.

4.With empty package photoelectric automatic detector function;conveyor belt speed is adjustable, and with automatic learning function.

5.The unique weighing frame structure ensures the stability of dynamic weighing data, and the weighing body is made of anti-vibration aerospace aluminum material to ensure that the machine operates in different environments.

6.Automatic zero tracking system to ensure reliable detection data.

7.The self-developed MCU system has a unique filtering algorithm to ensure the stability of the system.

8.The mechanical structure is simple and the failure rate is low; Adopt button conveyor belt, which is convenient for disassembly, cleaning and maintenance.

9.Support customized multi-language, the default is Chinese and English.

10. Support information transmission, such as RS485 RS232 Ethernet.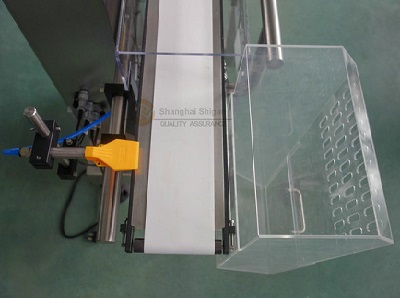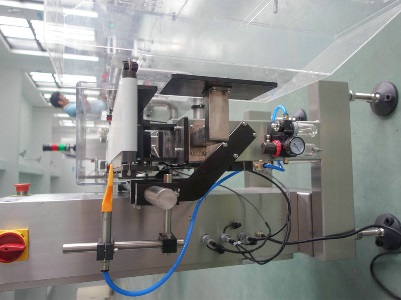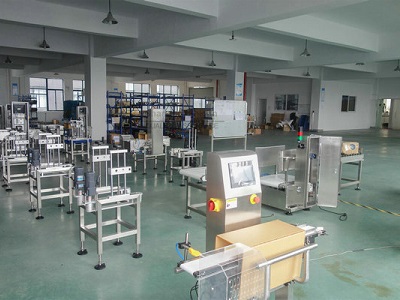 Cull type (optional)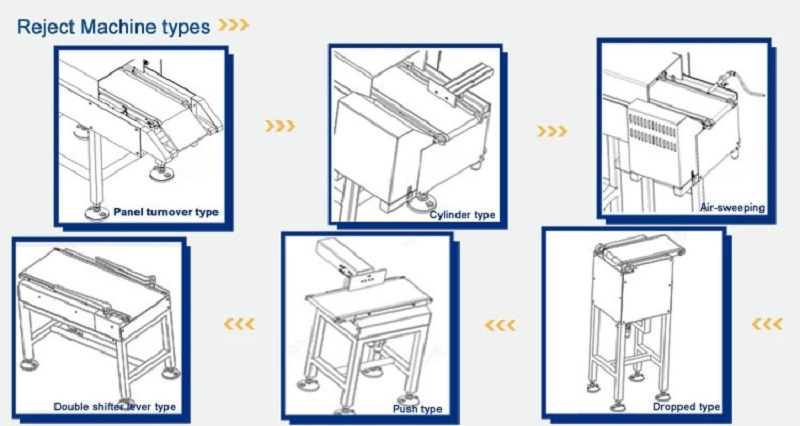 Customization Philosophy:
The product demonstrating may not perfectly meet your requirements,
our philosophy is to customize your real need.
To minimizing idle capacity and function. To supply you performance and cost balanced products. Following are the factors shall be taken into account during customization:
1,Products to be packed
2,Container to be filled, type and specification.
3,Capacity requirement
4, Automation requirement
5, Protection requirement
6, Other specific requirement
Company Qualification
---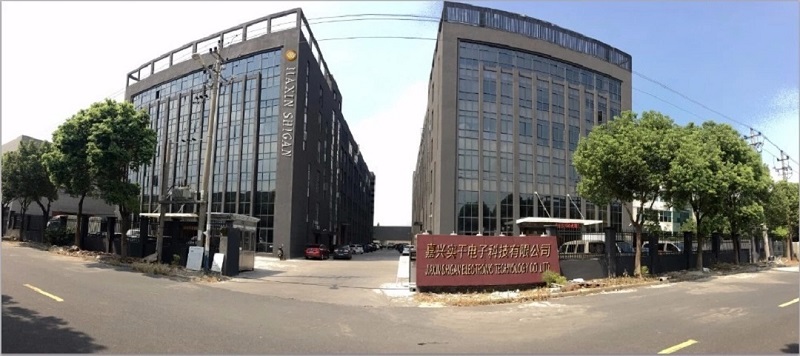 Shanghai Shigan Industrial Co.,Ltd is a high-tech enterprise incorporating technology, research development and processing and marketing. The company has years of experience in weighing areas. It provides customers with cost-effective checkweigher, multi-level screening scale and corresponding auxiliary devices with excellent design capability and complete process control. The quality of product is reliable and stable. Some products not only surpasses similar imported products, but also exports to all over the world. It is popular with the masses of users and dealers and gains praise from them.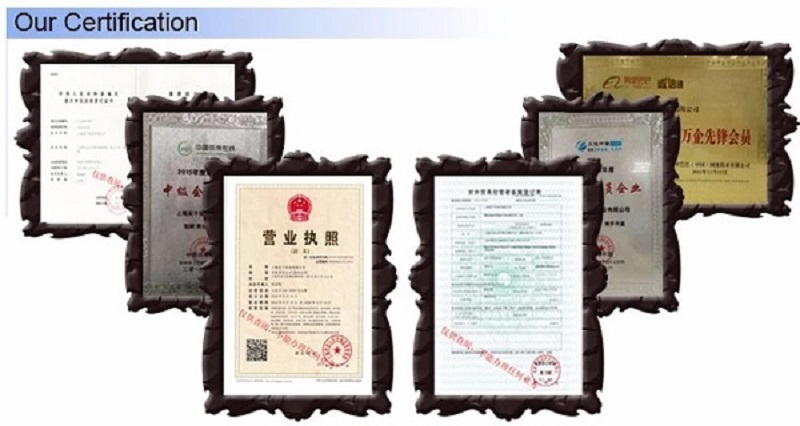 Factory Tours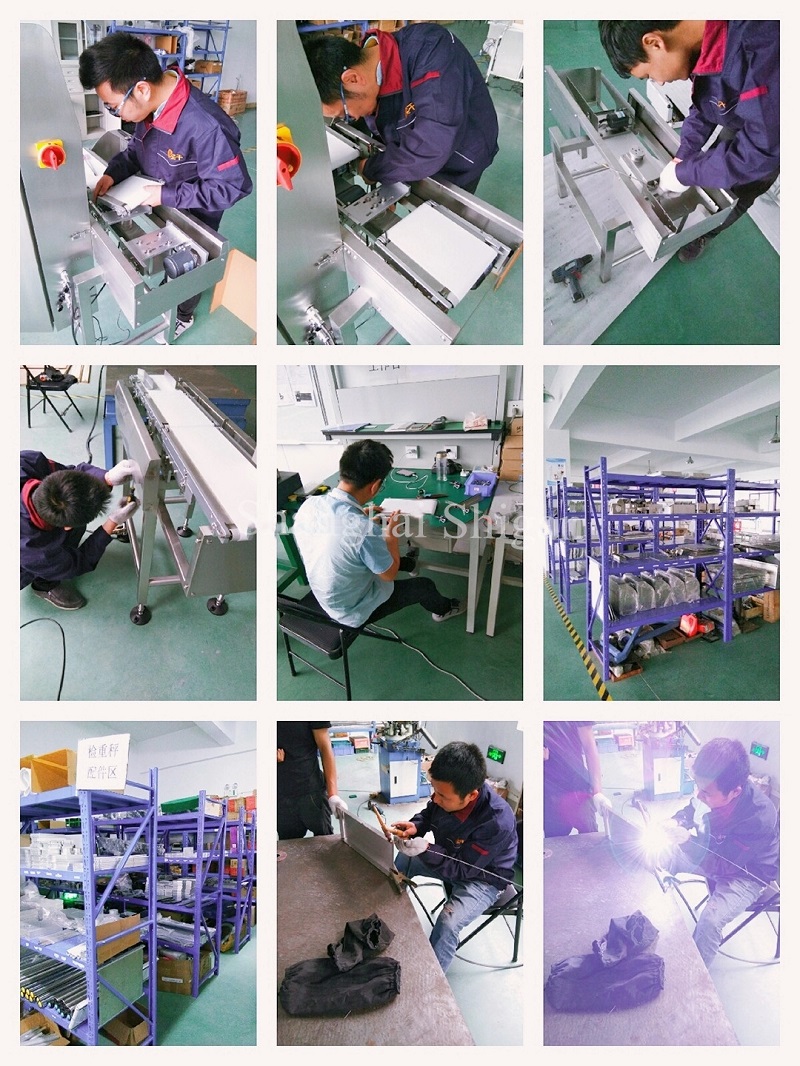 Our company has the strength to check the weight scale manufacturer, has the specialized design and the production team, welcome the general consumer to come to visit!
Technology
What should I do if there is a big error in the dynamic inline check weigher?
(1)Check whether the installation of weighing equipment is firm, correct the position of the conveyor belt, measure whether the distance of weighing bridge is appropriate, whether the instantaneous flow is normal, etc.(2)On the high side of zero(3)Large instantaneous flow fluctuation(4)No accumulated value of load(5)Output value fluctuates frequently(6)Poor repeatability during calibration More Information
How do different industries choose the appropriate culling methods?
(1)Pushrod elimination: with medium speed, it is suitable for removing products with moderate weight such as missing bottles and parts in packing cases, such as beer in case and weighing and sorting of drinks in case.(2). Flip-flop elimination: with medium speed, it is generally suitable for products in the fruit and vegetable industry, such as single vegetable and single fruit weighing and sorting online.(3). Air-blown stripping: Compared with other stripping methods, it is very fast and suitable for light products or fragile products, such as medical gauze and medicine in box.(4), Lever type cull: speed ranked second, the advantage is to remove products on both sides, generally used in aquatic products industry, such as abalone, sea cucumber sorting.
(5). Drop culling: high speed, generally suitable for washing, daily chemical products, etc. More Information
How to maintain the automatic weighing machine
(1).Clean the scale body(2).The level of correction(3).Clean printer(4).Initialize the equipment More Information
Customers & Exhibition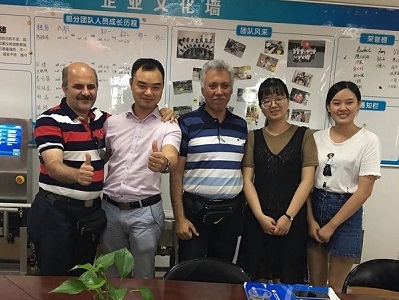 My company products and sell the online checkweigher is mainly used to detect whether the weight of products on the assembly line is qualified, and automatically eliminate unqualified products with the weight. The online weigher of our company is widely used in the food, pharmaceutical, daily chemical and other industries, and the user's praise is constant!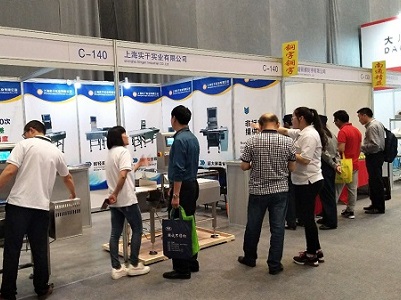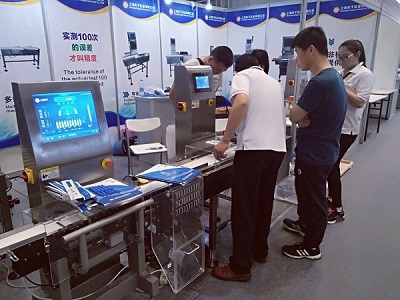 Packaging & Service
---
1. Before packaged, the machines will be tested strictly to guarantee the stability and high accuracy.
2. After tested, the machines will be wrapped with plastic sheet and carefully packed in wooden cases.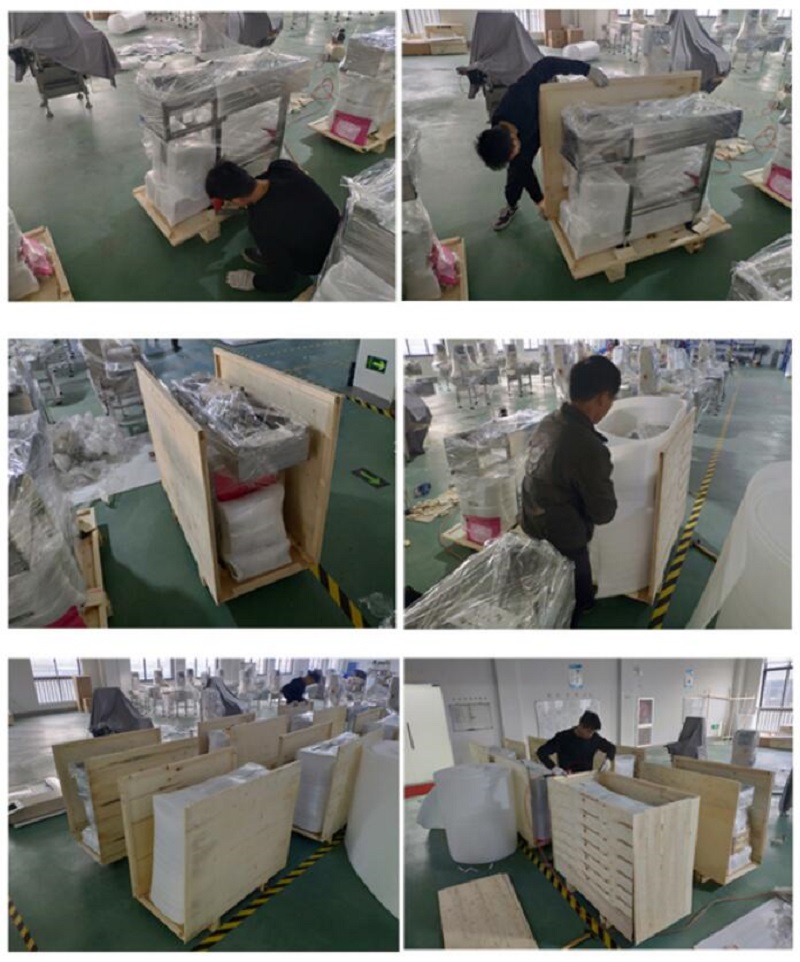 Pre-sales:
In order to recommend a suitable model to your company, please confirm the following product element information:

1.Product type, such as bags, bottles, boxes, etc.

2.Product dimensions (length, width and height). If there have multiple specifications, please list them or provide the maximum and minimum dimensions.

3.Product weight. If there have multiple specifications, please list or provide the maximum and minimum weight.

4. The speed requirements. whether it is passed at a uniform speed?

5.Accuracy requirements (how many grams of the upper and lower deviation is unqualified) or more than one less.

Other things to be verified are: the front and back docking equipment, the conveying direction, the height of the conveyor belt from the ground, the material of the product to be tested, and whether the unqualified product is automatically rejected.

If you don't know these requirements well, it doesn't matter. Contact customer service, we will guide you to choose the right model.

In-sale:

Our company is a manufacturer specializing in the production and sale of checkweigher equipment. Once the order is confirmed, a formal and effective contract must be signed to ensure the interests of both parties. The production cycle is generally 2-3 weeks. The wooden boxes are exported and there are multiple buffer devices to ensure that they will not be damaged during transportation. It is tested by professional quality inspection before leaving the factory, and the continuous test is not less than 100 times and 100% qualified to be considered as reaching the standard. Customers can also visit or remote video acceptance.

After sale:
After the equipment leaves the factory, someone will follow up the transportation process.

FAQ
---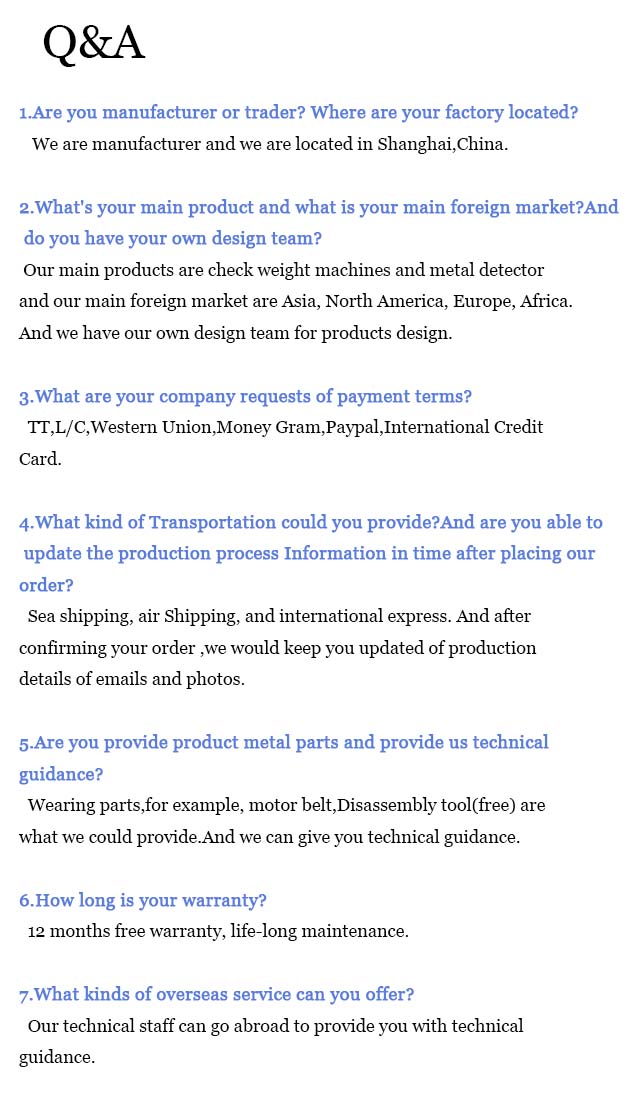 Related Products
Antifouling check weigher Checkweigher for bottled medicine
Lipstick checkweigher High precision chicken checkweigher
Daily necessities checkweigher Push type checkweigher
Hot labels:boxes checkweigher systems,medicine checkweigher,dynamic checkweigher systems,checkweigher,weighing scale,belt weighing machine