Product Description
The small-range online checkweigher adopts first-class workmanship and professional mechanical design. The high-efficiency checkweigher is made of 304 stainless steel, which is easy to clean and maintain. The processing technology adopts imported equipment to cut and polish, smooth and beautiful, stable on the ground, and easy to install.For further information about our machines, or if you would like one of our professionals to contact you, please do not hesitate to contact us.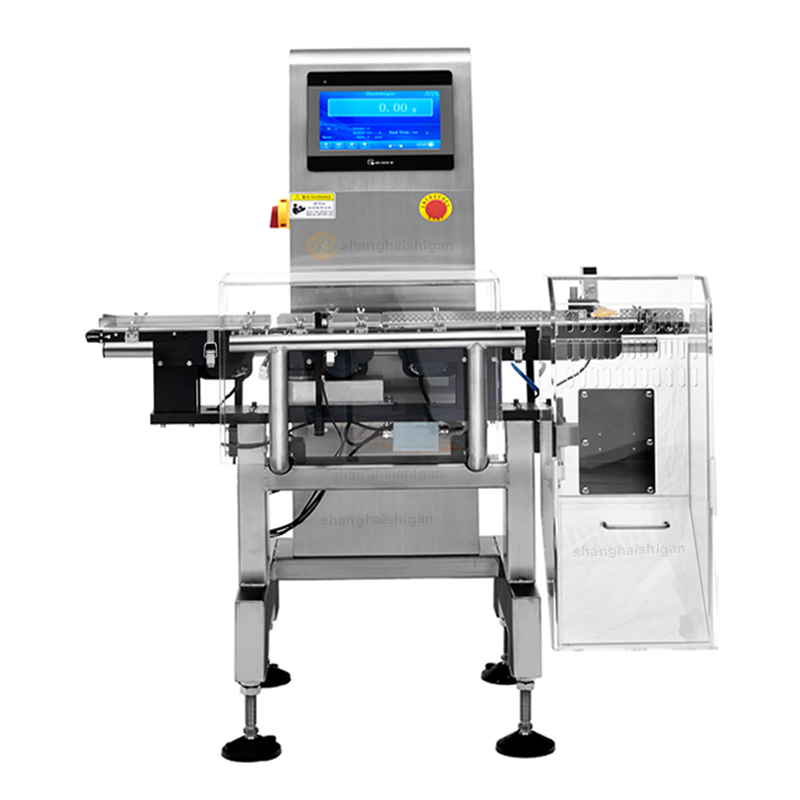 Specification Parameter
Type SG-100
Weighing Range 2-300g
Limited of product L: 100 W: 100 H: 2-150mm
Accuracy ±0.5g Depends on product
Division Scale 0.01g
Belt Speed 0- 80 m/min
Max Speed 300 pcs/min
Belt Width 100mm
Machine Weight 60kg
Power Supply AC 110/220V ±10% 50HZ
Power 100W
Main Material SU304 stainless steel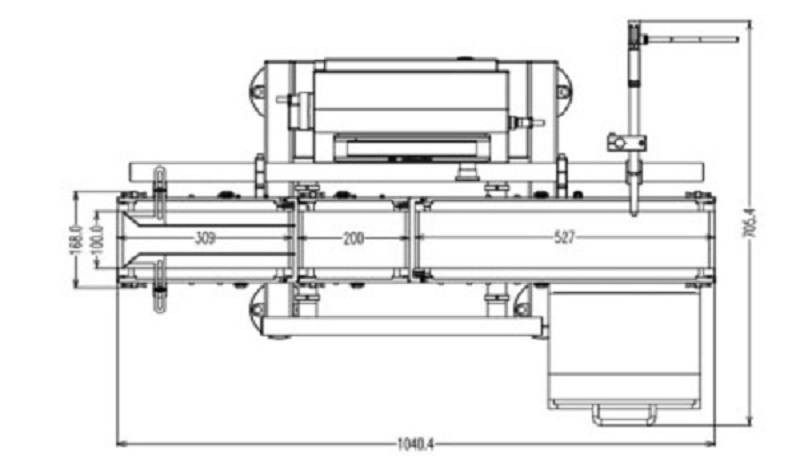 Customization Philosophy:
The dynamic checkweigehr demonstrating may not perfectly meet your requirements,
our philosophy is to customize your real need.
To minimizing idle capacity and function. To supply you performance and cost balanced products. Following are the factors shall be taken into account during customization:
1,Products to be packed

2,Container to be filled, type and specification.
3,Capacity requirement
4,Automation requirement
5,Protection requirement
6,Other specific requirement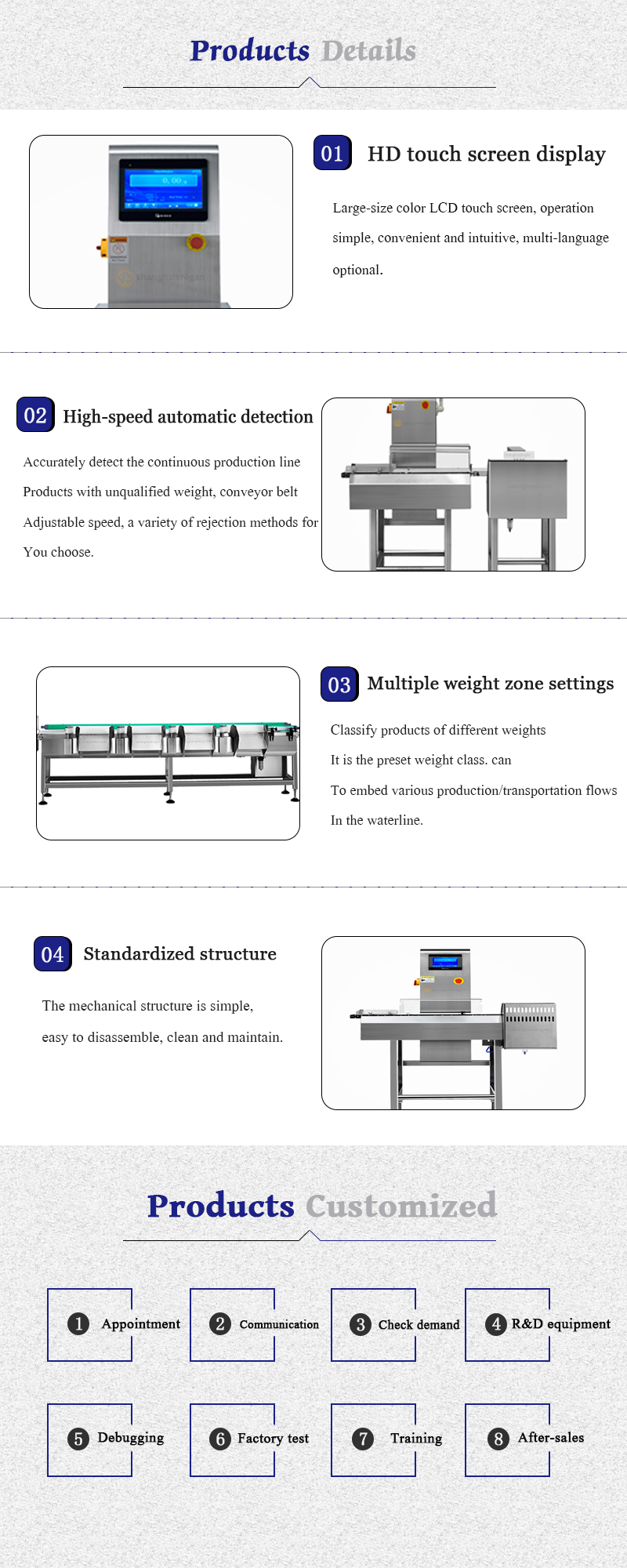 Main Features
1. Report function: built-in report statistics, the report can be generated in EXCEL format, can automatically generate a variety of real-time data reports, the U disk can store statistical data for more than 1 year, and support the production status at any time;
2. Interface function: standard interface is reserved, data is convenient for management, and it can communicate with PC and other smart devices;
3. Realize centralized control: It can realize centralized control of multiple checkweighers by one computer/human-machine interface;
4. Parameter recovery function: Provide factory parameter setting recovery function;
5. Strong versatility: The standardized structure of the whole machine and the standardized human-machine interface can complete the weighing of various materials;
6. Easy to replace: a variety of formulas can be stored, easy to change product specifications;
7. Simple operation: using Weilun color man-machine interface, fully intelligent and humanized design;
8. Easy maintenance: the conveyor belt is easy to disassemble, install and maintain, and is easy to clean;
9. Adjustable speed: the motor is controlled by frequency conversion, and the speed can be adjusted as required;
10. High-speed and high-precision: high-precision digital sensors are used, with fast sampling speed and high precision;
11. Zero tracking: can be manually or automatically cleared, and dynamic zero tracking;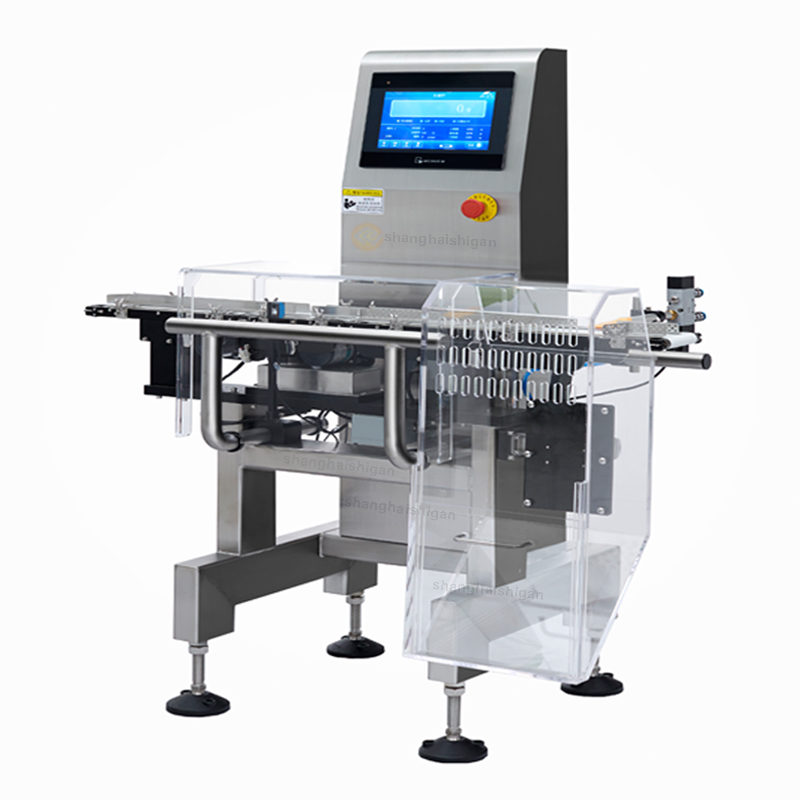 Application
Inline weight checker is mainly used for automatic weight detection, online and offline discrimination or weight classification selection on various automated packaging lines. Automatic check weight machine is widely used in online high-speed packaging checkweighing applications in pharmaceutical, food, health care products, daily chemicals, batteries, light industry and other industries.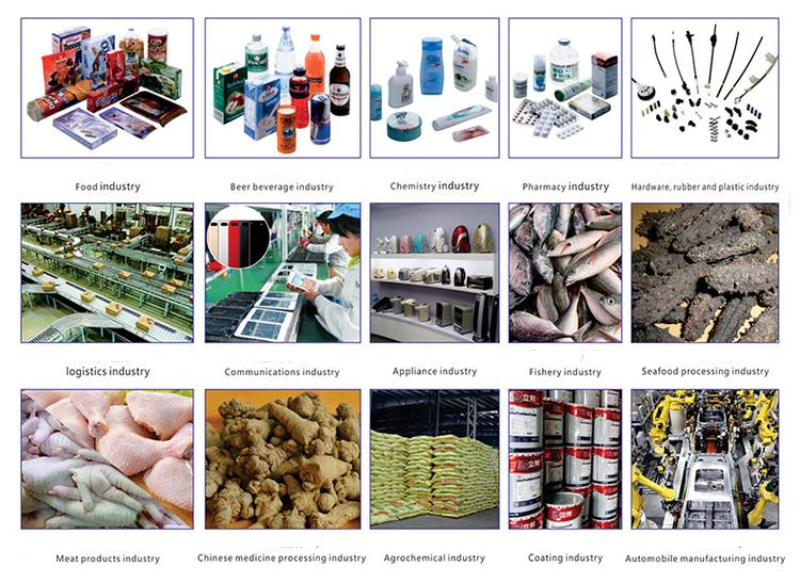 About Us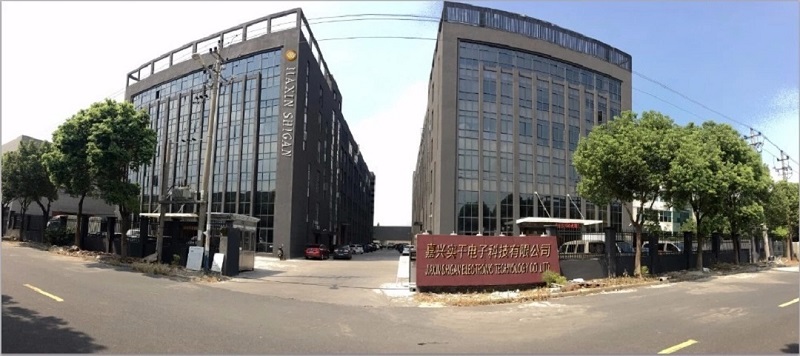 Shanghai Shigan Industrial Co., Ltd. is located in the beautiful scenery of Shanghai, China. It has been engaged in the production and development of assembly line packaging weighing equipment since 2010, and has obtained CE certification and a number of professional certificates. The company has always adhered to the "innovative, high-quality, and efficient" business philosophy. Provide you with perfect, high-quality products and services. Now our company's products have been sold all over the world, and have gained the trust and praise of countless customers!
Our main products are: online checkweighers, digital metal detectors, weighing labeling machine,checkweigher with metal detection mahcine and a series of assembly line weighing equipment.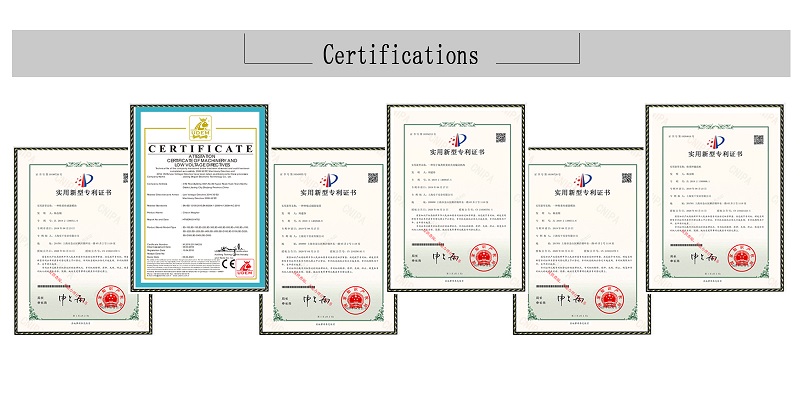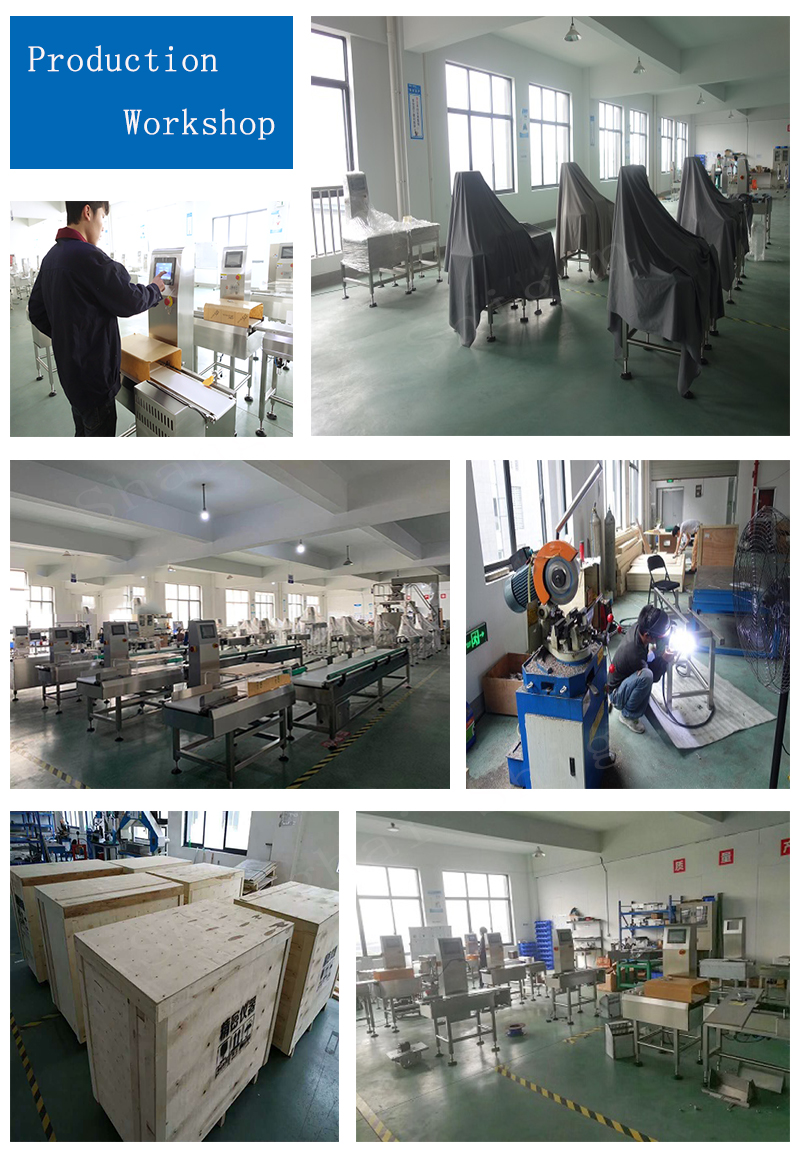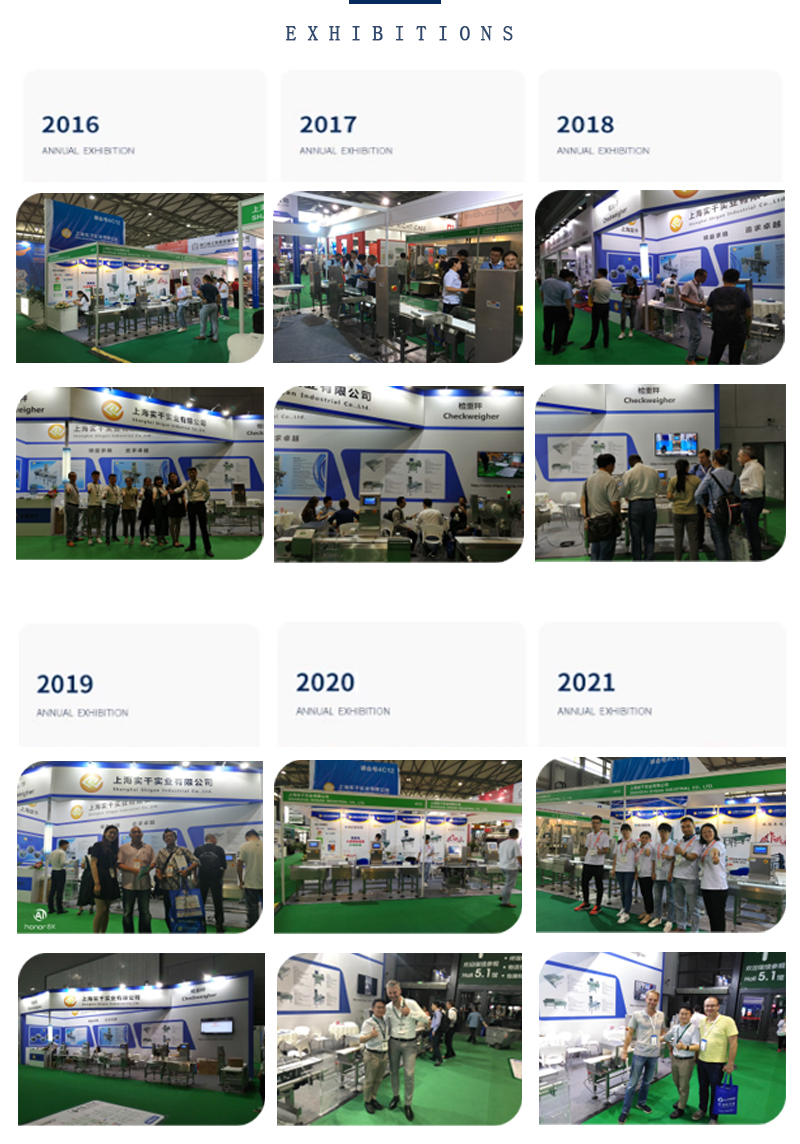 After Sale Service
In line with the business tenet of "providing customers with satisfactory products and services", Shanghai Shigan Industrial Co., Ltd. solemnly promises: while ensuring the advancement, reliability, and stability of the equipment, it will continue to improve the quality of service After-sales delivery, commissioning and opening, equipment maintenance and management, technical services, user technical training, etc., ensure that customers can get good services and make customers satisfied and assured.
1. Ensure that the equipment packaging meets the requirements of moisture-proof, rain-proof, rust-proof, anti-corrosion and earthquake-proof, and the identification is clear and correct, so that the goods can be delivered to the site safely and in time.
2. High-quality and fast technical services
In order to better ensure the normal operation of the equipment, answer questions raised by users in a timely manner, and help users solve problems, the company's maintenance center and local maintenance outlets are responsible for opening, maintaining and technical consulting services in various places. In the maintenance center, a full-time engineer is responsible for providing customers with free technical consulting services at any time.
3. Free commissioning and commissioning for users
The engineer is responsible for the installation, commissioning, opening and testing of the equipment.
Related Products
A checkweigher with metal detection machine Dynamic checkweigher for underweight quotation
30kg compound fertilizer belt scale checkweigher Conveyor belt check weight machine system
Chicken Breast Multi-stage Sorting Checkweigher Packaging online checkweigher supplier
Hot Labels:small-capacity,high-efficiency,online,checkweigher, customized,price,small,high-speed,weight checker