Products Information
The multi-stage sorting checkweigher can group and classify the products by weight according to user requirements, and perform classification statistics on the products. The production processing check weigher adopts stainless steel structure and imported food-grade conveyor belt from Italy, which is suitable for humid production environment and meets strict hygiene standards. The modular structure design is convenient for daily cleaning operations.For further information about our machines, or if you would like one of our professionals to contact you, please do not hesitate to contact us.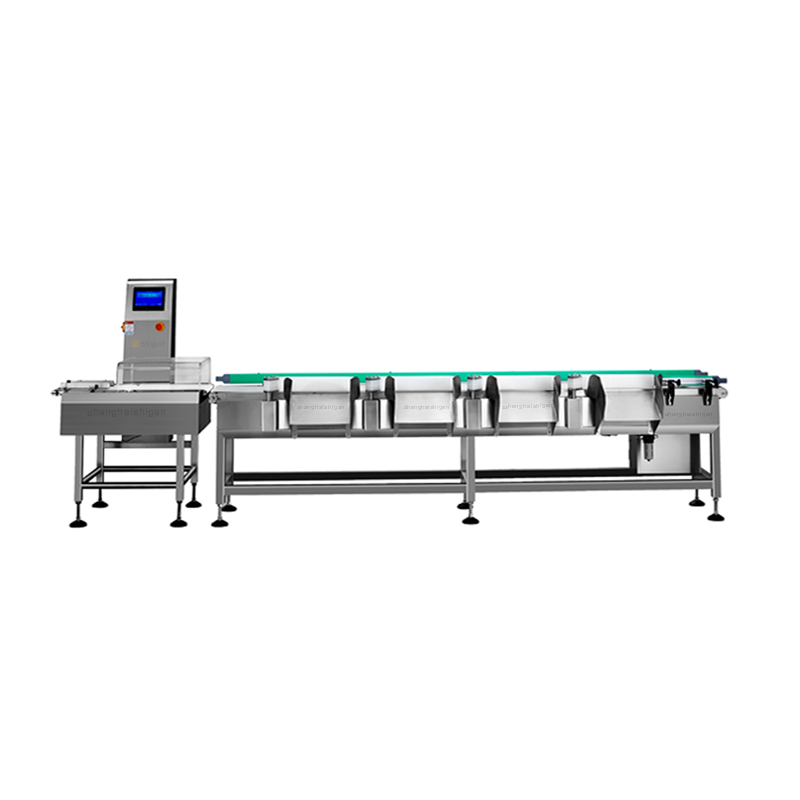 Specification Parameter
TypeSG-D220
Weighing Range10-1200g
Limited of productL: 200 W:150 H: 3-200mm
Accuracy±0.2 Depends on product
Division Scale0.1g
Belt Speed0- 60 m/min
Max Speed100 pcs/min
Belt Width220mm
Machine Weight60kg+44kg
Power SupplyAC 110/220V ±10% 50HZ
Power100W
Main MaterialSU304 stainless steel
Main Advantages
1. Weighing and sorting technology: domestic sorting accuracy ±0.5g, sorting speed 100 times/min.
2. Accurate product sorting function: digital weighing unit and zero point automatic analysis, provide production trend feedback signals, adjust the packaging accuracy of upstream packaging machines, and reduce costs.
3. Powerful data traceability function: inquiry and printing of unqualified products, statistical charts such as histograms and yield charts can be generated during the sorting process, and a built-in data transmission system is convenient for production control.
4. Domestic market share: Whether it is the scope of industry application or customer groups, Dongguan Shanan has always maintained the industry and has comprehensive application experience and technology accumulation.
5. Comprehensive operation yield: Weighing detection and sorting action is flexible in the industry, stable operation, with power-off data storage and fault self-checking alarm function.
6. Humanized design and easy operation: 10-inch color touch screen operation interface, which can store 100 varieties, flexible sorting and switching, realizing non-stop switching products; modular design, conveyor belt buckle design, easy maintenance and cleaning.
7. The domestic shunting and rejecting device prevents the product from falling down and spilling the material during the sorting process, and ensures the integrity of the detected object.
8. In-depth development and customization, supporting integration capabilities: various applicable solutions can be customized to meet the requirements of different products and different environments, and they can be connected to metal detectors, packaging machines and other equipment.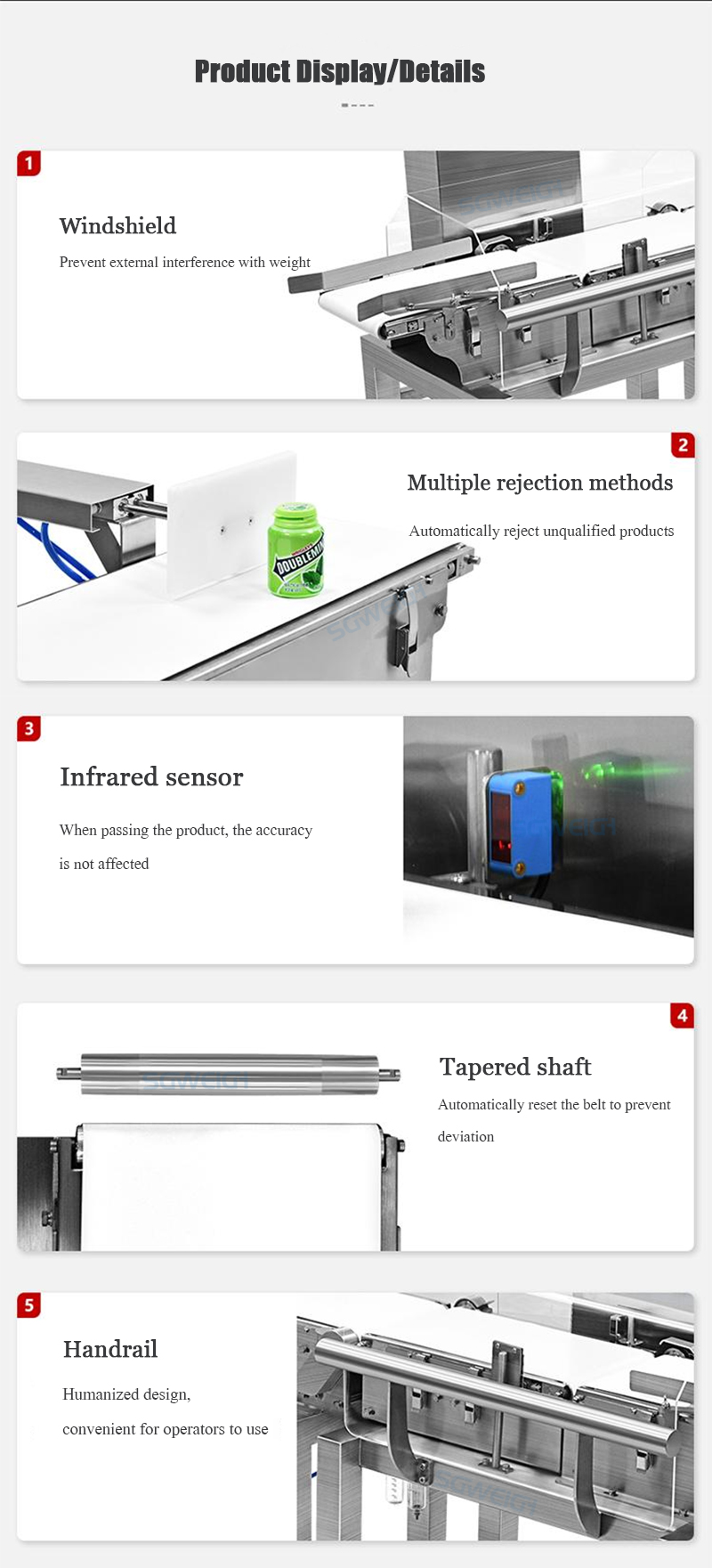 Application
This multistage check weigher machine is mainly suitable for the multi-stage sorting of seafood, livestock and poultry, aquatic products, and agricultural and sideline products. Such as: shrimp: (crayfish, macroprawn, prawn, sword shrimp, pink shrimp, river prawn, sea prawn, prawn, fresh shrimp, white shrimp, green prawn, etc.); livestock and poultry: (chicken breast, chicken leg, Duck legs, duck wings, duck feet, duck breasts, whole ducks and other related foods).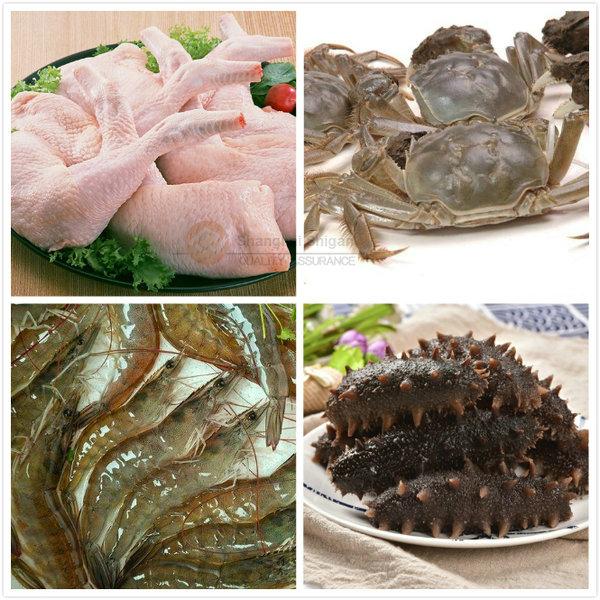 About Us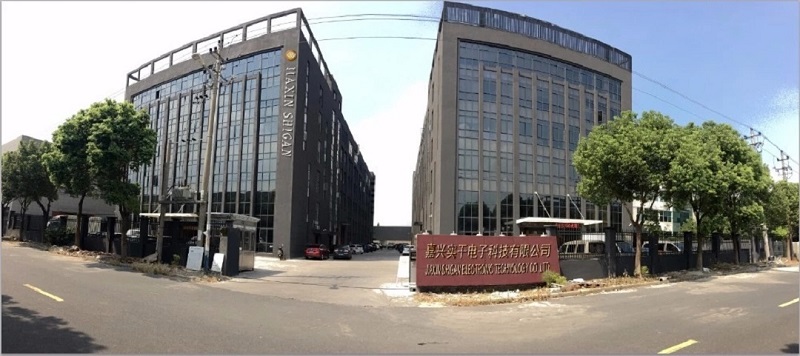 Shanghai Shigan Co., Ltd. is a packaging machinery automation equipment manufacturer integrating R&D, design, production and sales. Located in the developed area of the machinery industry-Shanghai, China, it upholds "Excellent Service, Good Quality". The company has complete equipment and independently produces various mechanical transmissions and hardware accessories. The courage to research innovative technology and continuous improvement has won unanimous praise from the majority of enterprises. Shanghai Shiqian has always been committed to the research and development and manufacture of a series of packaging testing equipment such as online dynamic checkweighers, digital metal detectors, weighing labeling machines,checkweigher and metal detector combo, etc., bringing products that balance performance and price To every corner of the world.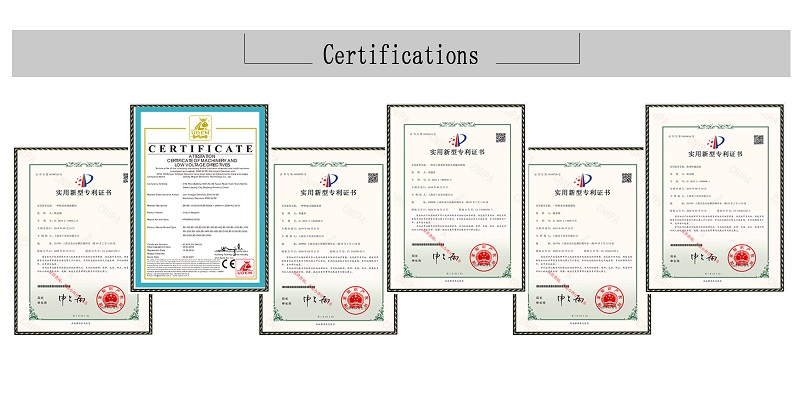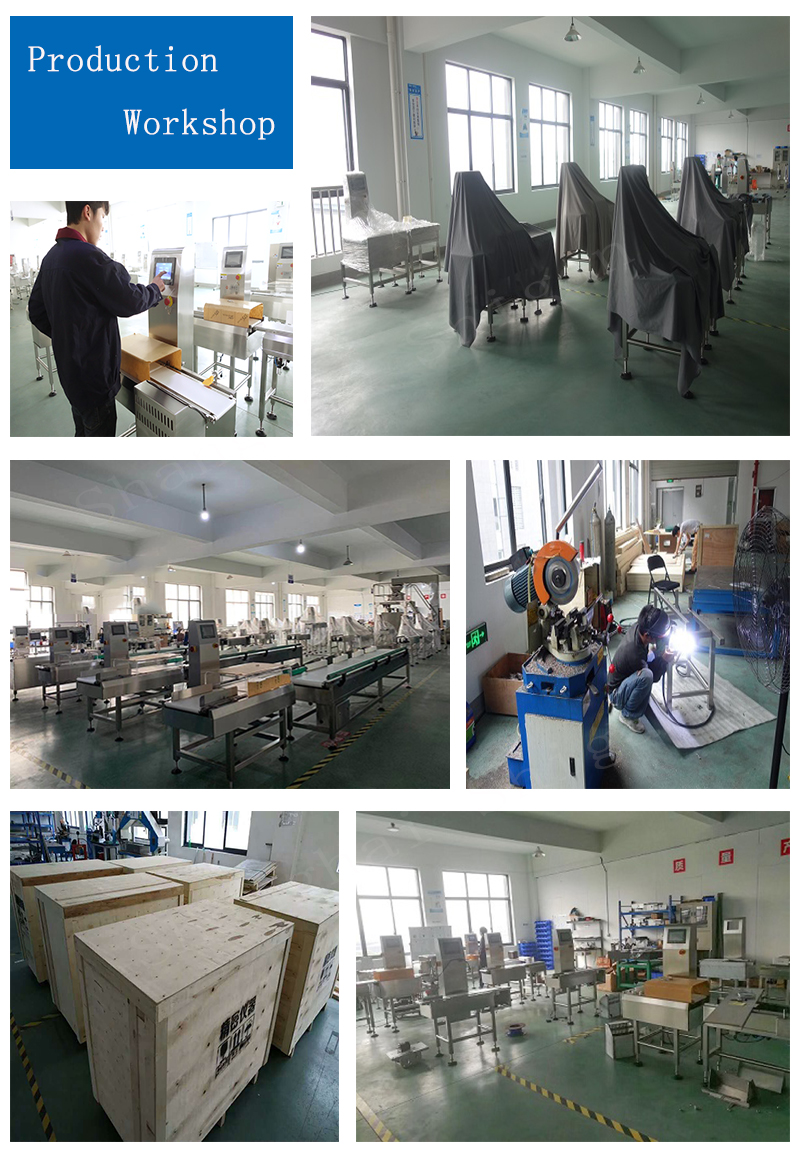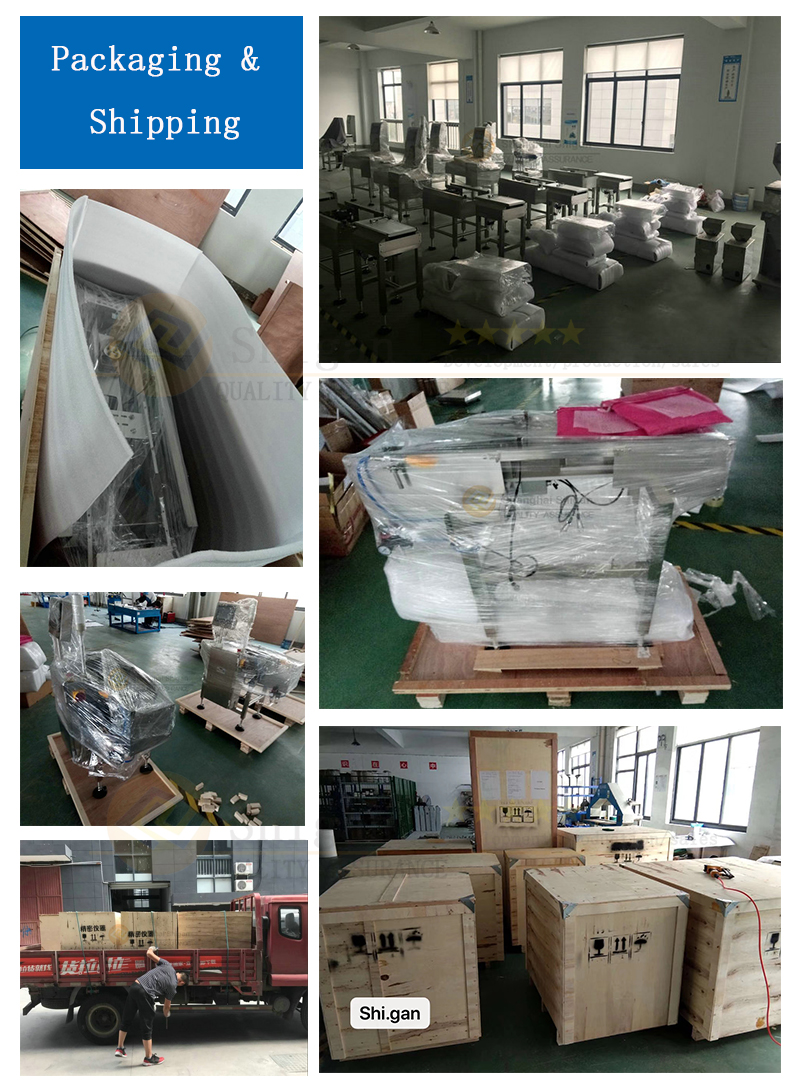 1. Before packaged, the machines will be tested strictly to guarantee the stability and high accuracy.

2. After tested, the machines will be wrapped with plastic sheet and carefully packed in wooden cases.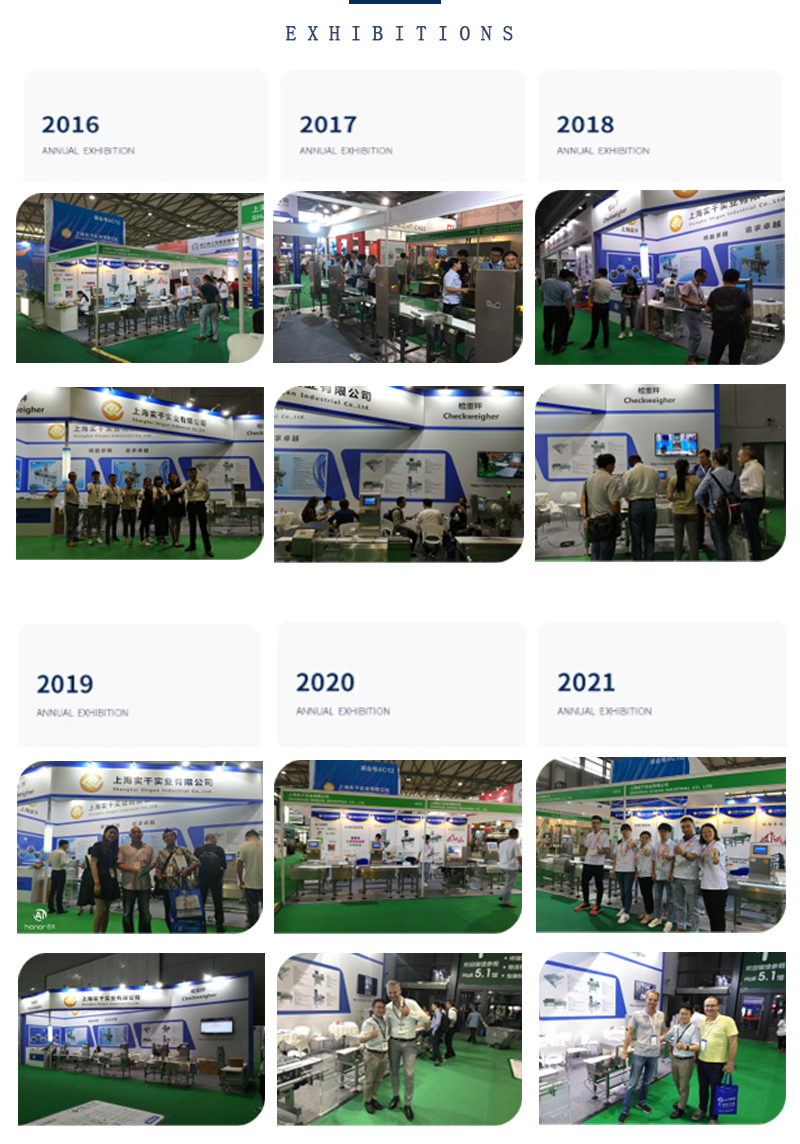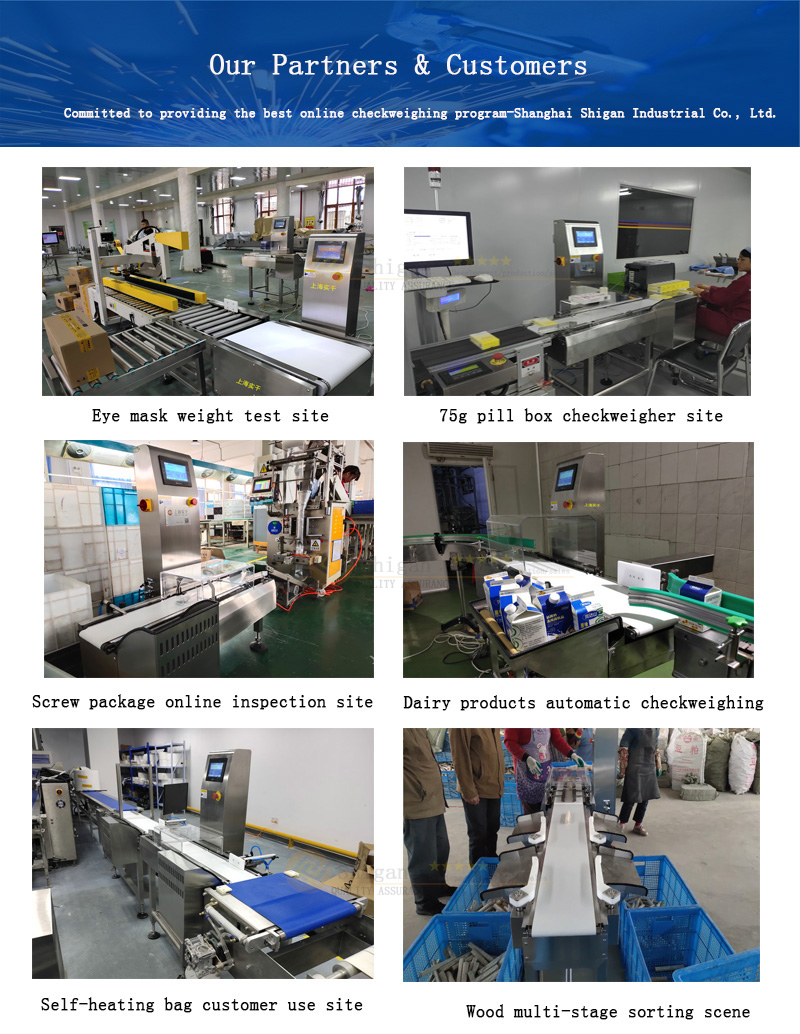 After Sale Service
1. Service tenet: fast, decisive, accurate, thoughtful and thorough
2. Service goal: to win customer satisfaction with high-quality service quality
3. Service efficiency: If the equipment fails during the warranty period or outside the warranty period, after the supplier receives the notice, the maintenance personnel can reach the site and start the repair within 24 hours.
4. Service principle: The product warranty period is twelve months. During the warranty period, the supplier will repair and replace the parts damaged due to quality reasons free of charge. If the parts are damaged outside the warranty period, only the cost will be charged for the parts provided. , Equipment damage caused by human factors on the demand side, repairs or accessories provided by the supplier are all calculated at cost.
5. After the warranty period, our company's sales staff will return visits to investigate user usage no less than three times a year.
Related Products
Packaging online checkweigher supplier Online product weight control checkweigher
Conveyor weight testing machine checkweigher Inline check weighing machine with rejector supplier
Cosmetic weighing metal detection machine Overweight alarm check weight machine price
Hot Labels:chicken breast,multi-stage,sorting,checkweigher, check weigher,weight machine,production processing