Product Information
The accessories inline weighing checkweigher adopts the German HBM high-precision sensor; it is based on high-speed digital signal processing technology to achieve high-speed and stable detection. The large-scale process checkweigher can be integrated with various packaging production lines and conveying systems to improve product quality and integrity and avoid customer complaints.Any OEM and customer design orders are welcome! If you are interested in our products, please feel free to contact us.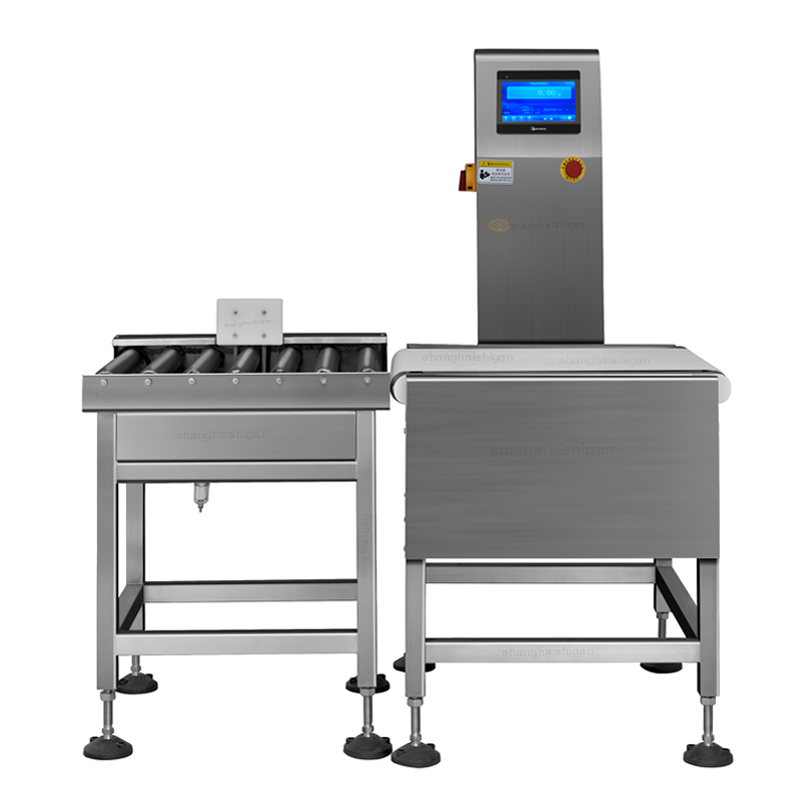 Specification Parameter
TypeSG-450
Weighing Range0.05-20/30kg
Limited of productL: 500 W:450 H: 3-400mm
Accuracy±1g
Division Scale0.1g
Belt Speed0- 40 m/min
Max Speed40 pcs/min
Belt Width450mm
Machine Weight100kg
Power SupplyAC 110/220V ±10% 50HZ
Power100W
Main MaterialSU304 stainless steel
Main Advantages
1. Weighing and sorting technology: domestic sorting accuracy ±0.05g, sorting speed 300 times/min.
2. Accurate product sorting function: digital weighing unit and zero point automatic analysis, provide production trend feedback signals, adjust the packaging accuracy of upstream packaging machines, and reduce costs.
3. Powerful data traceability function: inquiry and printing of unqualified products, statistical charts such as histograms and yield charts can be generated during the sorting process, and a built-in data transmission system is convenient for production control.
4. Domestic market share: Whether it is the scope of industry application or customer groups, Dongguan Shanan has always maintained the industry and has comprehensive application experience and technology accumulation.
5. Comprehensive operation yield: Weighing detection and sorting action is flexible in the industry, stable operation, with power-off data storage and fault self-checking alarm function.
6. Humanized design and easy to operate: 10-inch color touch screen operation interface, can store 100 varieties, flexible sorting and switching, realizing non-stop switching products; modular design, conveyor belt buckle design, easy maintenance and cleaning.
7. The domestic shunting and rejecting device prevents the product from falling down and spilling the material during the sorting process, and ensures the integrity of the detected object.
8. In-depth development and customization, supporting integration capabilities: various applicable solutions can be customized to meet the requirements of different products and different environments, and they can be connected to metal detectors, packaging machines and other equipment.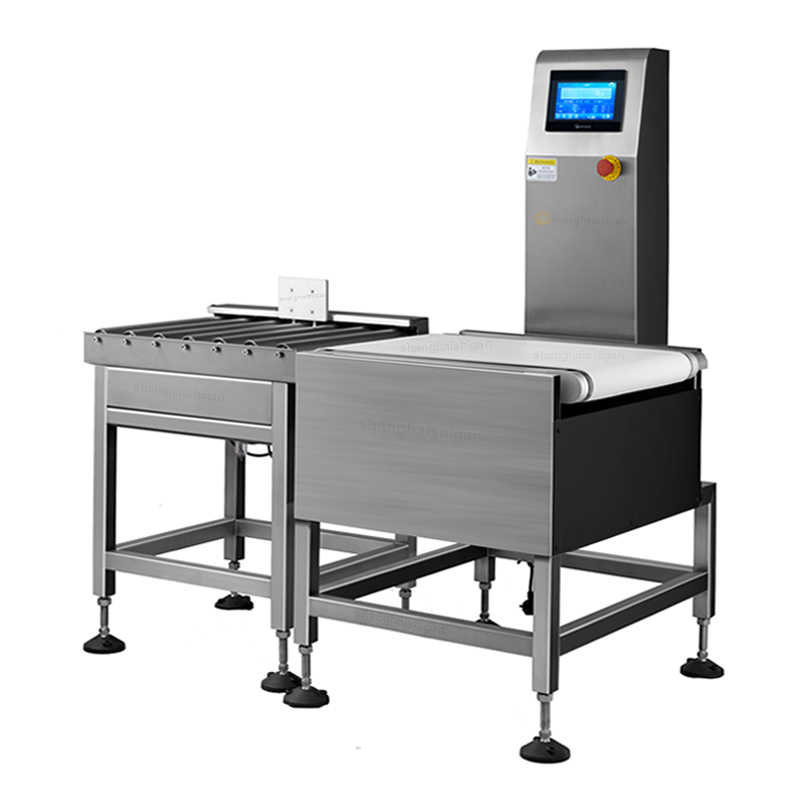 Application

The scope of application of the sorting scale: It is widely used in the food, medicine, and chemical industries to measure the weight of items on the production line.
About Us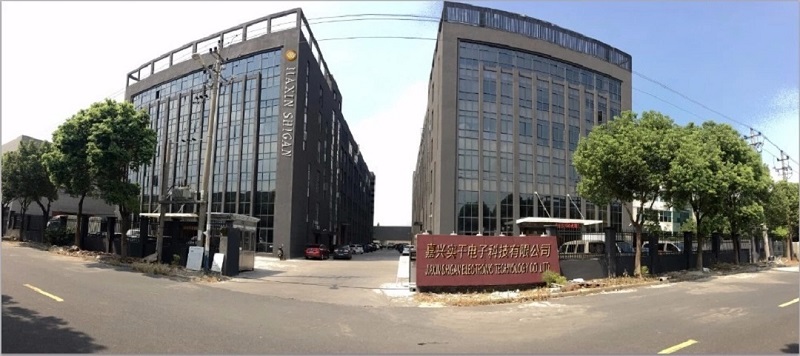 Shanghai Shigan Industrial Co., Ltd. is located in the beautiful scenery of Shanghai, China. It has been engaged in the production and development of assembly line packaging weighing equipment since 2010, and has obtained CE certification and a number of professional certificates. The company has always been adhering to the "innovative, high-quality, and efficient" business philosophy. Provide you with perfect, high-quality products and services. Now our company's products have been sold all over the world, and have gained the trust and praise of countless customers!
Our main products are: online checkweighers, digital metal detectors, checkweigher and labeling machine, and a series of assembly line packaging testing equipment.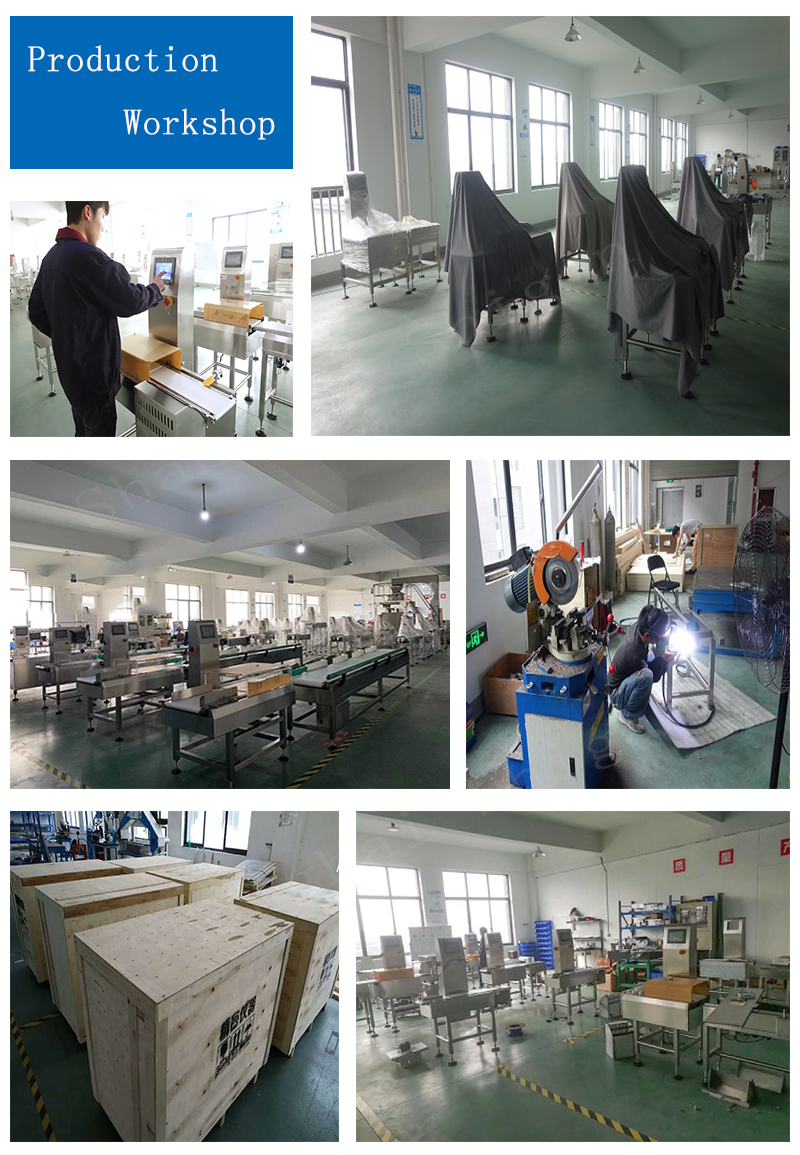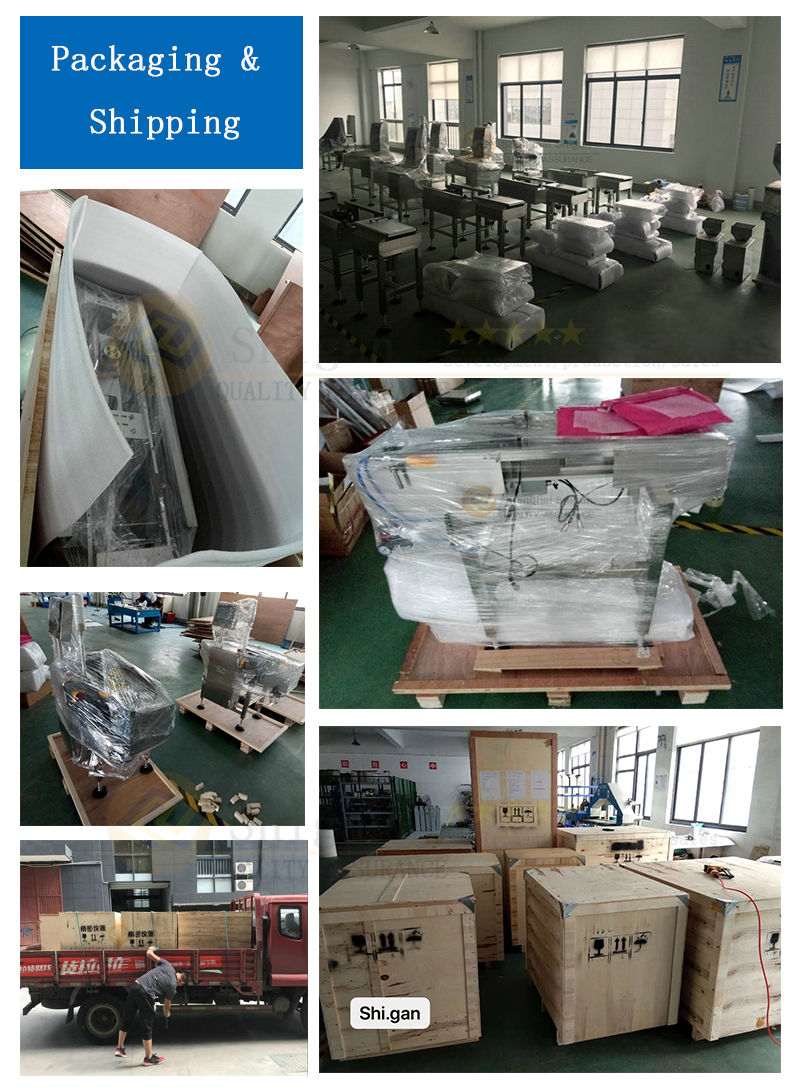 1. Before packaged, the machines will be tested strictly to guarantee the stability and high accuracy.
2. After tested, the machines will be wrapped with plastic sheet and carefully packed in wooden cases.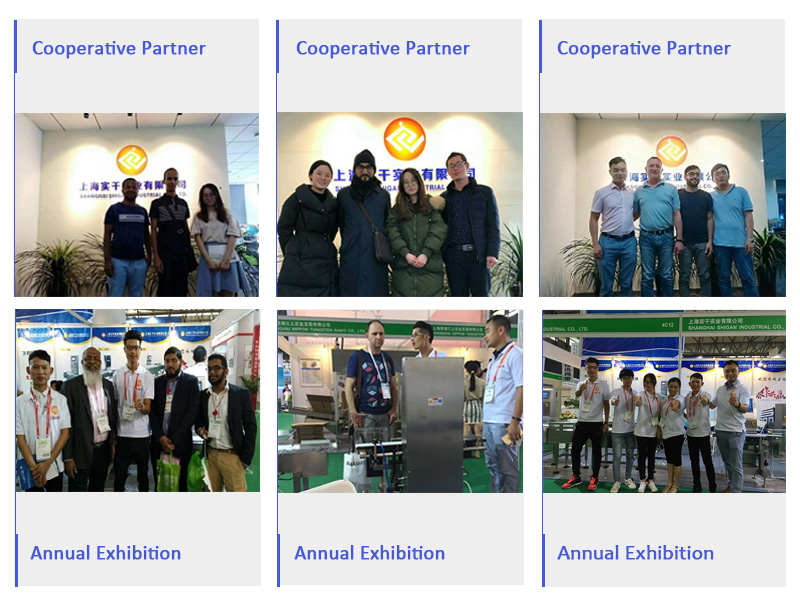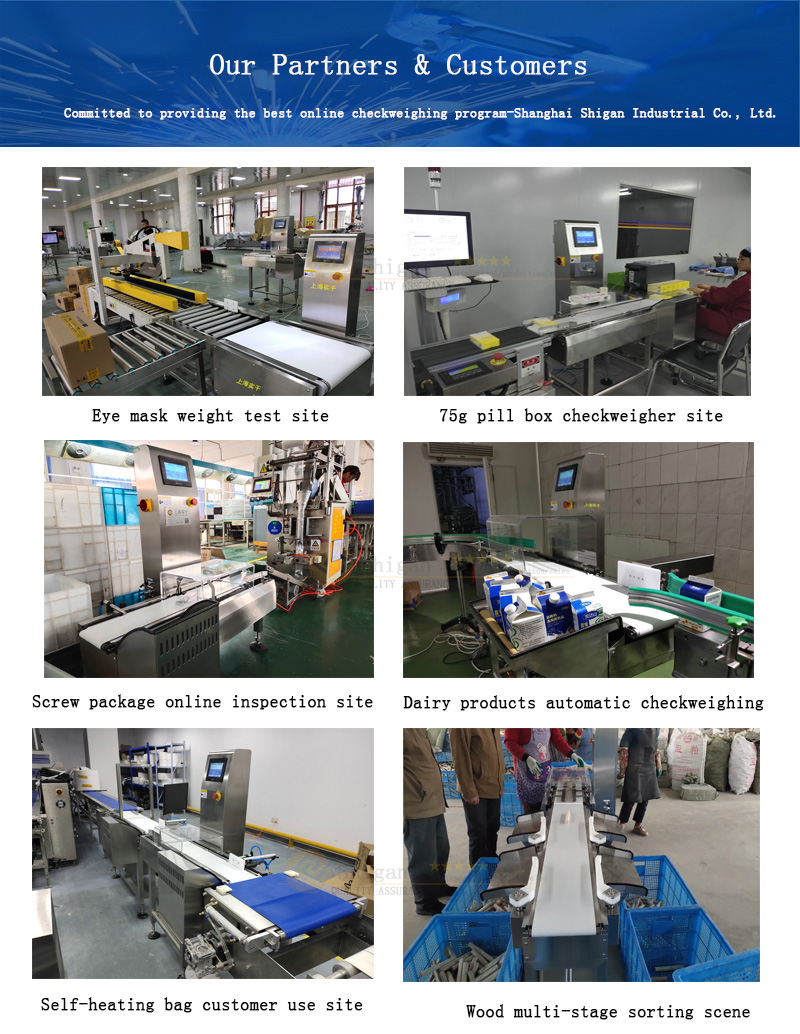 After Sale Service
Based on the spirit of pursuing high-quality products and customer satisfaction, Shanghai Shigan Industrial Co,.Ltd solemnly promises you with the principles of preferential prices, considerate service, and reliable product quality.
1.Product quality commitment:
(1). The manufacturing and testing of products have quality records and testing data.
(2). For product performance testing, we sincerely invite users to personally check the whole process and performance of the product, and then pack and ship the product after it is confirmed to be qualified.
2. Product price commitment:
(1). Under the same competitive conditions, our company will sincerely provide you with preferential prices on the basis of not reducing product technical performance or changing product components.
3. Delivery time commitment:
(1). Product delivery time: Try to meet user requirements. If there are special requirements, it needs to be completed in advance, and strive to meet user needs.
Related Products
Weighing and rejecting machine for pharmaceutical Dynamically reject checkweigher factory
Automatic checkweigher labeling machine with printing Food checkweigher and metal detector system
Metal detection machine for industry factory Textile assembly line dynamic weighing metal detector
Hot Labels:phone,accessories,inline,weighing,checkweigher,system, workshop,product,large-scale,process,check weigher