Product Description
This aggregate conveyor metal detector is suitable for food, baking, cosmetics, pharmaceutical, chemical, rubber and plastic industries. The machine has high detection accuracy and good stability.High accuracy metal detection machine can detect all metal foreign bodies mixed in packaging and bulk products (including iron and copper). , Aluminum, lead, stainless steel and other metals), equipped with an intelligent operating system and a database function.If you have any questions or comments, please feel free to contact us.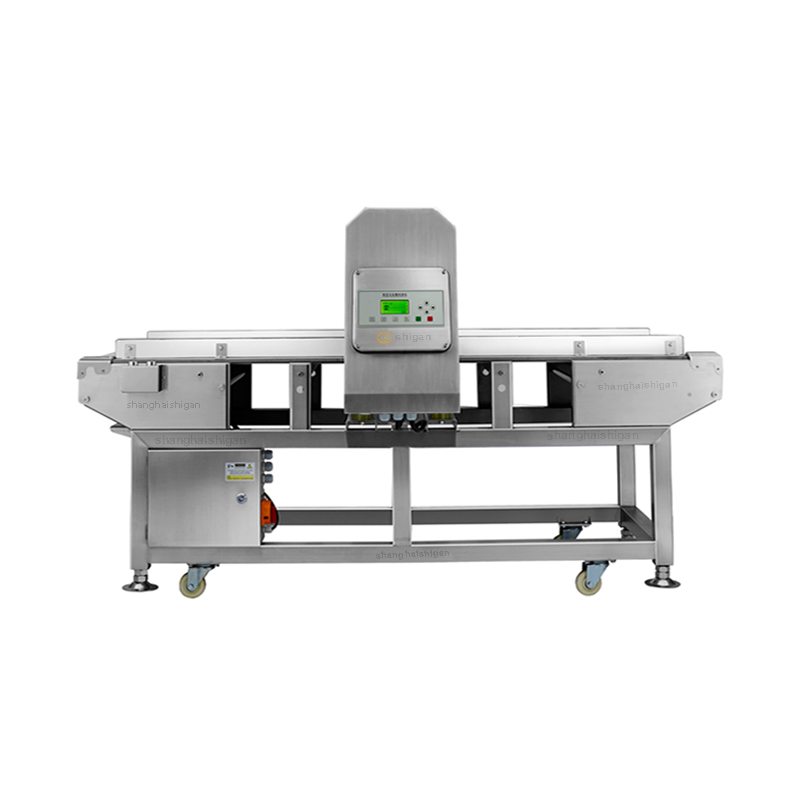 Specification Parameter
Name: metal detector

Type :SG-8500
Main material:SUS Stainless steel (304)
Sensitivity:(Depend on the detection height)
Detection Width:300mm400mm500mm
Detection Height:100 mm120 mm150 mm200 mm
Belt Height: Customized
Max Belt speed :25m/min
Material for conveyor belt:Food grade PU belt,
Display and operation mode:LCD flat key input
Frequency:About 90 W
Powder:AC 110V/ 220V 50-60 Hz
Alarm way:Alarm, belt stop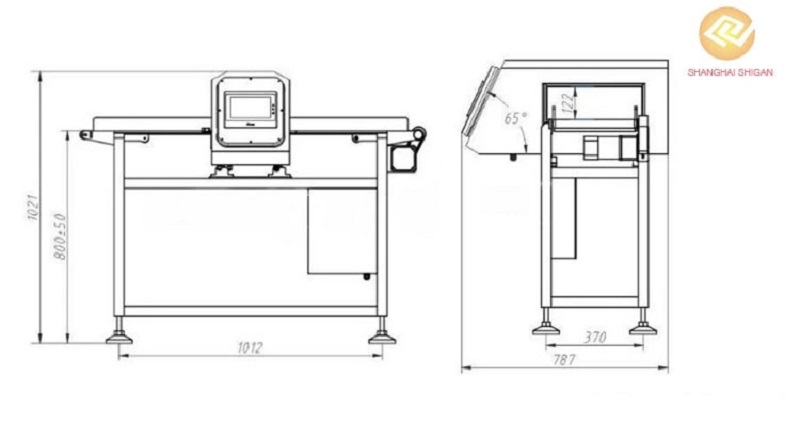 Main Advantages
1. It adopts dual-channel signal detection circuit combination technology, which has high sensitivity and high anti-interference ability.
2. With dual signal display function. When a metal object passes through, the signal level indicator will display different inductive intensities according to the size of the metal.
3. The signal processing is completed by the digital circuit, the adjustment is simple, stable and reliable.
4. It has a product effect adjustment function, such as wet products, sugary products, and salty foods, which will produce metal-like signals to the metal detector. This effect will affect the detection effect. This function can reduce the product effect to achieve Better detection effect.
5. It has the function of leak detection. When multiple metal signals pass through, the instrument will automatically detect the number of signals, and the actuator will not be missed when it moves.
6. When no detected object passes, the instrument is in sleep mode, and the detection is effective only when the object passes.
7. It can be used in conjunction with the assembly line to implement automatic inspection of the assembly line.
8. The detector adopts sound and light alarm, and at the same time automatically eliminates or shuts down, the operation and use are extremely convenient and reliable.
9. It can be made of all stainless steel materials as required.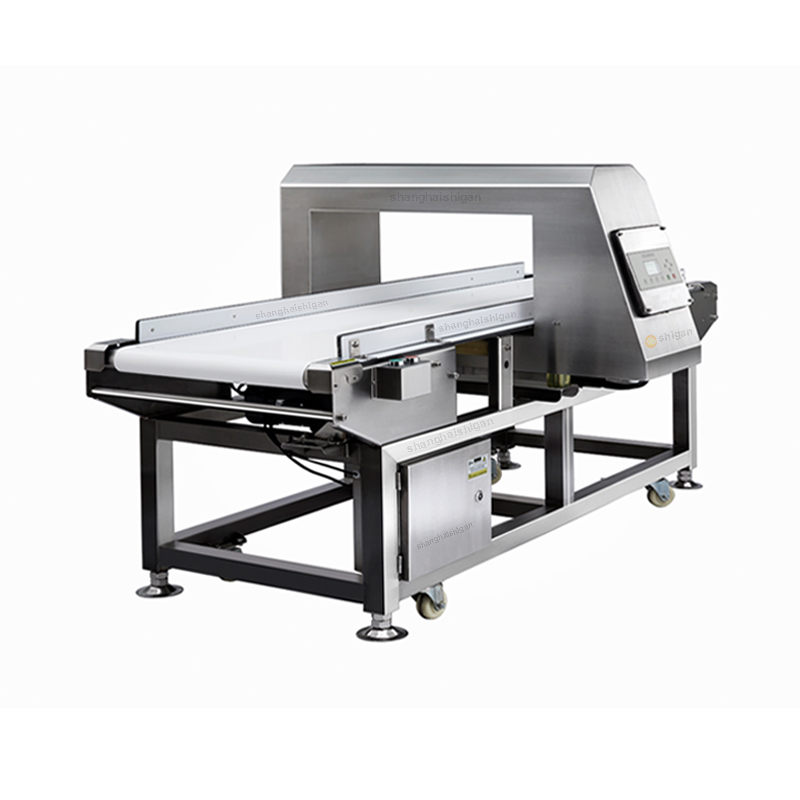 Application
This high accuraacy metal detector is suitable for food, baking, cosmetics, pharmaceutical, chemical, rubber and plastic industries.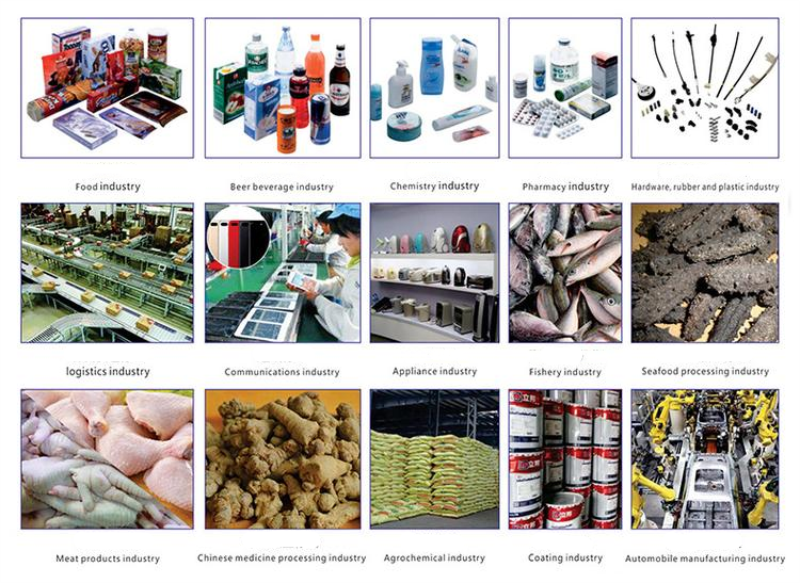 Company Display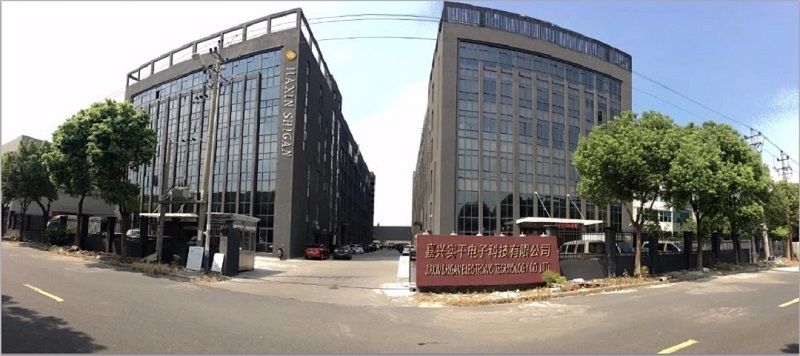 Shanghai Shigan Industrial Co., Ltd. is located in the beautiful scenery of Shanghai, China. It has been engaged in the production and development of assembly line weighing equipment since 2010, and has obtained CE certification and a number of professional certificates. The company has always been adhering to the "innovative, high-quality, and efficient" business philosophy. Provide you with perfect, high-quality products and services. Now our company's products have been sold all over the world, and have gained the trust and praise of countless customers! Our main products are: automatic checkweigher, digital metal detector, weighing metal detector and a series of assembly line weight inspection equipment.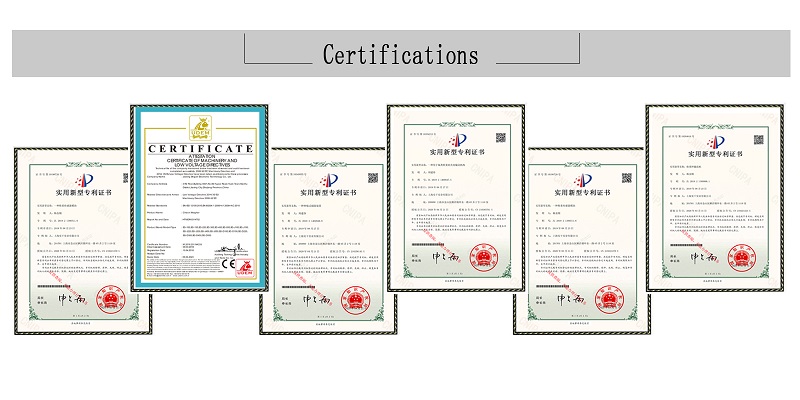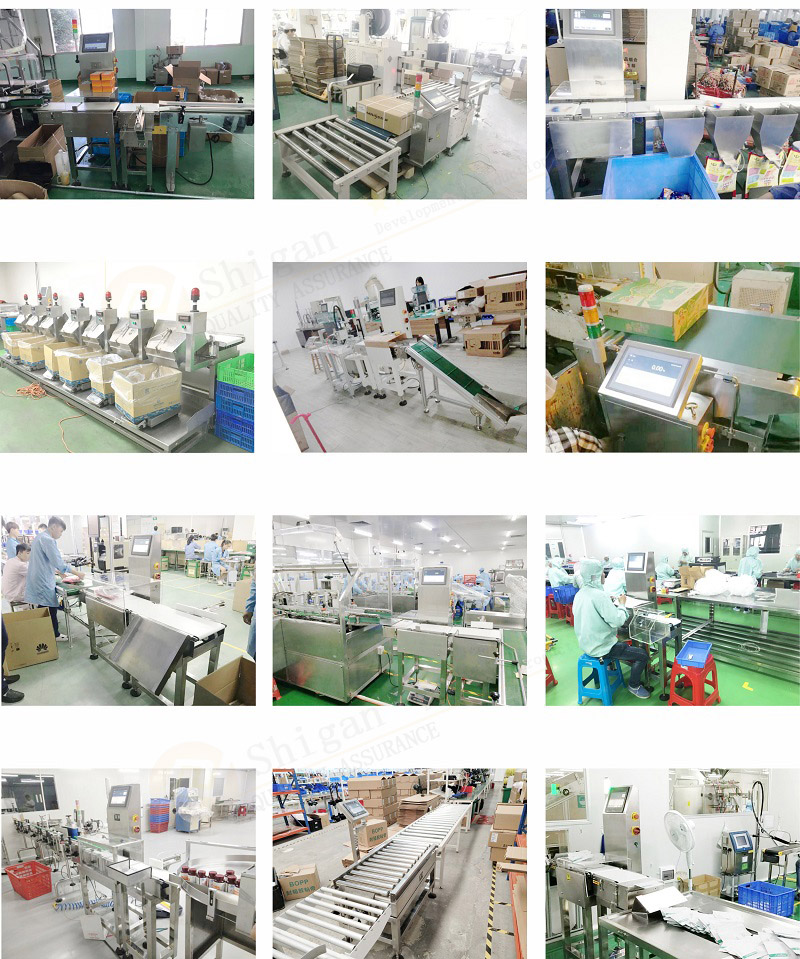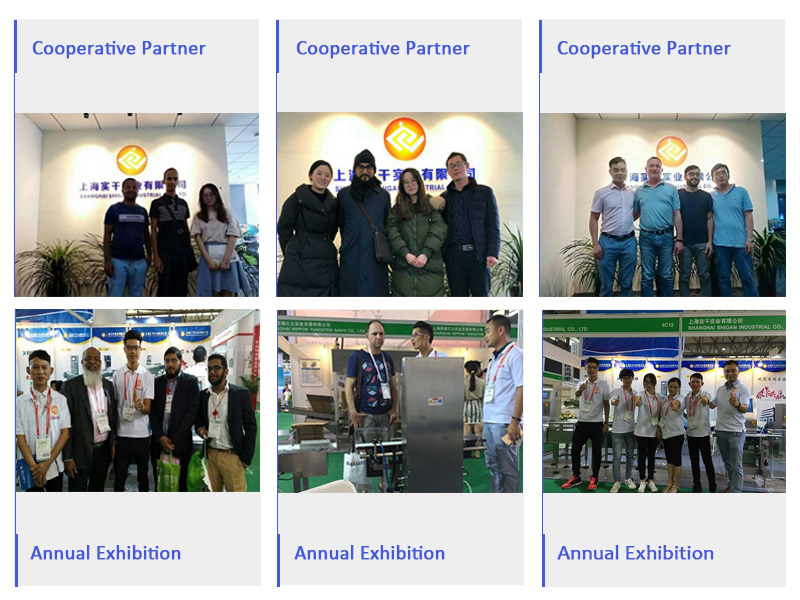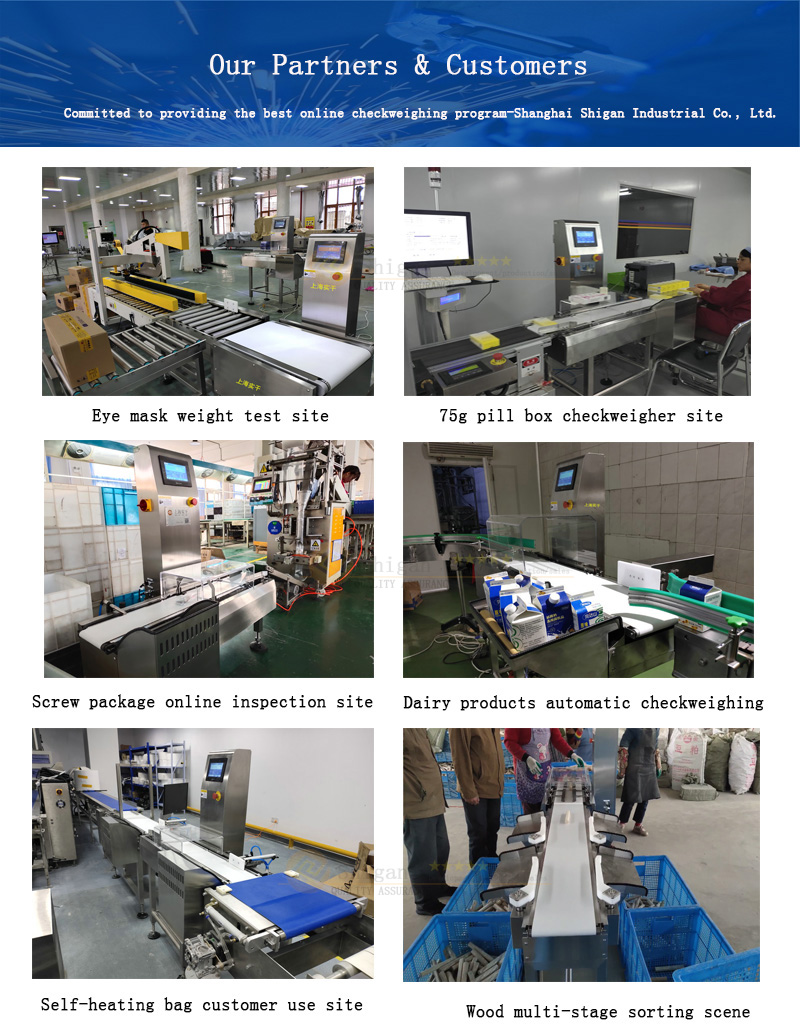 Sale Service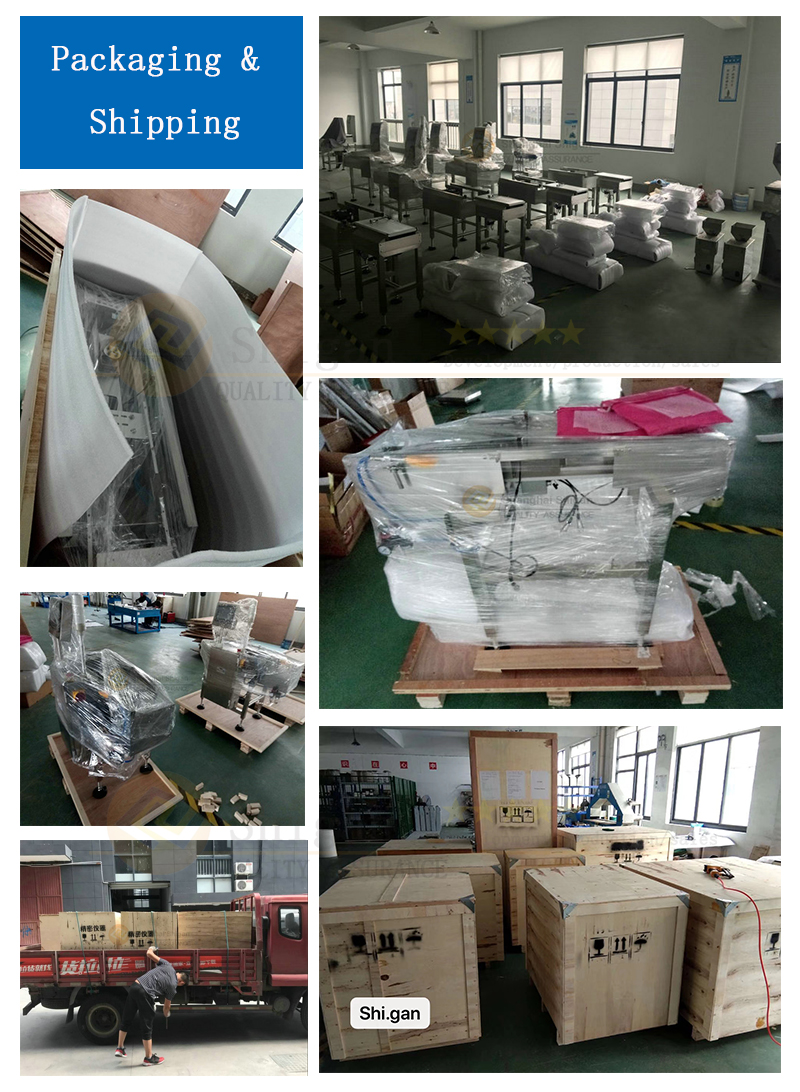 Packing Detail:
Each Machine with plastic film package first, then placed in a wooden case, wooden case with a foam filling.
We loaded the truck with heavy trucks for loading the cargo to the harbor terminal.At the dock we pack the goods in containers and ship them abroad.
Delivery Detail :
Shipped in 25 days after payment
After-sales service commitment
1. Service tenet: fast, decisive, accurate, thoughtful and thorough
2. Service goal: service quality wins customer satisfaction
3. Service efficiency: If the equipment fails during the warranty period or outside the warranty period, our company will arrange maintenance personnel to provide maintenance services for customers within 24 hours after receiving the notice.
4. Service principle: The product warranty period is one year. During the warranty period, our company will repair the parts damaged due to quality reasons for free. If the parts are damaged outside the warranty period, the provided accessories will only charge cost. If due to human factors If the equipment is damaged, the parts repaired or provided by our company are calculated at the cost price.
Related Products
Automatic metal detection and weighing integrated machine Supermarket packaging product checkweigher
Box lunch online check weighing machine Notebook digital weighing checkweigher machine
Checkweigher and labeling machine price High-precision recheck check weighing scale
Hot Labels:aggregate,conveyor,metal detector,high accuracy,metal detection machine,industry,factory,supplier