Product Description
This package automatic scanning checkweigher is suitable for detecting whether the weight of a single product is consistent with the set target, and the sorting device automatically proposes the unqualified products.Automatic weight sorting scale adopts the world's digital weighing unit to realize high-speed and stable measurement. The structure of the weighing frame ensures the maintenance and stability during dynamic work.For further information about our machine or services,please do not hesitate to contact us.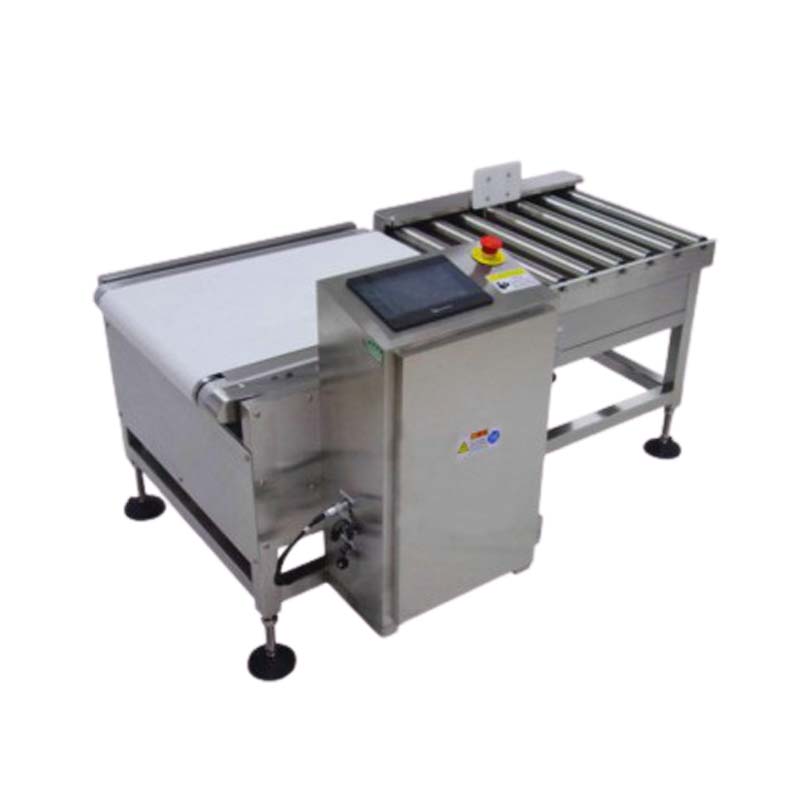 Specification Parameter
TypeSG-550
Weighing Range0.5-50Kg
Limited of productL: 800 W:550 H: 3-400mm
Accuracy±20g Depends on product
Division Scale1g
Belt Speed0- 40 m/min
Max Speed30 pcs/min
Belt Width550mm
Machine Weight150kg
Power SupplyAC 110/220V ±10% 50HZ
Power100W
Main MaterialSU304 stainless steel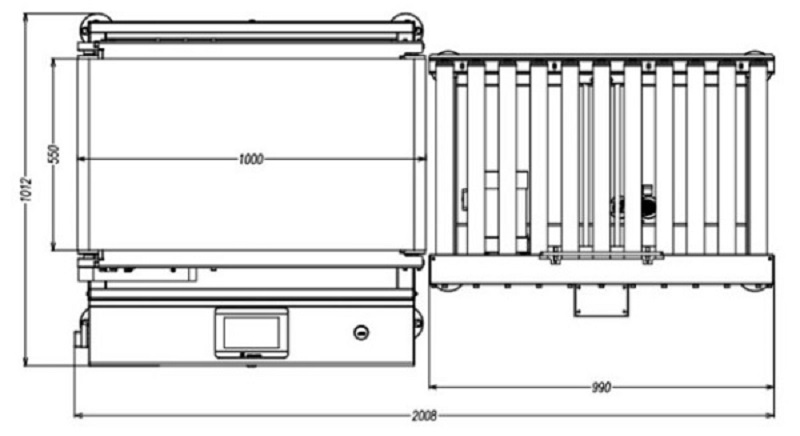 Main Advantages
▲10-inch color touch screen display, user-friendly man-machine dialogue interface, very convenient operation;
▲The use of high-speed sorting machine dedicated digital weighing module and imported high-precision sensor, stable weighing;
▲Modular conveyor belt design, easy to disassemble and replace the belt;
▲Chinese display operation window, professional sorting machine use program, powerful application function;
▲With statistical display of qualified and unqualified numbers, and data recording function;
▲With the function of memory and recall of the set data group, it is convenient to operate;
▲The setting of secondary operation authority facilitates management and reduces errors;
▲Real-time indication of HI, OK, and LO status;
▲The reject device is a push rod method to reject unqualified products;
▲The storage table for unqualified products adopts slope-type free roller line;
▲Complete solution and product portfolio line: It can be equipped with gold inspection machine and X-ray machine to achieve strict quality control;
Optional: alarm indicator, printer and other accessories;
Optional: PC communication port, U disk data storage and other data interfaces.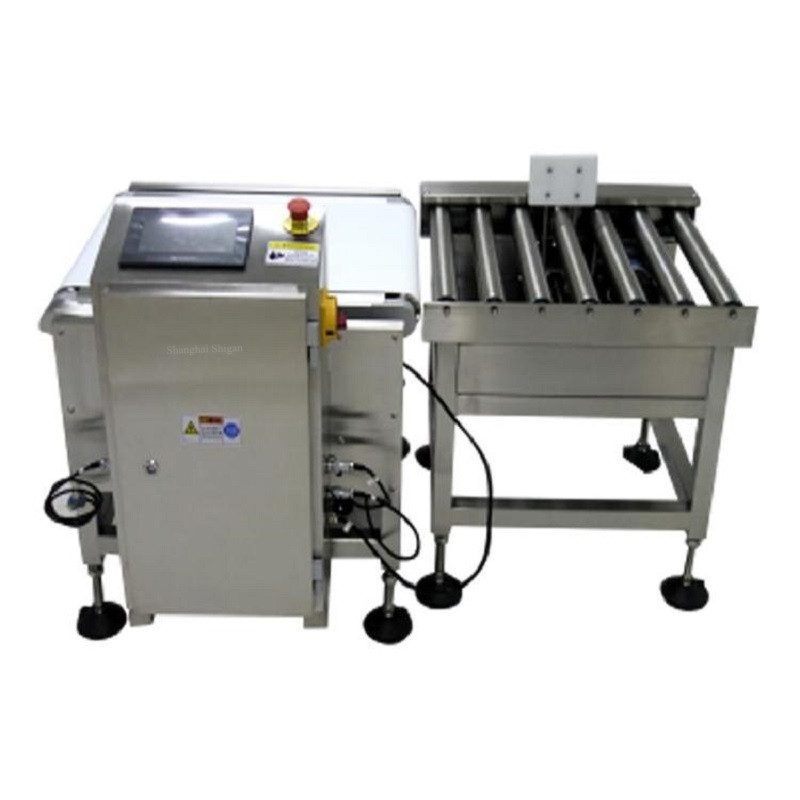 Application
The package automatic scanning checkweigher is suitable for the detection of lack of packing and packing boxes in food, medicine, daily chemical, electronics, chemical, beer and beverage industries.

Company Display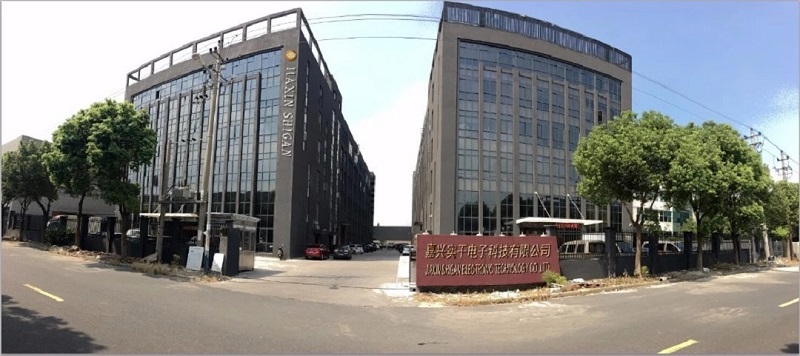 Shanghai Shigan Industrial Co., Ltd. has been engaged in the research and development, production, sales and service of automatic weighing technology for more than 11 years. We aim to help customers realize automated production and management. We will continue to provide customers with effective dynamic checkweigher solutions to reduce costs and enhance market competitiveness. Dynamic checkweighers are widely used in snack foods, puffed foods, fresh and frozen foods, agriculture, medical, chemical and hardware fields. We also export to Malaysia, Vietnam, Indonesia, the Philippines, Kazakhstan, Uzbekistan, UAE, Saudi Arabia and other overseas markets, and have won numerous praise and trust!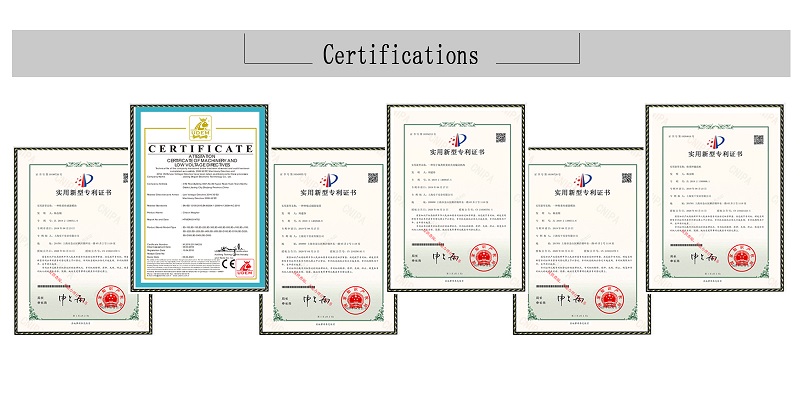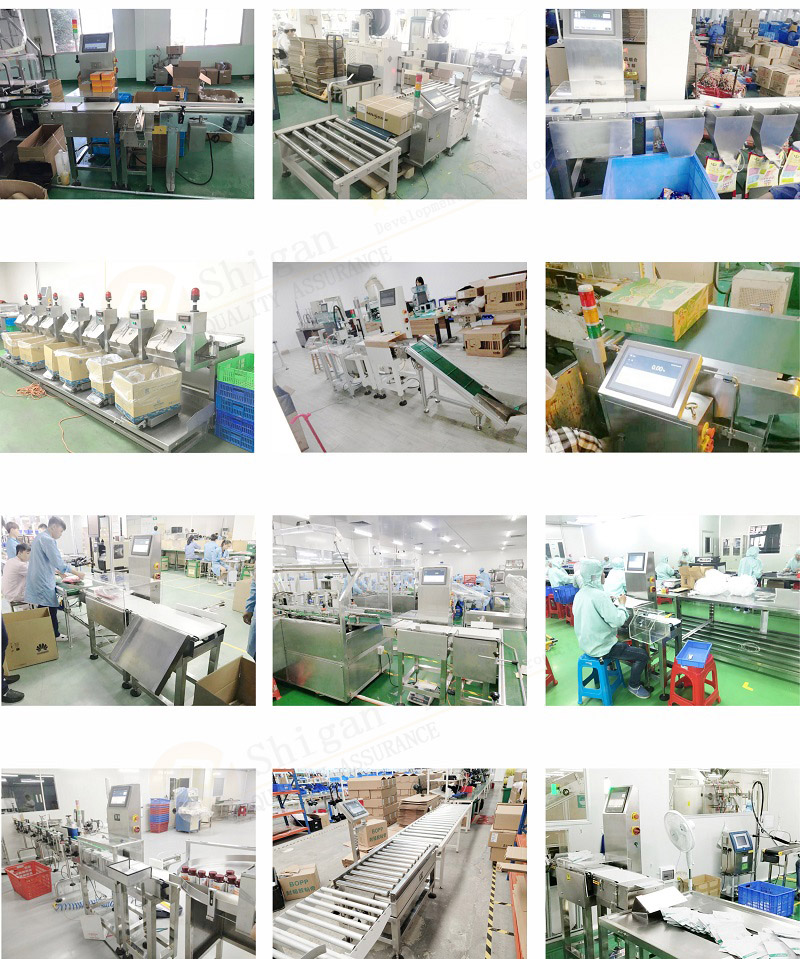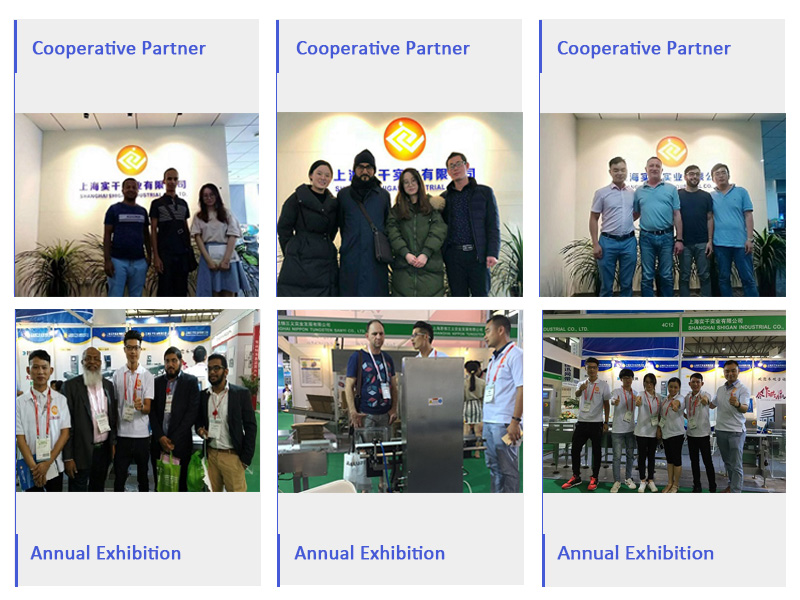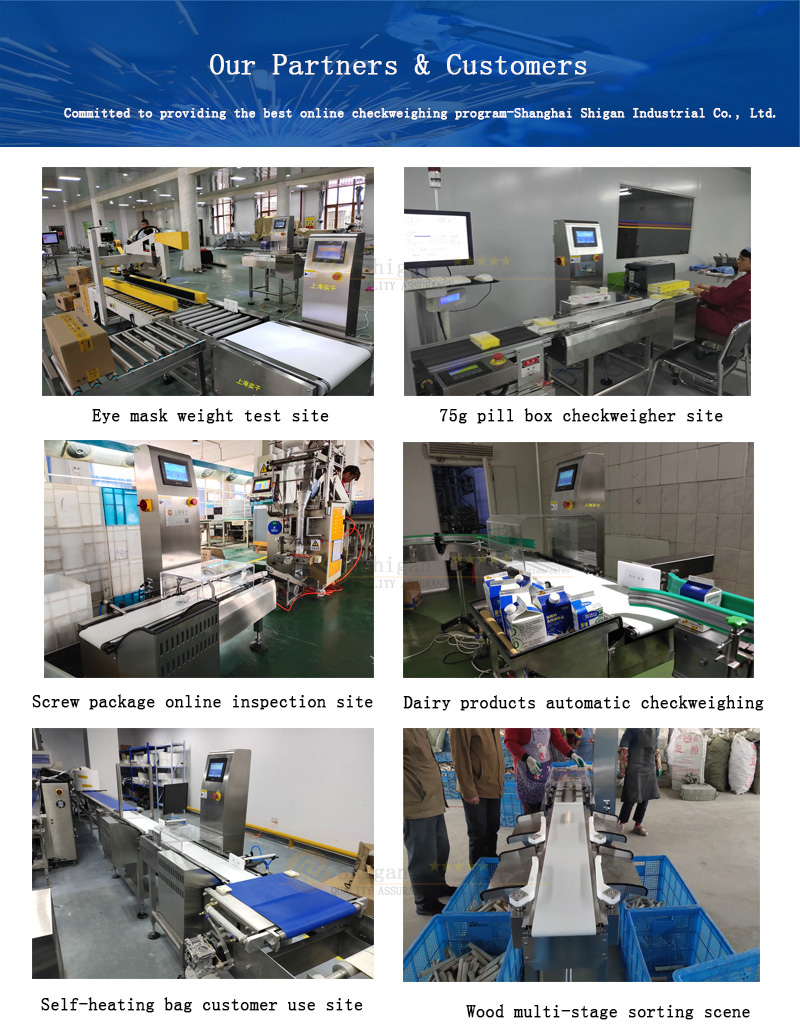 Sale Service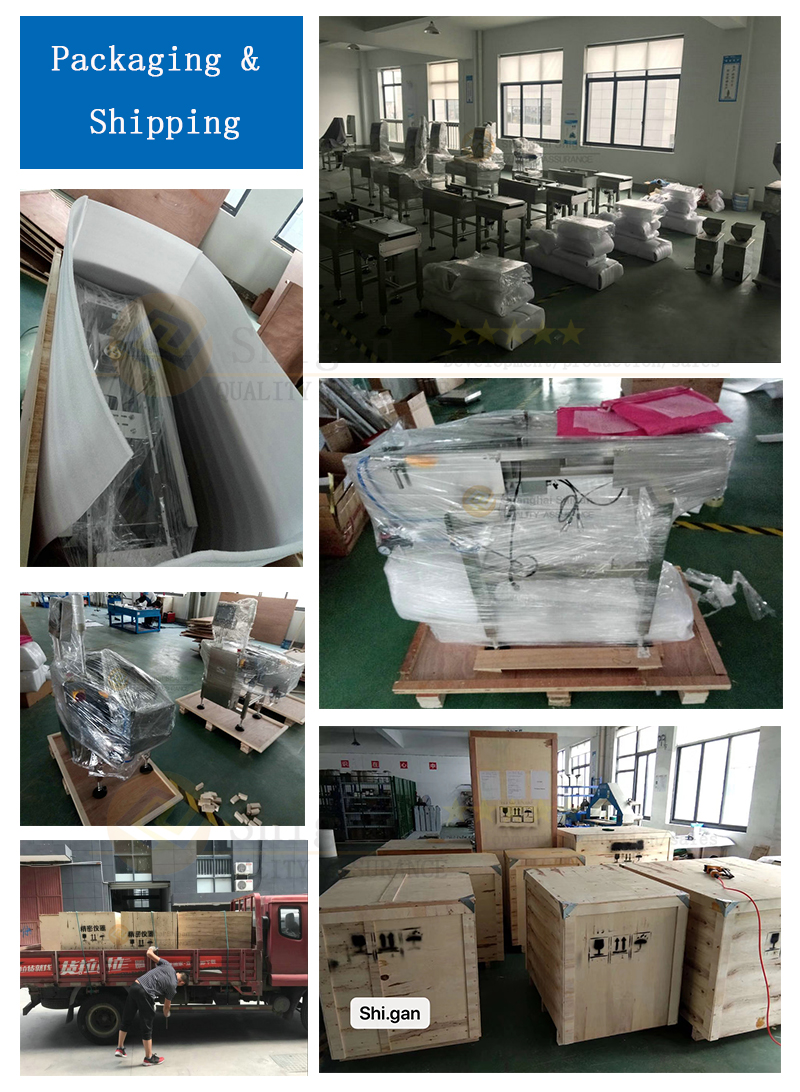 1. Before packaged, the machines will be tested strictly to guarantee the stability and high accuracy.
2. After tested, the machines will be wrapped with plastic sheet and carefully packed in wooden cases.
Packing Detail:
Each Machine with plastic film package first, then placed in a wooden case, wooden case with a foam filling.
We loaded the truck with heavy trucks for loading the cargo to the harbor terminal.At the dock we pack the goods in containers and ship them abroad.
Delivery Detail :
Shipped in 25 days after payment
After-sales service commitment
1. Service tenet: fast, decisive, accurate, thoughtful and thorough
2. Service goal: to win customer satisfaction with high-quality service quality
3. Service efficiency: If the equipment fails during the warranty period or outside the warranty period, after the supplier receives the notice, the maintenance personnel will contact the customer within 24 hours to arrange maintenance.
4. Service principle: The product warranty period is twelve months. During the warranty period, the supplier will repair and replace the parts damaged due to quality reasons free of charge. If the parts are damaged outside the warranty period, only the cost of the parts provided will be charged. For equipment damage caused by human factors on the demand side, the repair or accessories provided by the supplier will be calculated at cost.
5. After the warranty period, our company's sales staff will return visits to investigate user usage no less than three times a year.
Related Products
Multifunctional quality inspection checkweigher 30ml high precision weight checker machine factory

Tea online weight sorting checkweigher Real-time labeling machine supplier
Large-scale intelligent barrel checkweigher Pipeline dynamics metal separator with weighing machine
Hot Labels:package,automatic,scanning,weighing,checkweigher,scale, weight sorting,weighing sensor,USA