Product Information
The assembly line weighing labeling machine produced by Shanghai Shigan is a machine suitable for retail, trade and industrial industries. This horizontal weighing labeling machine can meet the diverse needs of customers for weighing and labeling, and provide advanced solutions. Excellent performance does not take up a lot of space, and the compact body design helps you save production space.You are welcome to contact us at any time for further information.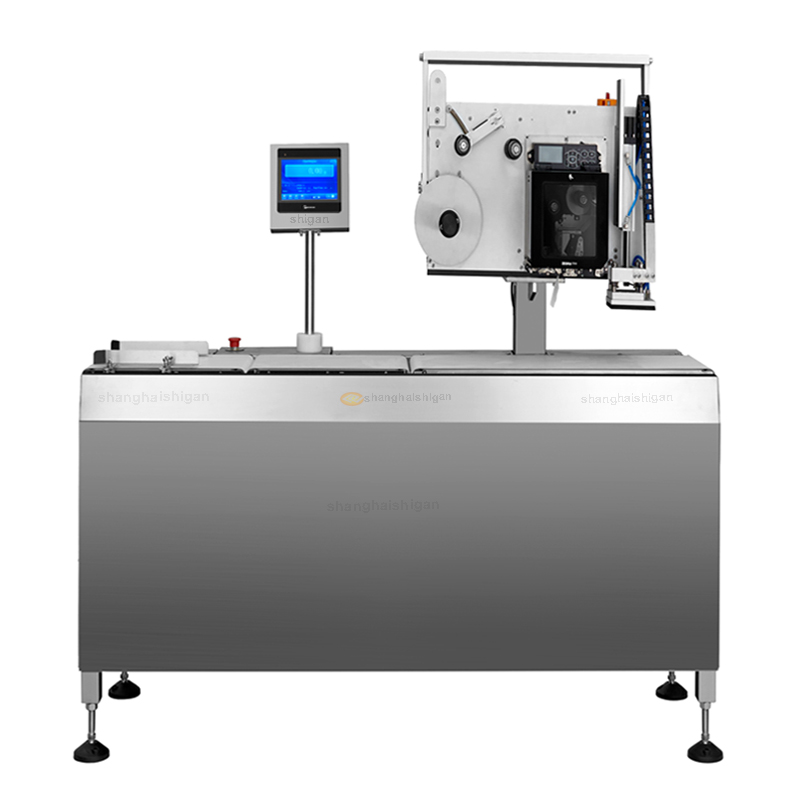 Weighing and labeling machine parameters
Labeling accuracy: ±1mm (excluding product and label errors);

Labeling speed: 10-15 pieces/minute (related to product and label size);

Applicable product size: length: 50mm300mm width: 10mm-50mm height: 550mm

Applicable label size: length: 20mm100mm width (bottom paper width): 10mm105mm

Machine size: about 2500mm×1500mm×1650mm (length×width×height);

Applicable power supply: 220V/50HZ;

Whole machine power: about 1500W

Features of Weighing Labeling Machine
1. Program storage function: the user can preset the setting parameters (such as the number of tags, delay, alarm processing method, etc.) for various products in the control

In the production computer, it can be used when changing production needs, no need to reset.
2. A variety of labeling methods: pneumatic, blowing, sweeping and other methods are available for users to choose, which can meet the labeling requirements of different occasions/different items.
Counter function: A variety of counter functions are convenient for users to understand and follow up the production status, material status, label usage, etc. Different counting methods can greatly improve the flexibility of users for different production and statistical needs.
3. Alarm function: When a fault occurs, the system will pop up corresponding alarm information or shut down, so that the user can clearly understand the fault situation. (Optional alarm modes include: "close/open" signal and "stop/non-stop" command, etc.).
4. The function of real-time printing and labeling and anti-leakage labeling. The function of automatic labeling (reprinting) can be selected to meet special needs such as production lines.
5. Flexible editing software: Compatible with most Chinese/English label editing software, printing content editing has strong flexibility.
6. Extended function: It can be connected with other equipment (such as: barcode reader, electronic pop, testing equipment or other industrial equipment, etc.) to form an integrated system to meet the user's complex production management and logistics monitoring application requirements.
7. Connection function: Connect to the main system via Ethernet to achieve the purpose of real-time management and system integration, eliminating the need for on-site configuration and control of the computer.
Easy to use: The touch screen is equipped with a user-friendly Chinese-English bilingual user interface, which is easy to use.
8. Easy installation: stand up stand and easy to adjust; the distance between objects is large, which reduces the need for fine-tuning during installation.
9. Imported electrical components from world-renowned brands are used to ensure the long-lasting stability and reliability of the whole machine.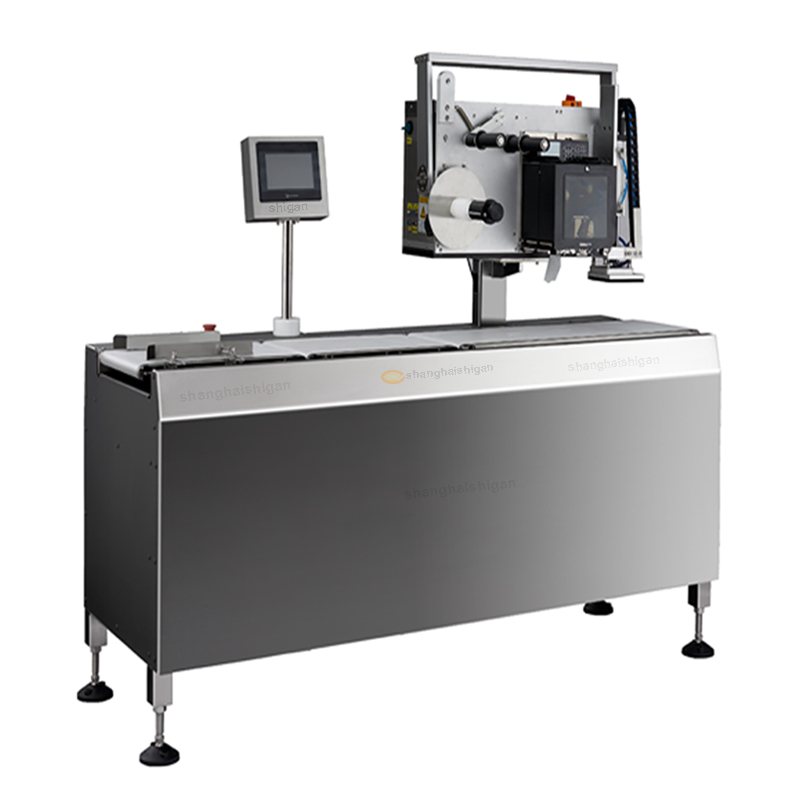 Application
Automatic weighing labeling machine is mainly used for the weighing of the product itself on the automated assembly line, and to print labels containing real-time weight information and carry out real-time labeling.It can also replace manual weighing, printing and labeling. In this way, the production efficiency and the consistency and reliability of weighing, printing and labeling are improved.Horizontal weighing labeling machine is widely used in food, medicine, daily chemical, industrial manufacturing, printing, logistics and other industries.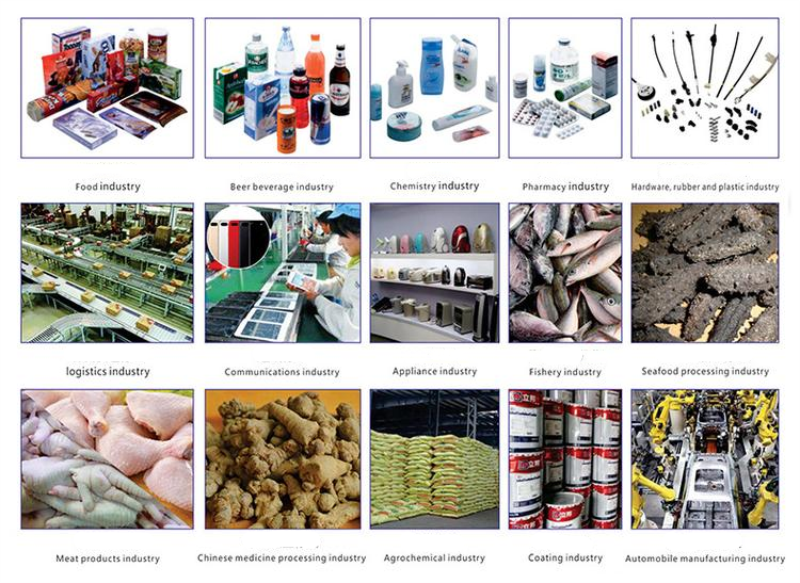 About Us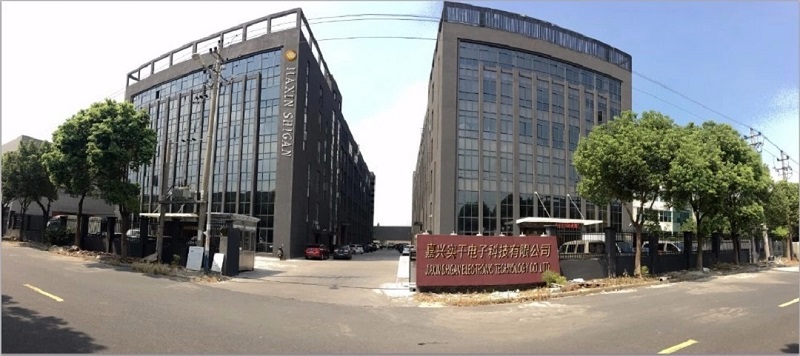 Shanghai Shigan Co., Ltd. was founded in 2010 and is located in Shanghai. Shanghai Shiqian has an independent large-scale R&D institution, a complete manufacturing system and a huge marketing service network. It is an international assembly line weighing and testing equipment manufacturer integrating R&D, manufacturing, marketing and service. At present, our company's products have passed CE EU certification and exported to Europe, the United States, Singapore, Thailand and other countries and regions. The products are widely used in food, medicine, daily chemical, chemical, agricultural and veterinary drugs and other industries. Over the years, the company has continued to carry out technological transformations, and the product quality has been significantly improved, which has been highly recognized by customers at home and abroad. The main products are: online checkweigher, digital metal detector, weighing labeling machine, weighing metal detection machine, etc.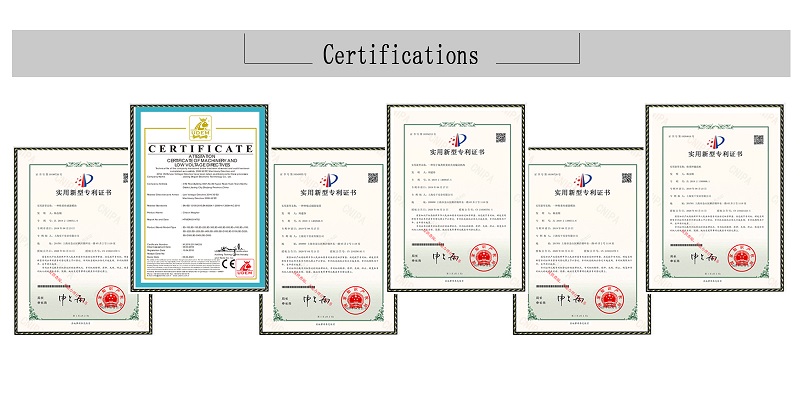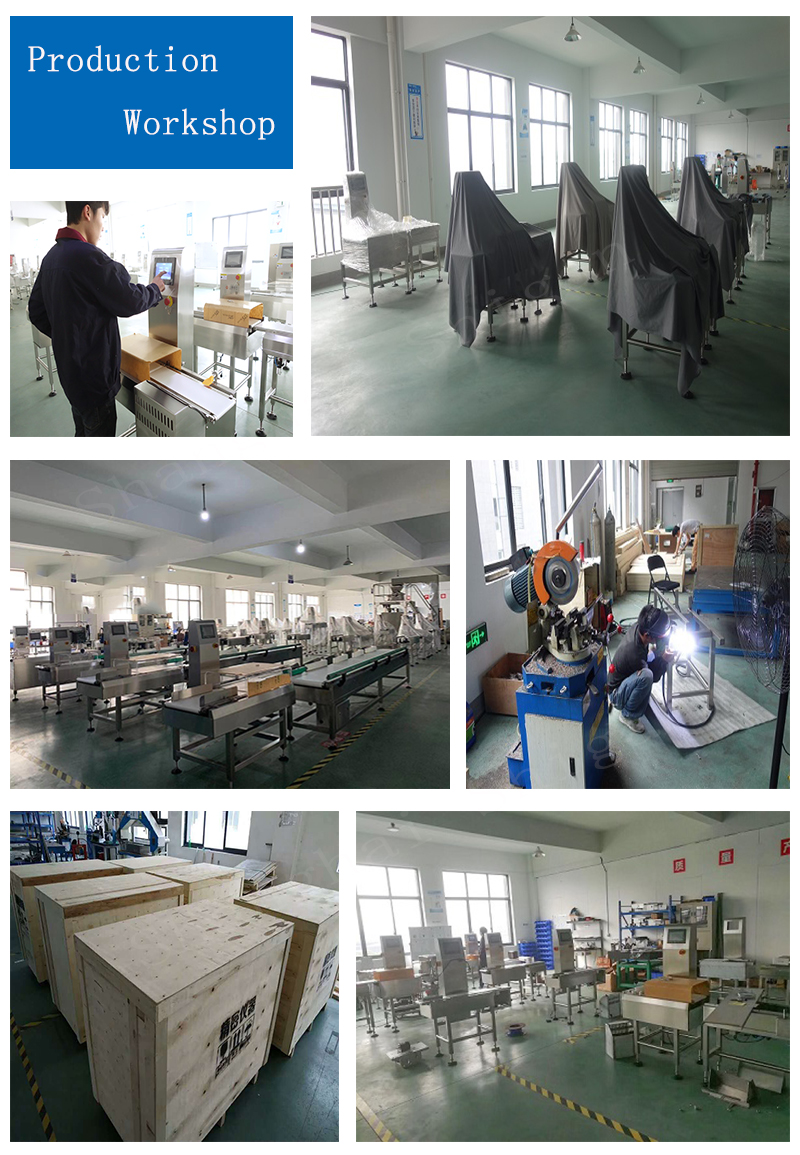 After Sale Service
For many years, Shanghai Shigan has been serving customers in various industries. After research and exploration, a complete product service guarantee system has been summed up to provide users with high-quality and timely pre-sales, in-sales and after-sales services:
1. Quality Assurance
Shiga guarantees that the electronic scales provided to customers are produced by the original factory, and the factory materials and accessories are complete. In order to maintain the normal operation and maintenance of the contract equipment, our company guarantees that the technical products provided are complete, clear and correct.
2. Quality assurance measures
Warranty period: Provide on-site service during the warranty period.
(1). The company has an after-sales service center, which is mainly responsible for after-sales service and technical consultation. Ensure that there are engineers to provide various technical services at any time.
(2). There are remote services on the Internet, methods to solve various problems in time, and real-time online services all year round.
Vulnerable accessories: The company reserves stocks of various commonly used accessories to ensure that the problem can be solved in a short time.
Related Products
Automatic removal metal detection machine Frozen food dynamic sorting checkweigher
18L lubricating oil bottled checkweigher Seafood real-time weighing sorting machine
Small-capacity high-efficiency online checkweigher Custom weighing metal detector price
Hot Labels:assembly line,weight repeat,nuclear,labeling machine, horizontal,weighing labeling machine,manufacturer,supply