Checkweigher as known as check weight machine,weighing machine,sorting scale,weight checker,weight inspector and etc.
In principle, a distinction must be made between dynamic and static checkweighers: Static scales are table or floor scales on which products have to be placed manually and the scale determines the period of time when it has reached a weight estimation. This leads to highly accurate weighing results, however, this procedure can only be carried out on a random basis.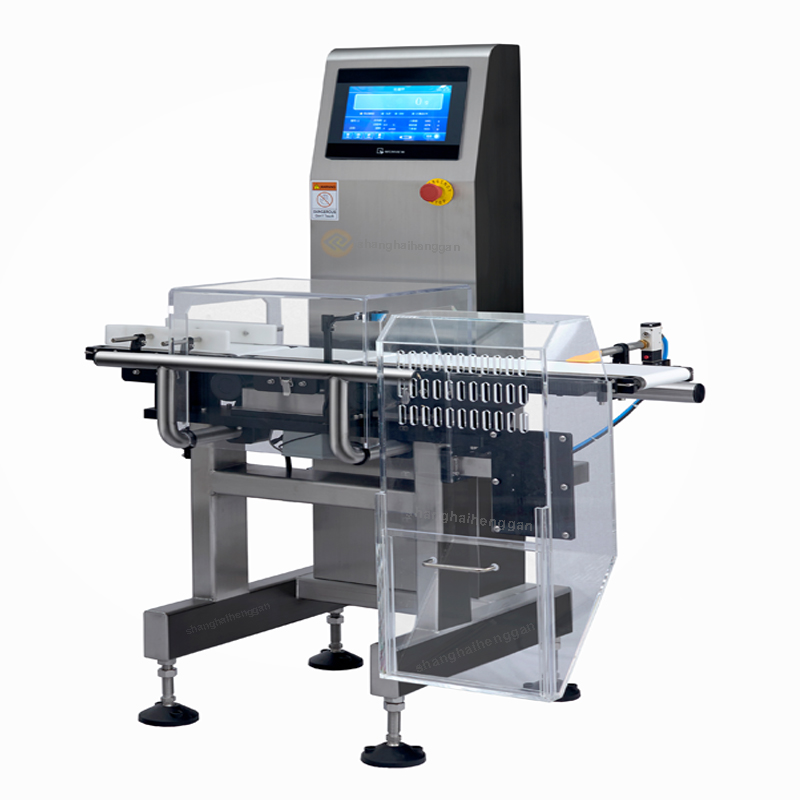 A dynamic checkweigher, also known as a checkweigher, automatic scale or erroneously called a "belt weigher" (bulk material weighing), is used in the production of piece goods to monitor, sort (classify) or even influence (weight-wise) them according to weight criteria, e.g. according to FPV (local finished packaging regulation), by direct corrective feedback control (trend controller, trend control) of filling machines. This is a fully automatic weighing of all produced products (100% control), where the products are weighed over the weighing conveyor belt, without stopping, i.e. in dynamic condition. In this case, it is not the scale, but the production speed that determines the period of time when the scale must output a weight value.
Dynamic checkweighers are permanently integrated into a production line and check the products in production at throughput rates of usually 20 to 200/min, maximum even 600/min). There are different types of checkweigher: depending on where they are used, they are classified as in-line or end-of-line checkweighers. There are also multi-track checkweighers if the filling and packaging machines deliver the products in parallel on several tracks due to very high capacity requirements.
Combination units that combine a checkweigher with a metal detector (critical control point, CCP) offer a space-saving solution, as they simultaneously use the required weighing infeed belt for metal detection.
Shanghai Shigan Industrial Co.,Ltd is a high-tech enterprise incorporating technology, research development and processing and marketing. The company has years of experience in weighing areas. It provides customers with cost-effective checkweigher, multi-level screening scale and corresponding auxiliary devices with excellent design capability and complete process control. The quality of product is reliable and stable. Some products not only surpasses similar imported products, but also exports to all over the world. It is popular with the masses of users and dealers and gains praise from them.If you have any questions,welcome to contact me!
Related Products
Express high precision sorting scale Large screen conveyor belt machine
Sorting machine for bottled cosmetics Online non-conforming product reject machine
FCL missing parts weight selection scale Automatic dynamic checkweigher systems