Boxed vegetables online automatic weight sorting checkweigher
---
This series boxed vegetables checkweigher using high-precision sensors, high-speed digital signal processing technology, all contact parts are made of food-grade materials to ensure that the product will not be contaminated. Reinforced stainless steel frame, comprehensive waterproof design, dynamic weight automatic compensation technology, zero point automatic analysis and tracking technology, 100 product presets, easy product editing and storage, fast product switching and automatic adjustment of the sorting speed of corresponding products.This automatic checkweigher has been loved by many new and old customers once it was launched. Chunguang Group is one of them. According to the actual operating environment, our company has assembled online and offline equipment to solve the problem of overweight and underweight products and large manual errors for Chunguang Group. The problem has greatly improved product quality and reduced waste!Our checkweigher has complete functions and sizes, adapts to a variety of environments, and has a wealth of options. Welcome to click here and consult!00000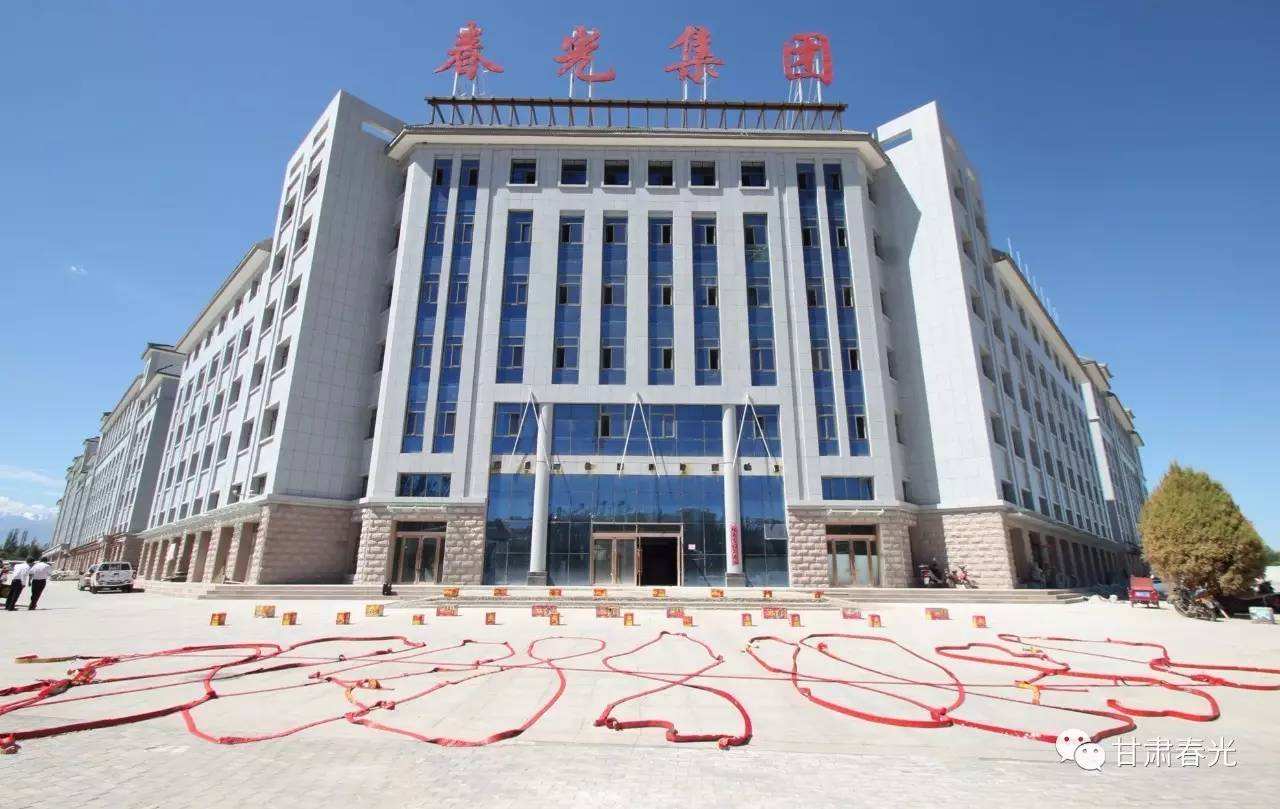 Production workshop photos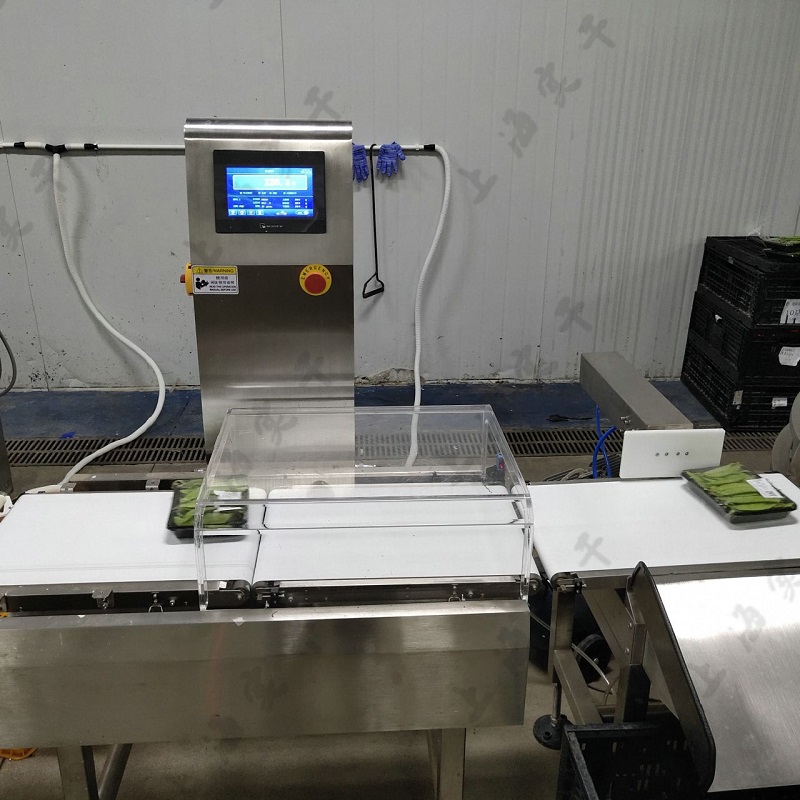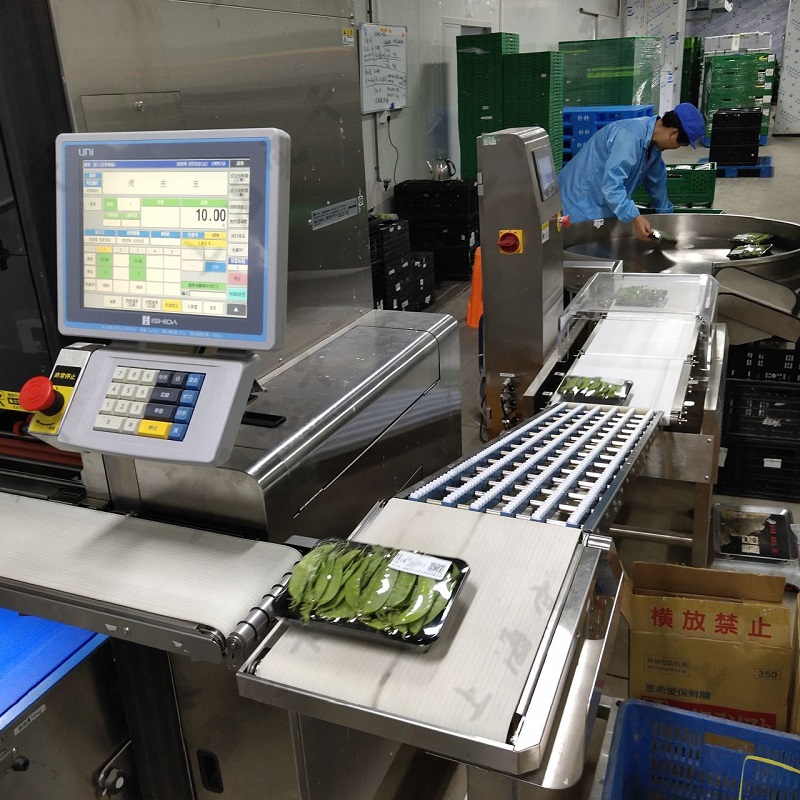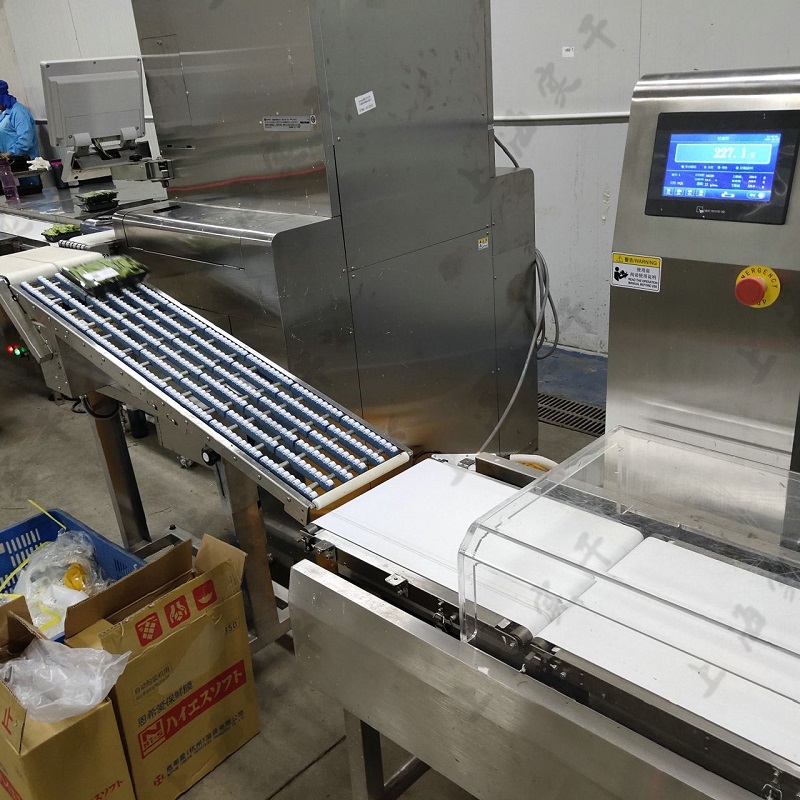 Boxed vegetable checkweigher function
1. Large-size color LCD touch screen interface, simple operation and intuitive display.
2. Support multiple languages: Chinese, English, Spanish, Italian, Japanese, Korean, etc. (customer specified), the default is Chinese and English.
3. It can store 200 kinds of product inspection data, which is convenient for users to call.
4. The USB data storage interface can transfer report data to a PC for analysis and printing.
5. Parameter setting password protection, only management personnel operate.
6. Automatic zero tracking system to ensure reliable detection data.
7. Built-in temperature and noise compensation system to ensure system stability. Online printing function (customer required).
8. Data external communication interface, which can be connected to other equipment in the production line (eg: labeling machine and inkjet printer) (customization required).
9. Multiple rejection devices: push rod rejection, fall rejection. (Customer required).
10. Simple mechanical structure, easy to disassemble, clean and maintain.
Weight sorting machine parameter:
Weighing range: 10-1000g
Detection accuracy: ±0.5g (The detection accuracy is affected by product weight, product size, transportation method, working environment, etc.)
Detection speed: 120 pieces/min
Conveyor belt width: 200mm
Conveyor length at the entrance: 350mm
Length of weighing table: 450mm
Conveyor length of reject section: 350mm
Rejection system: single lever rejection
Product conveying direction: the operator faces the touch screen from right to left
Air source: 0.4-0.8Mpa; 4L/min.
Conveyor height: 750mm+/-50mm
Working environment: temperature 0°C-40°C
Power supply: AC220V; 50HZ; 1P; 10A
Housing material: 304 stainless steel
Related Products
Automatic conveyor belt checkweigher Computer controlled checkweigher machine
Inline checking weight scale Pharmacy industry dynamic check weigher system
Online weighing machine checkweigher Dairy products high speed weighing machine