Multi-stage online weighing and sorting checkweigher scale for oysters and seafood
---
This series multi-stage checkweigher is designed for the weight sorting of products with multiple specifications, that is, according to the weight size (specification) of the product, each product is individually weighed and automatically sorted to the specified weight grade or category, which effectively replaces manual sorting. Improve the standardization of products. Weight sorting checkweigher is widely used for automatic multi-stage weight sorting of seafood, aquatic products, poultry, fruits and vegetables, medicinal materials, and industrial products.Please feel free to contact us if you have any needs.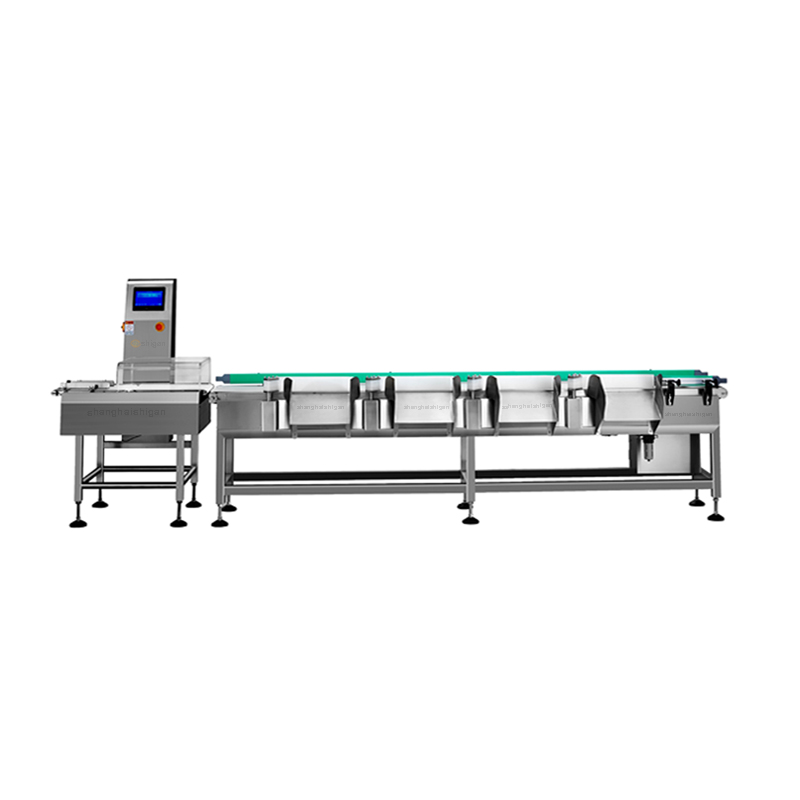 Appliaction
This type of checkweigher is an online weight testing equipment specially designed for automatic packaging lines. It is widely used in food, medicine, consumables, seafood and other industries. After the subsequent stage is equipped with a sorting device, it can achieve multiple products of different weights. Level sorting and classification.
Parameter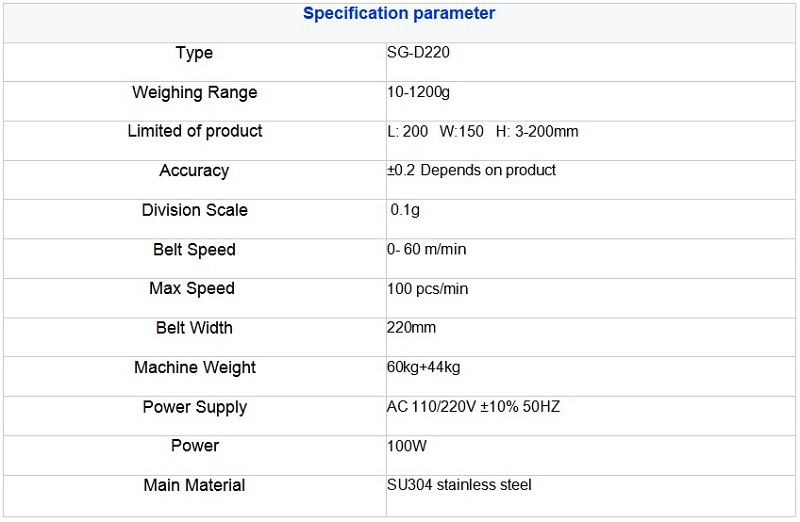 Features of dynamic seafood checkweigher
1.High-precision digital load cell system
2. High-speed digital filter processing and auto-zero function
3. Unique dynamic weighing anti-interference technology.
4. Humanized operating system, easy to learn and operate, available in multiple languages
5. Data storage and output printing function.

6. All stainless steel and waterproof structure.
7. Exclusion/classification type: push rod, lever/baffle, air jet, slide rail are available.
8.After 10 years of actual market application verification, the quality is reliable and stable.
9. Service with technical engineers is available overseas
Remarks:
1. Weighing accuracy and speed depend on the shape of the product and other conditions
2. Accept customized size and weighing capacity
Factory photos of dynamic seafood checkweigher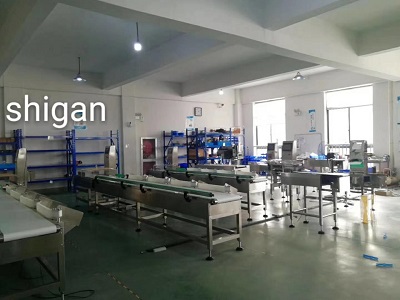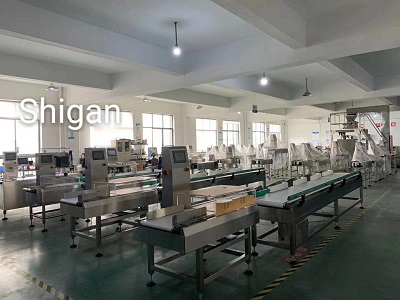 Customization and accessories
We provide OEM service. Our professional designers will make your private ideas into reality. We will protect your sales area, design ideas and all private information.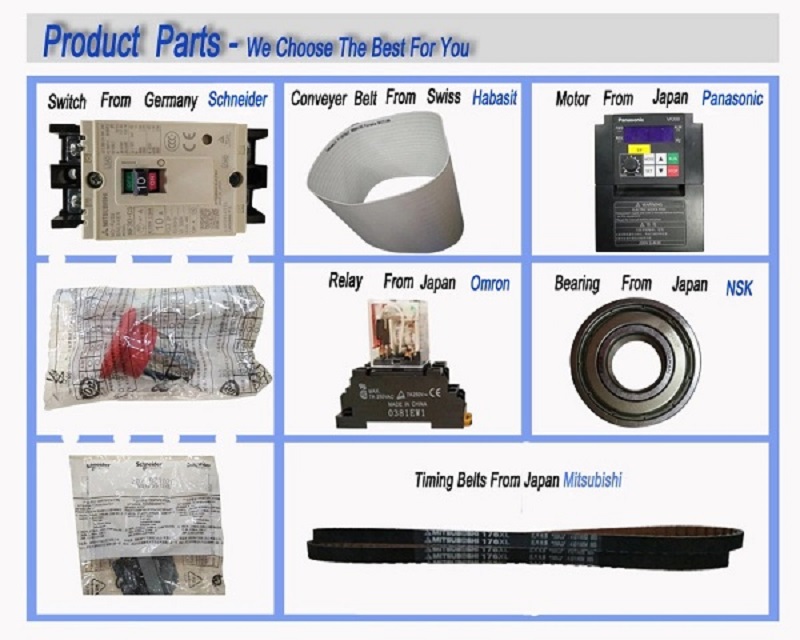 In order to better fit the production line, our company provides a wealth of options for you to choose!
1.Software
2.Load cell
3.Reject system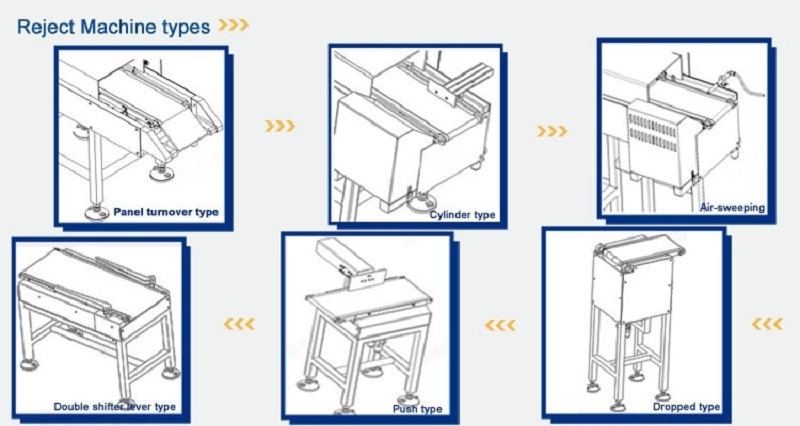 4.Clamp bottle checkweigher conveyor
5.Alarm method
6.Multiple external interfaces
7.Connect production line equipment
More information,please contact me!
Multi-stage online weighing and sorting checkweigher scale for oysters and seafood
---
Company Description
Founded in 2010, Shanghai Shiqian Industrial Co., Ltd. is a vigorous and fast-growing company. The company's main products include assembly line checkweigher solutions, multi-level checkweigher solutions, metal detectors and other dozens of models. Suitable industries include food, hardware, chemicals, medicine, toys, daily necessities and many other industries. The company has professional R&D personnel, after-sales engineers, and pre-sales service personnel to ensure that each set of solutions can make you feel comfortable and create greater benefits for you. The products we produce and sell are exported to Europe, Africa, South America, the Middle East and other Asian countries and regions, and have won unanimous praise from customers. The purpose of Shanghai's hard work: innovation, pragmatism, efficiency, and win trust with responsibility! Willing to work hard and work with you to create brilliant.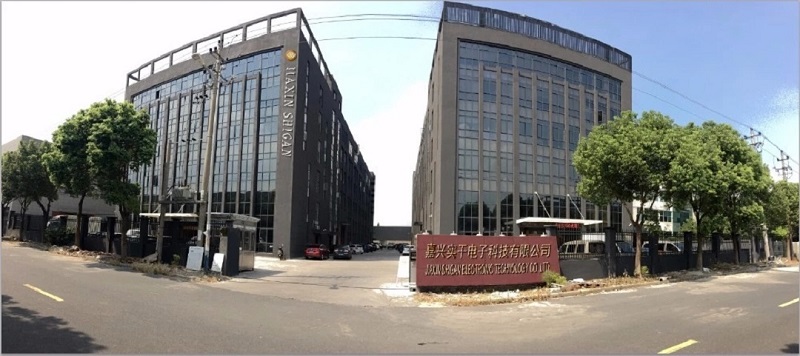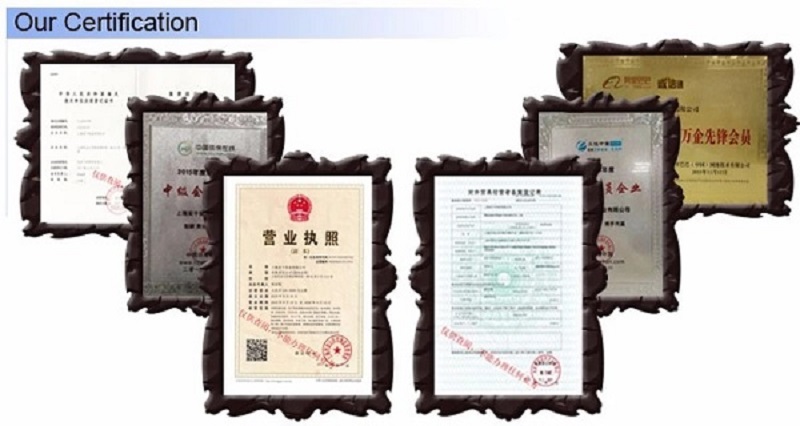 Customers & Our Service
Pre-sales.
* Project design, performance introduction, technical agreement, contract signing, packaging
* Inquiry and consulting support.
* Sample testing support.

In-sales.

* We will provide you with the latest progress in the product assembly, packaging and transportation.

After-sale.

* We will provide free accessories for the damage to non - human parts.
* Training how to install the machine, training how to use the machine with video and so on
* And our technical staff can go abroad to provide technical guidance.
FAQ
1. Are you a manufacturer or a trader? Where is your factory?
We are a manufacturer and we are located in Shanghai, China.We can provide competitive prices and excellent quality.
2. Which shipping method can you provide? Can you update the production process information in time after placing the order?
Sea, air and international express. After confirming your order, we will update your email and photo production details.
3. How long is your warranty period?
12 months free warranty and lifetime maintenance.
4. Do you provide product metal parts and provide our technical guidance?
We can provide wearing parts, such as belts, disassembly tools (free of charge). We can provide you with technical guidance.
5. What are your company's requirements for payment terms?
TT, L/C, international credit card.
6. What is the effective time of the quotation?
15 days from the date of quotation
7. What is the delivery time?
Within 15 days after receiving your deposit.
Related Products
Automatic metal detection machine for seafood Health products reinspection weigher
500g high accuary check weight machine Online pipeline line check weigher
Dairy products high speed weighing machine Real-time inline weighing machine belt scale
Hot Labels:Multi-stage checkweigher,online checkweigher,weighing and sorting scale,oysters checkweigher, seafood checkweigher