Overview
---
Detail:
Place of Origin:Shanghai,China Brand Name:SHIGAN
Model Number:SG-150 Power Supply:110-220V(AC)
Display Type:LCD Product name:200g intelligent automatic check weigher weight sorting weigher
Material:SUS304 Certificate:CE ROHS
Color:Grey checkweigher Belt Speed:0-65m/min
Weighing Scope:3-500g Size:200(L)*150(W)*3-200(H)mm
Function:Checkweigher Warranty:1 year
---
Product Description
200g intelligent automatic check weigher weight sorting weigher
Automatic check weigher,also called weight sorting machine ,sorting scale,online checkweigher and so on,is a product developed by the company for the domestic food, daily chemicals, electronics and other target markets with excellent cost performance. The product has the characteristics of fast detection speed, high measurement accuracy, strong expansion performance and so on, providing a more economical solution for the heavy inspection operation on the production line.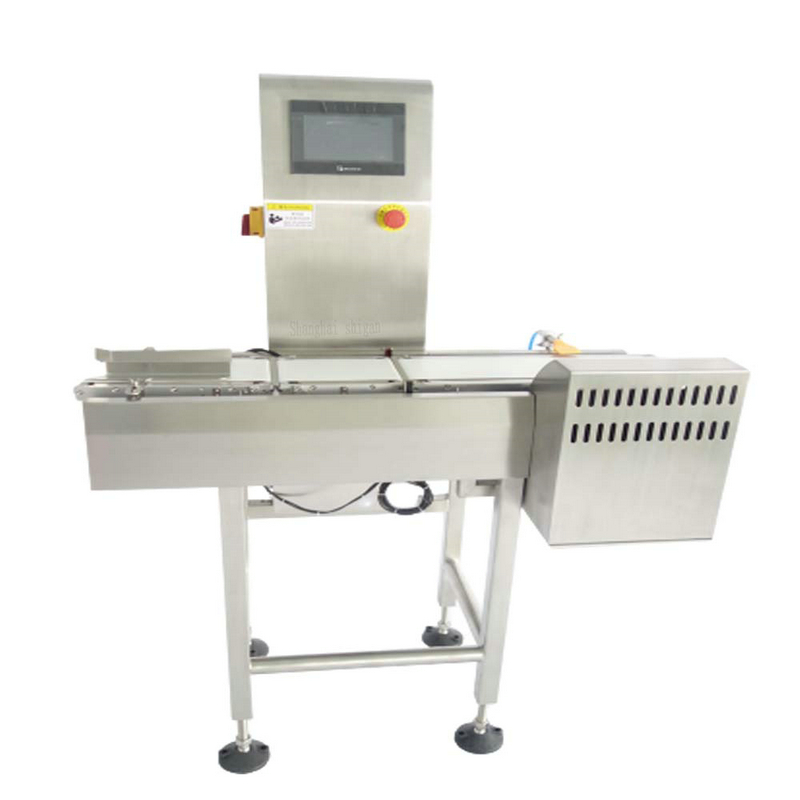 Company Qualification
To find best solution, to save cost, to give best service, and to earn more profit for our partners,
and looking forward to long-term cooperation always!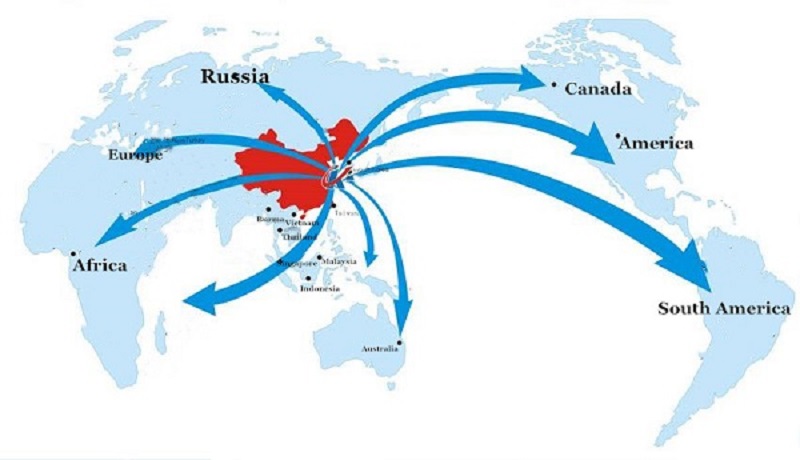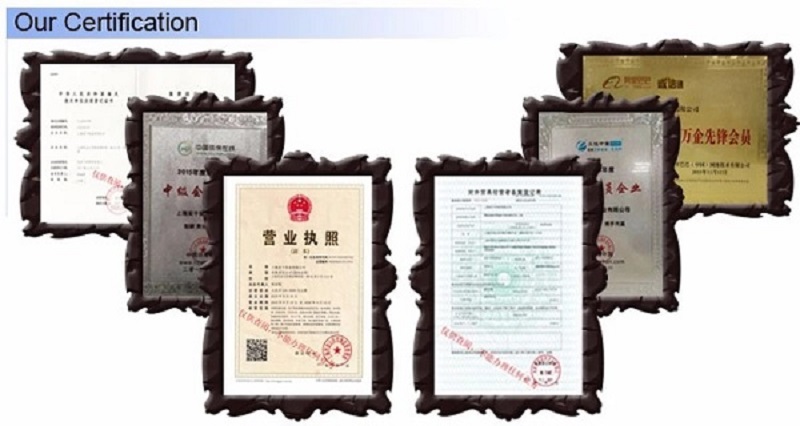 Parameter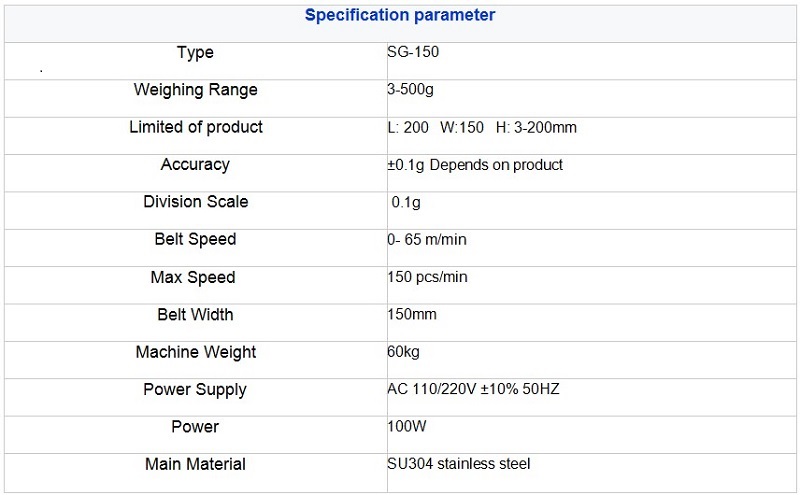 Main Features

☀ With function of checking scale (it can set three points HI, KO, LO)
☀ Function of double overload protection.
☀ Function of automatic checking and automatic zero tracking.
☀ The key adopts ABS plastic steel material, the service life is long.
☀ There is clear low voltage display in power shortage.
☀ Function of conveyor protection point with good design.
☀ Large LCD display is clear to read and it has function of EL backlit.
☀ Electronic display head could adjust appropriate angle of display.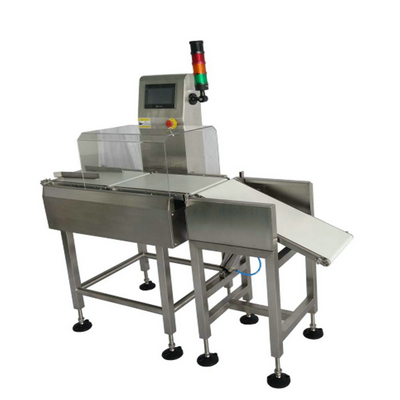 High accuracy check weiger machine Dynamic online checkweigher system
Online checkweigher photos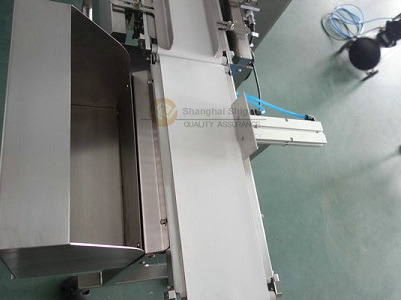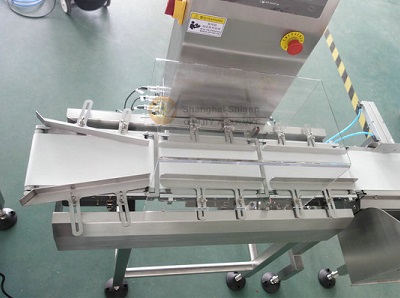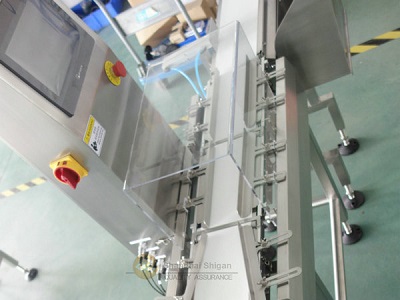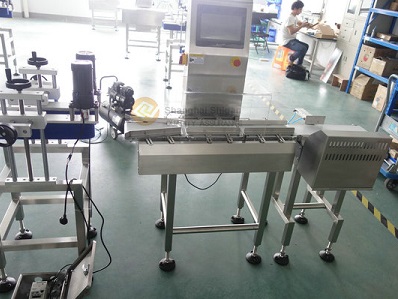 Application
Our company's checkweigher has high weighing accuracy and fast speed, and tests 100 times of error of 0.01 grams. The weight of the checkweigher corresponds to different models. The medical products adopt SG-100 checkweigher and adopt the air blown elimination method. The daily chemical products adopt SG-150 checkweigher and adopt the push plate rejection method; the aquatic products adopt SG-D220 checkweigher,adopt multi-stage sorting and rejecting method; agricultural and sideline products adopt SG-220 checkweigher, adopting push-plate rejection method; for detecting large boxes, SG-450, SG-550 checkweigher can be used; The SG-150P checkweigher is specially used for the detection of bottled beverages; test mask special use SG-220UH checkweigher; Checkweigher can also be customized according to your requirements.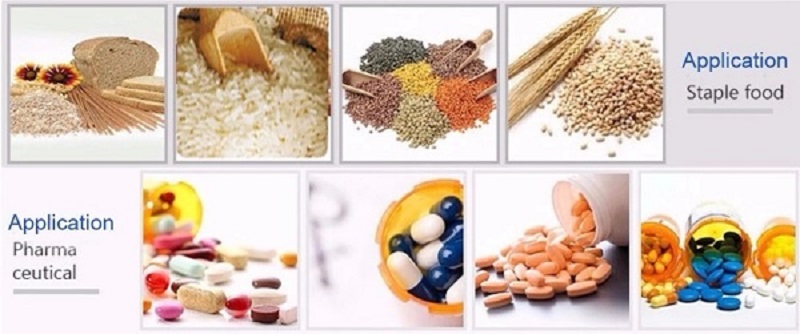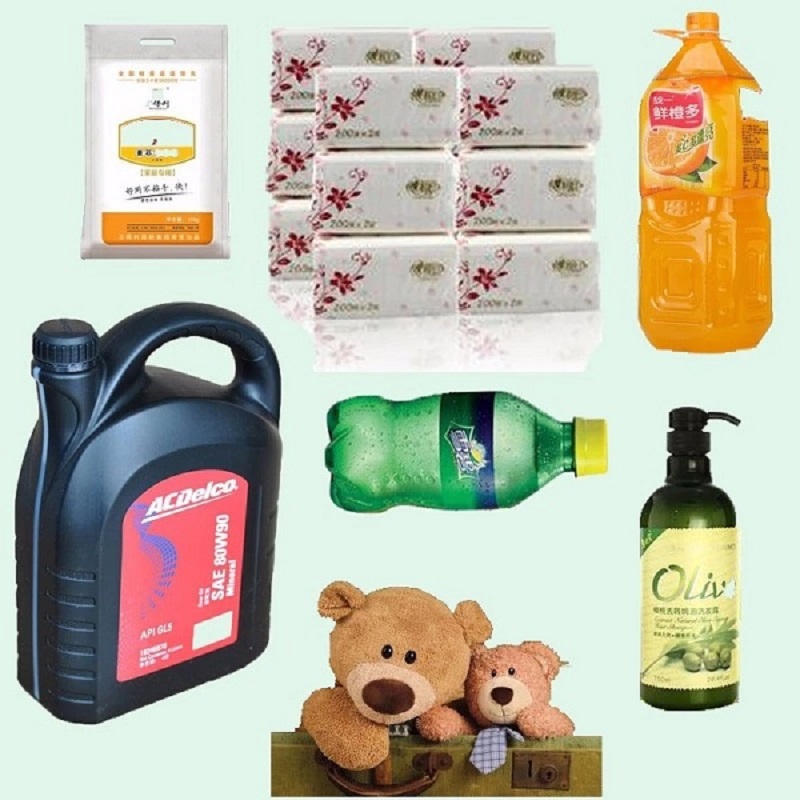 Customized
The product demonstrating may not perfectly meet your requirements,
our philosophy is to customize your real need.
To minimizing idle capacity and function. To supply you performance and cost balanced products. Following are the factors shall be taken into account during customization:
1,Products to be packed
2,Container to be filled, type and specification.
3,Capacity requirement
4, Automation requirement
5, Protection requirement
6, Other specific requirement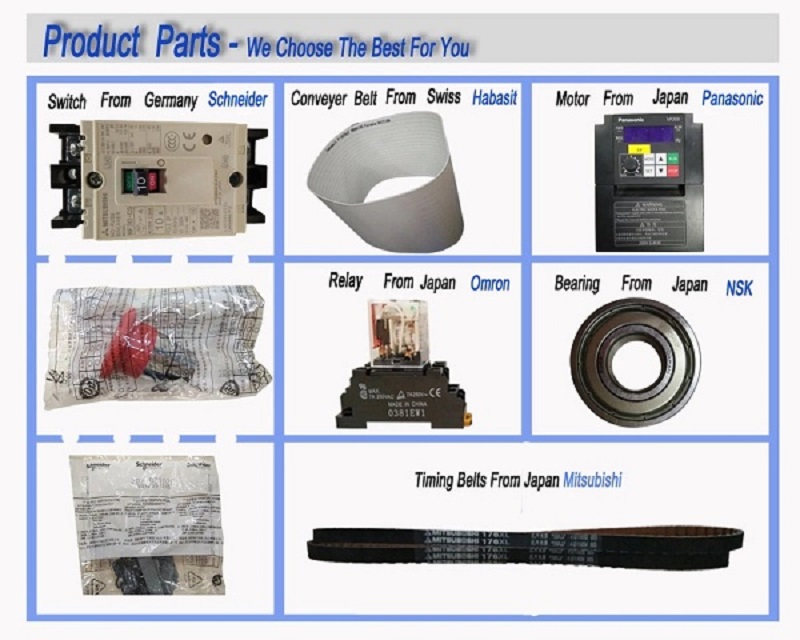 Packaging & Delivery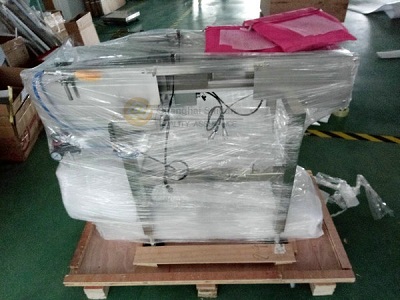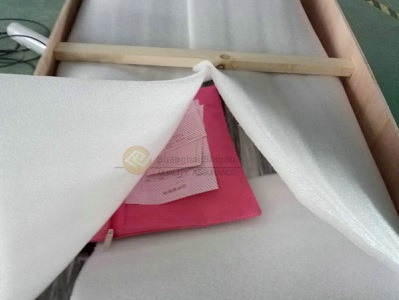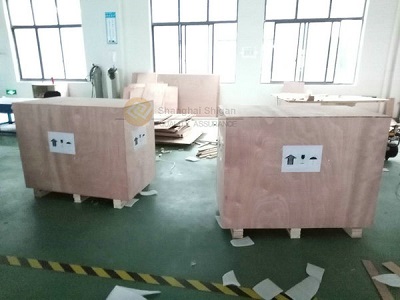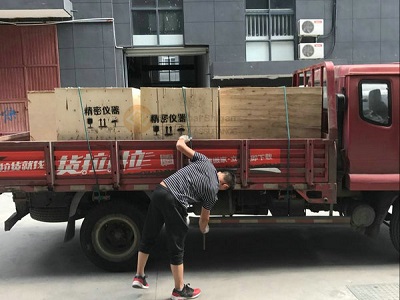 Packing Detail:

* Each Machine with plastic film package first, then placed in a wooden case, wooden case with a foam filling.
* We loaded the truck with heavy trucks for loading the cargo to the harbor terminal.At the dock we pack the goods in containers and ship them abroad.
Delivery Detail :
* Shipped in 25 days after payment
Q&A
1.Are you manufacturer or trader? Where are your factory located?

We are manufacturer and our factory located in Shanghai,China.
2.What's your main product where is your main foreign market?And do you have your own design team?
Our main products are check weight machine ,metal detector and our main foreign market in Asia, North America, Europe, Africa.And we have our own design team to design our own products.
3.What's your strong points?And how can i confirm the quality of your product?
Highest precision of our products can achieve±0.05g and the highest speed can achieve 300pcs/min.Our electronic parts of equipment all adopt international famous brand.For example:
The switch is Germanic Schneider,Conveyor Belt is Swiss HABASIT,The relay is Japanese OMRON. If the products have been tested qualified,it will be sent out.So The quality of our product is stable and reliable.
4.What are your terms of payment?
TT,L/C,Western Union,Money Gram,Paypal,International Credit Card.
5.What kind of Transportation do you have?And are you able to update the production process?
Ocean freight, air freight, and international express. And after your order ,we will shipping it as soon as possible and each step of procedure i will give you pictures or necessary information.
6.Are you provided product metal parts and gave us technical guidance?
Wearing parts,for example, motor belt,Disassembly tool(free) which we can provide.And we can give you technical guidance.
7.How long is your warranty?
12 months free warranty, life-long maintenance.
8.What kinds of overseas service can you offer?
Our engineer can go abroad to provide you with technical guidance.
Exhibition & Factory Pictures
My company products and sell the online checkweigher is mainly used to detect whether the weight of products on the assembly line is qualified, and automatically eliminate unqualified products with the weight. The online weigher of our company is widely used in the food, pharmaceutical, daily chemical and other industries, and the user's praise is constant!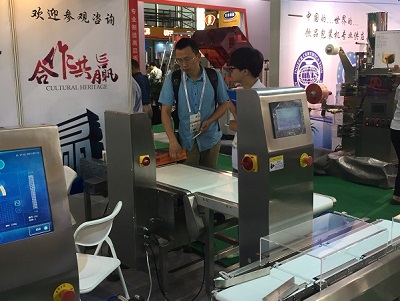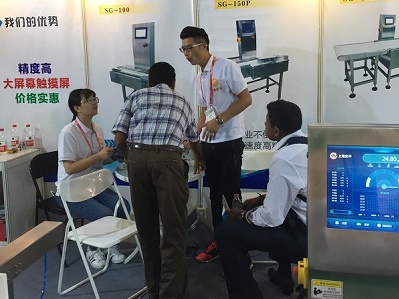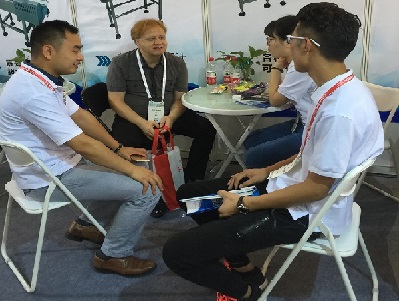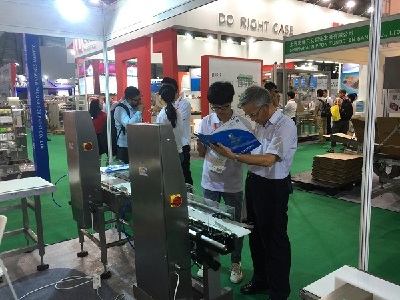 Knowledge

1.Two precision test methods for check weighing scale
The first test is to pass the same product 10 or 20 times, making sure that each pass is in the same direction as you would in production.The second test is also carried out using the product under test. In addition, a calibrated static balance is also needed.The resolution of the static balance should be the same as that of the check weigher, or higher.This inspection is required before, after, and at the end of a batch.Again, this test can do trend analysis for further risk assessment..... More Details
2.What are the advantages of automatic weighing scale compared with manual weighing?
The cost of an automatic weighing scale is about 20,000 yuan, which can cover the cost of a person's salary in one year.The so-called automatic weighing scale is fully computerized, save labor costs, save time, promote production and sales.With the rapid development of the Internet of Things, it not only requires low cost and high efficiency, but also requires many large enterprises to conduct digital management and monitor real-time data online.Automatic inspection weigher can connect upstream and downstream machines for the development of Internet of Things, monitor unqualified products at any time, and solve defective products efficiently and quickly...... More Details
3.Checkweighing scale suddenly appears inaccurate inspection method
(1). Check whether the parameter setting has been changed artificially;(2). Whether the ambient vibration in the workshop is large or the airflow is large;(3). Whether the spacing of incoming materials is as uniform as before;(4). Whether the weighing platform is clean and whether there is foreign body stuck...... More Details
Relative Links
Multistage sorting check weigher High speed weighing machine supplier
Sorting and inspection weigher Cosmetics automatic weighing and sorting system
China checkweigher and metal detector High Precision food metal detector
Hot Labels:intelligent check weigher,automatic check weigher ,weight sorting weigher,200g checkweigher