Automatic weighing machine is mainly used for automatic weight detection, up-down line identification or weight classification selection on various automatic packaging lines. It is widely used for online high-speed packaging weight detection in pharmaceutical, food, health care products, daily chemical, battery, light industry and other industries.Then the maintenance of weighing machine in a correct way can greatly improve the service life of the weighing machine. Next, let me introduce several methods to you.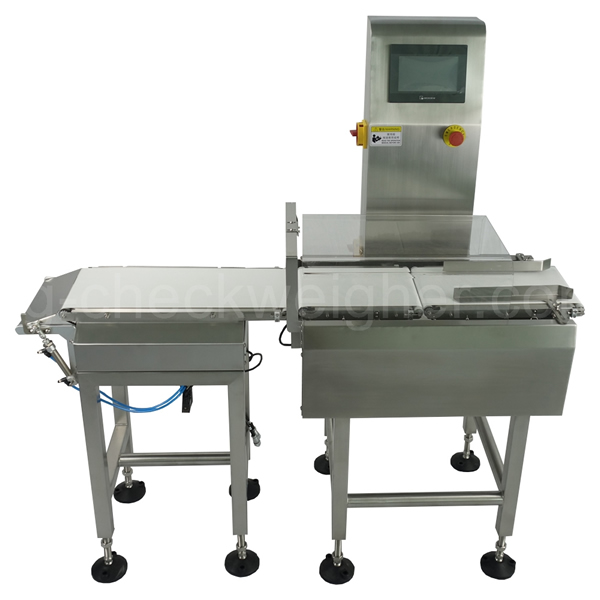 1.Clean the scale body
Cut off the power and unplug the power cord.Soak the gauze, then wring it out, dip in a little of the zhi neutral cleaning fluid, and use it to clean the scale plate, display the filter and other parts of the scale body.Note: do not use any chemical solvent for cleaning, in the cleaning process should avoid splashing water into the scale body, if accidentally splashed into the scale body, must wait for the water to dry before switching on the power, otherwise it may lead to electric shock accident or damage the equipment.
2.The level of correction
Check whether the scale body is normal, if there is tilt, please adjust the foot of the scale, so that the bubble in the center.
3.Clean printer
Cut off the power, open the plastic door on the right side of the scale, hold the plum blossom handle on the outside of the printer, and drag the printer out of the scale.According to the printer front end of the spring, loosen the print head, with a scale in the attachment of special print head cleaning pen gently wipe the print head, clean up the dirt, wiping out will cover cleaning fluid within the pen cap volatility, and then wait for two minutes, after waiting for print head cleaning fluid to evaporate adequately, then close the print head, the printer back to balance the body, closed plastic door, electric test, normal use after print clearly.Note: To clean the print head, you must use the cleaning pen attached to the scale. If the cleaning liquid in the pen is used up, you can find some clean soft cloth and dip it in a little anhydrous alcohol to wipe.Do not wipe the print head with other cleaning fluid or with a hard object, otherwise the print head will be damaged.
4.Initialize the equipment
자동 계량기는 스케일 플레이트의 이물질을 제거하기 위해 시작할 때 제로 추적 및 제로 지우기 기능을 가지고있어 주변에 바람이 없을 때 스케일을 시작하고 사용할 수 있습니다. 시작 후 약간의 무게 표시가있는 경우 키보드의 "zero clearing"키를 눌러 저울을 0으로 복원 할 수 있습니다. 무게 측정 과정에서 저울 주변에 이물질이 없는지 확인하십시오. 저울의 바닥은 이물질이 없는지 확인해야합니다. 그렇지 않으면 부정확 한 계량과 같은 문제가 발생할 수 있습니다.
질문이 있으시면 저에게 연락하십시오 !