As consumers pay more
attention to food safety
, there are more and more complaints about foreign bodies in food. According to statistics, about
50%
of food quality complaints are about foreign bodies, and the rest are about taste.In order to detect foreign bodies in food, large domestic food enterprises are basically equipped with
metal detection machines
or
X-ray machines
.X-ray foreign body detection machine for food is used to detect metal foreign bodies mixed in products and non-metallic foreign bodies with high density through the equipment to produce X-ray and the penetration ability of X-ray.In addition, food X-ray machines can also be used to detect missing products,
damaged packaging and weight
, but the cheapest price is above 100,000 RMB.It's hard for food companies, especially small food companies, to afford it.And
metal detector
domestic
price is low, cost-effective
, relatively speaking, food enterprises can bear the basic.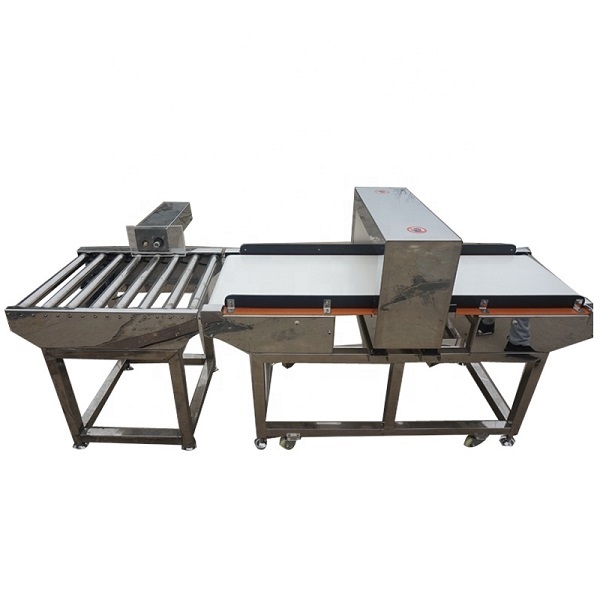 Metal detection machine is used to
remove magnetic
or
non-magnetic metal impurities
(steel, stainless steel, aluminum, etc.) in food, medicine, commodity, etc.On - line testing, after the detection of metal, the rejection valve will be contaminated material removed to the waste bin, has a high sensitivity.Metal detection machine with automatic product identification function, has a strong ability to inhibit product effect, the use of quick clip can be easily integrated into the existing pipeline system.
Metal detection machine features:
1. The metal detection machine adopts imported DSP digital signal processing chip to improve the detection
sensitivity and stability
2.
LED display
operation status interface3.
Automatic phase tracking system
can better adapt to the detection of different types of products to eliminate blind spots4.
Digital dual-channel circuit detection mode
, iron and non-iron metal detection sensitivity indication respectively, independent adjustment5.
DSP digital signal processor
can automatically identify material effect and external interference and suppress them6. La máquina de detección de metales adopta el cuerpo de
acero inoxidable
de
alta calidad
, y la
estructura de
sellado
impermeable
es adecuada para el ambiente húmedo de almacenamiento en frío y fácil de limpiar.7. Dispositivo de alarma doble de luz y sonido,
cinta transportadora de PVC de
alta calidad de calidad alimentaria
Shanghai Shigan Industrial Co, .Ltd .
Está especializado en la producción y venta de máquinas de prueba de metales, con muchos años de experiencia en la fabricación, los productos se utilizan ampliamente en muchas industrias, la certificación HACCP de la industria alimentaria y la certificación GMP de la industria farmacéutica del equipo de inspección de oro preferido. Si desea saber más , ¡puede hacer clic aquí para consultar!